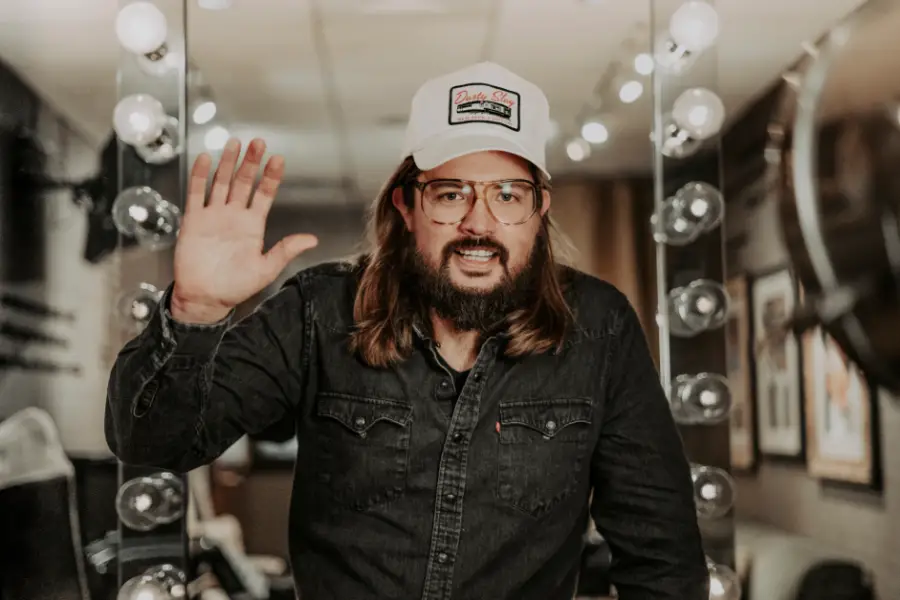 If there's ever a case of life imitating art, it's in the case of comedian Dusty Slay. The Alabama native grew up living in a trailer park, relying on the comedy of Jeff Foxworthy for entertainment. Little did Slay know then that he would grow up to be comedian himself, traveling all over the country, and appearing on The Tonight Show Starring Jimmy Fallon, Jimmy Kimmel Live, the Grand Ole Opry and more.
"I was in middle school when the You Might Be a Redneck album came out, and no one had ever spoken to me quite like that," Slay recalls to Everything Nash. "I mean, he was nailing stuff and even right down to the, when you see a dog out in the yard and you run out on the porch and go, 'Get on outta here.'  I don't know how we were all saying, 'Get on outta here,' but that is what we were saying … Comedy had never spoken to me in such a way."
It took a while for Slay to make being a comedian a full-time job, but once he did, he never looked back. For him, the idea of making people laugh night after night, and having the impact on others that Foxworthy had on him, was a dream come true.
"I realized that probably in about 2012," Slay reflects. "Maybe it started to occur to me in 2011, but I was doing comedy, and I was working a real job. I was a sales rep for a company selling pesticides to Lowes and Home Depot, and making a salary. I had a car allowance and health benefits, and I just was unhappy. I was working part-time as a comedian in bars, and not even comedy clubs. I lived in Charleston, South Carolina. We didn't have a comedy club. And I just thought, 'You know, I've made a little money at this. Obviously people are doing it, so I just gotta figure it out.' And I quit drinking, and when I quit drinking, it's like my brain cleared up and I started to figure out lots of things."
Slay says there is undoubtedly a connection between his sobriety and his career change into becoming a full-time comedian.
"I had all this free time on my hands suddenly, where before I'd wake up hungover, go to work and then get off work and go to happy hour with my friends," Slay says. "All my time was occupied by work and drinking, making money, and then spending it. Then when I quit drinking, I just suddenly had free time. And I was like, 'I could figure this out.'"
Slay ultimately not only made a career switch but a location switch as well, leaving Charleston for Nashville, Tennessee.
"I was still living in Charleston and I put together a little tour," Slay recalls. "I went around to a bunch of cities in the South doing open mics at comedy clubs. I had never really done a comedy club. I'd been doing comedy probably six years at this point, and I had never done a comedy club. So I put together a run of open mics and things like that. I came through Nashville, and I did a few shows [in Nashville]. I got to perform at Zanies. And I just thought that was so fun. I love country music. I love Nashville."
Slay also spoke to another comedian, Keith Alberstadt, who suggested Nashville because it was easy to travel to a lot of different cities, while also being able to practice and perform when he was at home. For Slay, the move made sense logistically, although it wasn't without its challenges.
"I moved to Nashville with that in mind," Slay says. "I worked a job for about four months while I was here, and then I found an attic apartment for $250 a month. You can't find that in Nashville now. I moved in and I started full-time comedy, and I was making very little money for several years. And then in early 2018, I ended up on Jimmy Kimmel Live. And then later that year I got The Tonight Show. Since then I've had great management and great agents. Iit's been much better. I make what I call airplane money. Now I get to fly around a little bit."
Slay also is featured on Season 3 of the hit Netflix series, The Standups, bringing Slay's comedy to a massive audience. It's a stamp of approval that Slay still can't quite believe.
"When I'm scrolling through Netflix now, and I see my picture on Netflix, it's pretty mind-blowing to me," Slay admits. "I know how I got there: through years of hard work, and through a good management and agent team. It's wild that I've been able to come this far with comedy … it blows me away."
Slay has plenty of dates on the calendar to go see him perform, including a show in Nashville on February 16. Find all of his upcoming shows here.