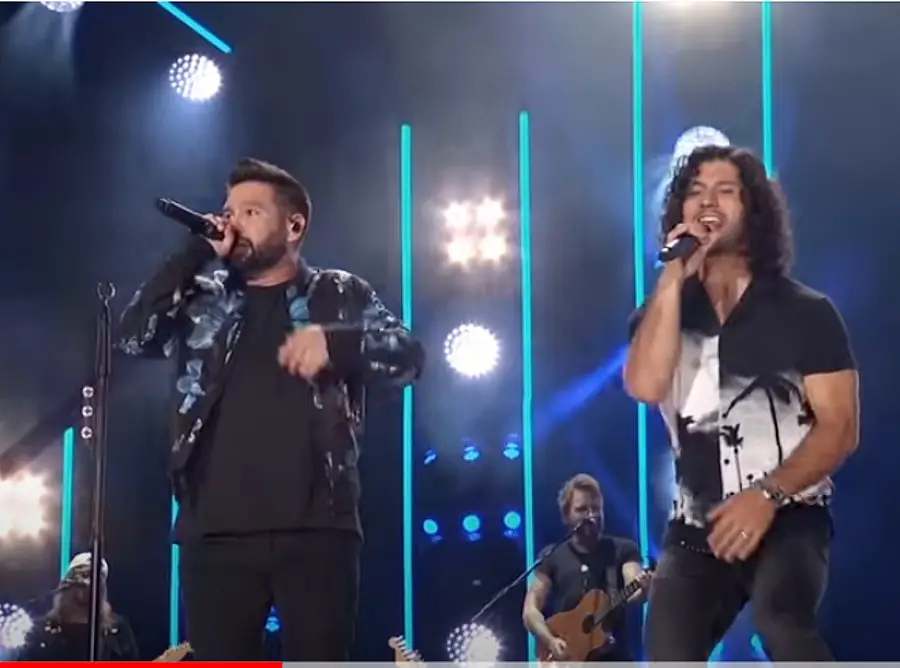 Before Dan + Shay had a No. 1 hit, or had released more than a couple of songs, Blake Shelton saw their potential. It was Shelton who invited the duo, made up of Dan Smyers and Shay Mooney, to open for him on his massive Ten Times Crazier Tour in 2014, and now, seven years later, Dan + Shay are returning the favor, by joining Shelton as Battle Advisors for the upcoming season of The Voice.
"When you're first starting out, somebody has to take a chance on you, and to be able to get on a big tour is a huge deal," Mooney told Access. "This is kind of full-circle, being back here. Every single time we are able to catch up and hang out, it's always fun, because it really was — that was a big moment for us. We were out there with Blake, and being able to open up that tour was an incredible opportunity for us."
Dan + Shay had no idea when they were serving as Shelton's openers, that they would still be relying on the lessons they learned from him years later.
"Even if you have a little success, it's still hard to get on a big tour, and it doesn't get any bigger than Blake Shelton. Literally, he's massive; he's a huge person," Mooney said with a laugh. "It was amazing, obviously, for him to take us out there. And it wasn't just the opportunity, but it was also what we learned. People ask us, 'What do you learn from other artists?' or 'Do you watch other artists?' and God's honest truth, Dan and I would go out there, and every single night we would watch Blake. Obviously he's got all the hits in the world.
"We were huge fans before, but being able to watch him as an artist, not just how he performs on stage — he's an amazing artist, and he's great on stage and he knows how to interact with the fans — but also how he treated people was probably the biggest takeaway I had," he continued. "How he treated his openers, and the people that were around him — he treated them like royalty. And anything we needed at all, he was always taking care of us. We were able to take that into our future tours, and to people that opened up for us. We had no reason to ever have an attitude of, 'Oh, we're really something,' because we had seen the biggest artist in the world treat people like they should be treated, and that was very kind."
Dan + Shay were forced to postpone their 2020 The (Arena) Tour because of the pandemic. They currently have those tour dates beginning in the fall of 2021. Keep track of updates at DanandShay.com.