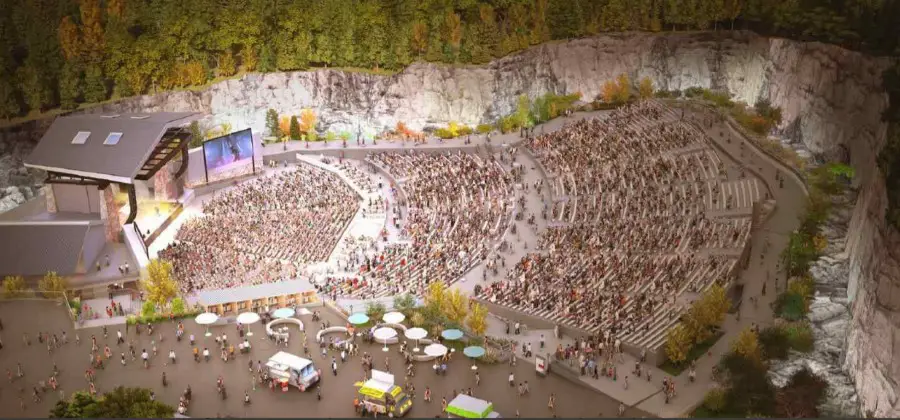 After a year of not seeing any live music, those in and around Nashville will soon have another venue to attend concerts and events. FirstBank Amphitheater, which has been in development for five years, will open later this year. According to the FirstBank Amphitheater's website, FirstBank Amphitheater will have room for 7500 attendees.
"We are excited to have FirstBank on board as we bring this incredible venue to life in Tennessee," Live Nation's Bob Roux said in a statement. "There is no doubt they will be incredible partners in the community, and we can't wait until we are able to work together to bring shows back to the area and unite artists and fans together again."
FirstBank Amphitheater is located in the 138-acre Graystone Quarry property.
"We envision this venue hosting some of the most popular touring groups coming to Nashville," said Brian Traeger, President of Live Nation Tennessee, "The spectacular natural backdrop, alongside modern-day amenities the space will offer are going to create a phenomenal experience for both artists and fans."
The venue will also boast "elevated Southern food" for purchase, along with comfortable seating, including stadium-style seats, bench seating, VIP Suite seats, VIP boxes, cliff-sided suites and more.
"At FirstBank Amphitheater we're focused on delivering memorable concert experiences which also include great food, comfortable seating, and convenient parking in a natural and inspiring outdoor setting ideal for enjoying a night of music and fun with friends," added Rick McEachern, Owner at Graystone Quarry and General Manager at FirstBank Amphitheater. "And we're delighted to have Live Nation's event expertise and talent roster to bring this new venue to life."
Thompson's Station is located about 30 miles from downtown Nashville. A concert schedule has yet to be announced. A limited number of season tickets are still available. Find more information at by visiting FirstBankAmphitheater.com.