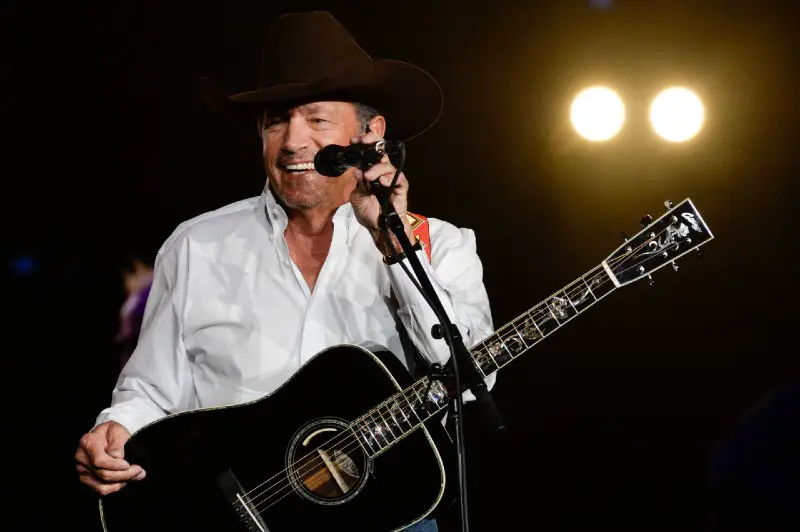 George Strait is the undisputed King of Country Music, an unofficial title he has held for years. Although one of country music's biggest hitmakers, the 69-year-old keeps a pretty low profile when not headlining large arenas or releasing new music.
We found 11 things to know about the elusive singer.
1. He was raised by his father.
Strait's parents, John and Doris, split up when Strait was in the fourth grade. When they separated, Strait's mother, Doris, moved away with his sister, Pency, while Strait's father, John, raised Strait and his brother, John, Jr. on their 2000-acre cattle ranch in Texas.
2. He started out in music singing rock and roll.
While Strait practically oozes country music, that wasn't how he got his start. Strait began his musical career performing in a rock and roll band while still in high school, inspired by the Beatles.
"The Beatles were big," Strait said, in the book Focus On: 100 Most Popular United States National Medal of Arts Recipients. "I listened to them a lot and that whole bunch of groups that were popular then."
3. He eloped with his high school sweetheart, Norma.
Strait was only 19 when he eloped with his high school sweetheart, Norma Voss, while in Mexico. While their love story might seem unconventional, the couple celebrated their 49th wedding anniversary last December.
"Norma and I are so blessed that we found each other…and were able to do all of this together, experience this life together, to support each other through everything, good times and bad," Strait said (via Country Living). "We love each other and we still like each other. A lot!"
4. He served in the military.
Not only did Strait get married in 1971, but he also enlisted in the Army that same year, and was eventually stationed in Hawaii. It was while in the military that he started his first country band, Rambling Country.
"Well I was in the service and for some reason, I got it in me that I could sing," Strait once said (via Wide Open Country). "I thought that I could possibly make a career out of singing so I went and I bought a guitar, I was in the army at the time, I was stationed in Hawaii. I went and bought a guitar, I started learning songs, and learned enough where I could get a band together and did that, and the last year I was in the service that's what I did for the army was sing country music."
5. He has a degree in agriculture.
Strait wanted to be a singer, but wasn't sure how feasible that plan was, so he graduated from Texas State University with a degree in agriculture. In 2006, the same college gave him an honorary Doctor of Humane Letters degree, in honor of his numerous achievements.
"Doctor Strait? I like the sound of that," Strait said at the time. "I am so proud to be a graduate of Texas State University and appreciate so much that you did this for me."
6. His daughter Jenifer was tragically killed in a car accident.
Strait might seem to live a charmed life, but he isn't immune to heartache. Strait and Norma were the proud parents of daughter Jenifer and son, George Strait, Jr., with Jenifer passing away in 1986, when she was just 13 years old, from injuries sustained in a car accident. Jenifer was one of four occupants in a car, driven by then-18-year-old Gregory Allen, who failed to properly negotiate a turn, due to excessive speed.
After the accident, Strait stopped doing interviews, and still does them rarely today.
"I just didn't feel like talking about it, so I quit…I did want to keep singing, absolutely," Strait said (via Country Music Nation). "But I was at the point where I'm [like], 'Alright, if this is going to cost me my career, then so be it, but it's the only way I'm going to be able to cope with it.' It just kind of turned out the way it did. It wasn't an intentional thing."
7. He could have recorded "Friends in Low Places" instead of Garth Brooks.
Before "Friends in Low Places" was given to Garth Brooks, it was pitched to Strait, who ultimately passed on the hit. In fact, it was Brooks who sang the demo of the now-iconic song, and he tried to mimic Strait for the recording.
"The reason they asked me to do the demo was because I wanted to be George Strait for years, so I do a pretty good impersonation of him," Brooks told Taste of Country. "So the original demo of 'Friends in Low Places' I did my best George Strait on it before I ever had a record deal."
For some reason, either Strait or someone on his team decided the song wasn't right, and it went on to be one of the biggest songs of Brooks' career.
8. He set a new world record.
In a career that has spanned more than 45 years, Strait accomplished in 2013 what no other artist had achieved, in any genre, when he notched his 60th No. 1 hit, with "Give It All We Got Tonight."
"I didn't realize we were making history — I just hoped we were putting out music that my fans would enjoy," Strait said at the time (via Sounds Like Nashville). "As always, I'm thankful to the fans and country radio for their support on all 60 of these number one songs as well as my entire career. They are the ones who made this happen."
9. He has dabbled in acting.
In addition to being a successful music star, he has also been an actor. Strait had the main role in Pure Country, a movie about a country singer who gets burned out on his massive career. Although it was the first time Strait had an acting role, it was one he instantly understood.
"To be totally truthful, I've experienced the kind of burnout this guy has in the movie," Strait said (via Rolling Stone). "Back seven, eight years ago, when I was working 250 dates a year, you get to a point where you wonder if you can do that another year. It's not an easy thing to deal with. It's pretty serious. Everything starts happening so fast, you feel like you've lost control. That's kind of what this guy is going through. He's unhappy with a lot of different things in his life."
Strait has also appeared in The Soldier and King of the Hill, among others.
10. He has his own line of tequila.
Strait  launched his own line, Código 1530, which is the only tequila he really likes.
"I was never a big tequila drinker before Código," Strait told Rolling Stone. "If I drank it at all, it was with a lime, and I would try to get the taste out of my mouth as fast as I could. I think that was from all the additives that some companies put in their tequila, which we don't do. There is no harsh burning aftertaste to it, so it's very nice to sip on straight."
11. His hangover cure involves cow's stomach.
If Strait happens to drink too much, his hangover cure is menudo, a Mexican soup made with cow's stomach (tripe) in broth with a red chili pepper base.
"It's very, very tasty," Strait told My San Antonio. "When I happen to have the occasional hangover, which I try not do, if I can get some menudo that's what I get."