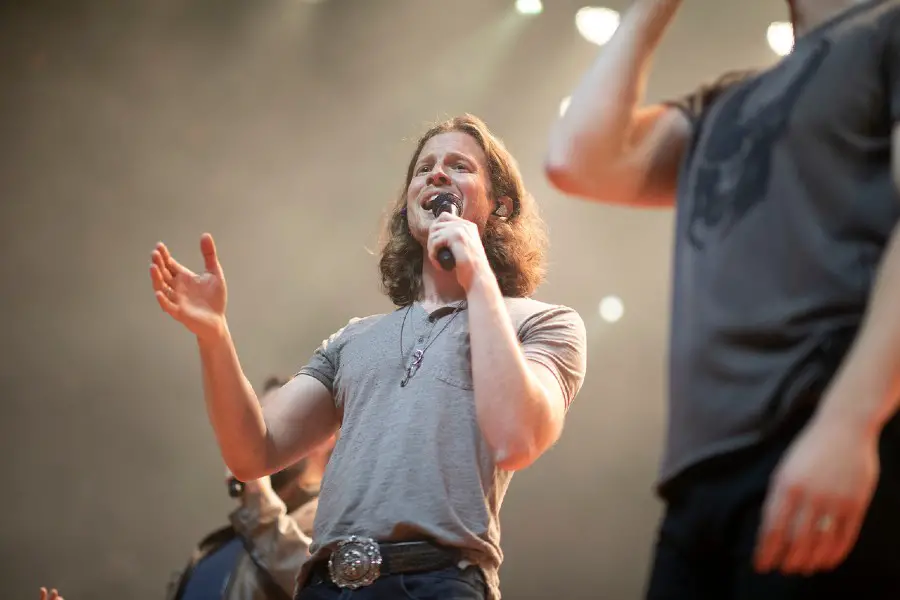 Home Free has been around for years, with their unique, all-vocal sound continuing to gain popularity among music fans, of all genres. We wanted to get to know more about the five-man group, so we sent 11 of our most-burning questions to group member Austin Brown. Read his surprising answers below.
1. When did you move to Nashville, and why did you decide to move?
I moved to Nashville officially on July 1st of 2019, but I'd been staying in Airbnbs all over town for a few years whenever Home Free happened to be off the road, and I really loved getting to know the area! I've lived in LA, NYC, Chicago, OKC, Orlando and have spent serious time all over this country. Nashville is the only place that's ever felt like home. While all the bigger cities in the country seem to have a "what can you do for me" mentality, everyone I meet in Nashville (whether they know me or not) always says the same thing: "What can we do together?" I absolutely LOVE it here!
2. What is the best part about living in Nashville?
The close proximity to so many amazing artists and musicians – and the countryside! My home is on a pond, and yet I'm only 20 minutes from Broadway. Can't find that in any other big city I know! It's absolutely, by far, the best place for a country singer to build a home.
3. Anything you miss from home?
I do miss the dogs going crazy back home. My uncle is a veterinarian, so every individual in my entire family just HAS to have a dog. At family gatherings, sometimes there will be a dozen in the yard, just having a blast! It used to aggravate my grandma so much, and it made me laugh endlessly. And then she'd get to laughing too. Good times!
4. Where is your favorite place to eat in Nashville, and why?
My favorite place to eat in Nashville is Casa de Brown – aka my house! Quarantine/COVID life has given me the opportunity to really work on my skills as a chef, which I've always dabbled in. Cast iron is SO VERSATILE! After that, I reckon my favorite spot for country/soul food would have to be TJ Courtney's Restaurant in Mt Juliet. Cracker Barrel – eat your heart out!


5. Aside from performing, what have you missed the most during the coronavirus pandemic?


Honestly, performing and touring is just about all I've known for well over a decade now. I don't know if there is anything else I could miss more. But LORD HAVE MERCY, do I miss performing for our amazing crowds all over the world! I LOVE tour life. It's the most routine I've ever had. 

All that said, being home has been such a blessing of self-discovery and growth – not to mention the copious amounts of free time I have had to fix up my home – something that I NEVER could have done while we were on the road.


6. What's your biggest Nashville pet peeve?
My biggest Nashville pet peeve are the blinkers – or lack thereof. Like, people?! USE THEM, PLEASE, FOR THE LOVE OF GOD.
7. Where is your favorite vacation spot? 
Cumberland Island is the southern-most barrier island off the coast of Georgia. It's accessible only by boat, and while it isn't a traditional "vacation spot," (you definitely have to "rough it" out there) it might be the most beautiful and serene place I've ever been. There's something magical about being the only person on a beach with wild horses and endless ocean.


8. Where is your favorite place to hear live music in Nashville?
The Ryman is hands down the coolest venue in all of Nashville. That said, I love catching some of the writer's rounds at any of the spots down near Broadway or Music Row. Belcourt Taps was my first experience with that vibe, and I fell in love immediately.
9. Did you ever consider doing anything for a career besides music?


I always loved psychology and philosophy growing up, and I still do! New thought and in-depth discussion of mainstream science and its potential implications on reality really get me going – haha! Then again, for a while, when I wasn't sure if the entertainer life was the life for me, I daydreamed about going back to South Georgia and working a peaceful life in construction. That's what my father was raised in, just like my grandfather and his father before him. So, needless to say, I enjoy swinging a hammer.


10. How would you describe Nashville to someone who has never been here?
Nashville has all the culture of a big-time city, with almost none of the hassle. Traffic, even when it is bad, is always a breeze, compared to other major cities in the country. And there's so much countryside in any direction. Plus, the music scene is unrivaled. Period. It's truly a gem of a city.


11. What is something people would be surprised to know about you?
When I was in college, I was a worship leader for a big church for a couple years near Oklahoma City. We had an 11-piece band and got it BUMPING every Sunday.