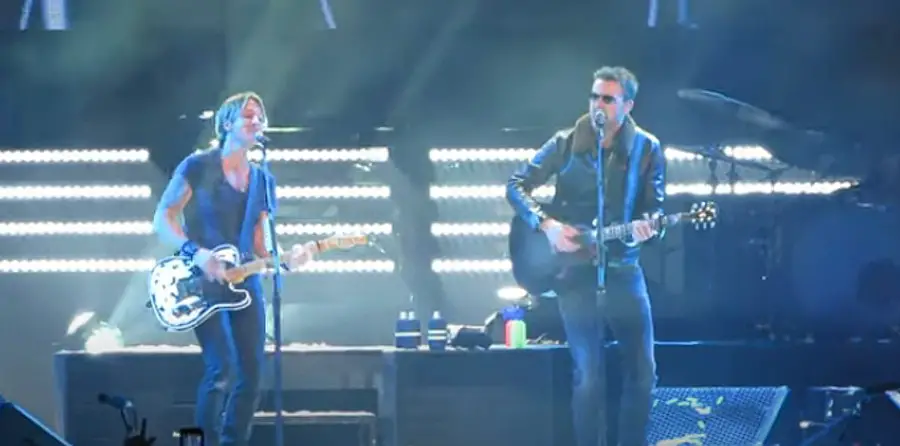 Keith Urban has had the chance to collaborate with plenty of artists over the years. But one of his favorites happens to be Eric Church, and their joint "Raise 'Em Up" duet, from Urban's 2013 Fuse album. Fortunately, the two became fast friends in the process.
"It's legit friendships," Urban said in an interview with Calgary radio station WILD 95.3, speaking of how he forms relationships with some of the people he has collaborated with in the past.  "Eric and I text each other all the time, giving each other music and songs. That genuine friendship is key to a good collab."
Church isn't the only artist Urban has become close with, thanks to a musical partnership. The New Zealand native says there are several other artists he has joined forces with musically, who ended up becoming a close friend as well.
"The first one I think about is Nile Rodgers. I sought him out on the Ripcord record, back in 2017. "We just hit it off. Literally just hit it off. He's such a cool, vibey, soulful cat, and we just clicked. We text each other all the time, call up. He's come out and sat in on my shows, and I've done a festival that he does. When I was working on a track for this record called 'Out the Cage,' which opens the album."
"I thought Nile would love this song, so I called him up and asked if he was interested, sent him the song, and he loved it," he continued. "Did his guitar parts in Connecticut and sent it back to me. It's genuine friendship. And now I have the same thing happening with Breland, who also sings on that song. He's just a really good dude."
Urban and Church might send songs back and forth, but one song Church didn't send Urban is "We Were," which Urban recorded for his recent The Speed of Now Part 1 album. The song was written by Church, along with Ryan Tyndell and Jeff Hyde.
"It got sent to me, not by Eric, but by someone who finds songs for me," Urban said on The Bobby Bones Show. "I didn't know he was a writer, which was really cool, because it wasn't until we recorded the song, it was all done, and I found out after the fact. I found out and I called Eric, and I was like, 'Dude, I just cut this song.' He was thrilled. I said, 'I had no idea that you were a writer on it.' He said, 'Well that's even better, because it means you really loved the song.' I do. I really love the song."