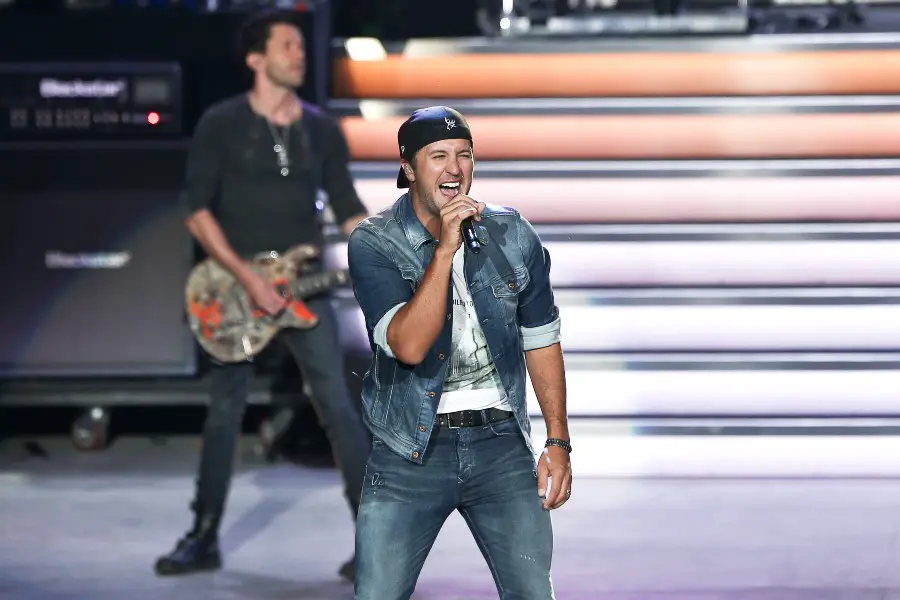 Happy birthday Luke Bryan! The singer turns 47 on Friday, July 17. To celebrate his big day, we uncovered 11 surprising facts about the singer.
1. He thought he would be a peanut farmer
Bryan was born to Tommy and LeClaire Bryan in Leesburg, Georgia. Tommy was a peanut farmer, and Luke worked on the farm when he was growing up, and thought that would be his future.
"My first thought of a farmer is a white farmhouse with some grain bins in the back, tractors and stuff," Bryan admitted on Apple Music Country's The Ty Benlti Show  "I spent many, many years thinking that that would be what I looked like. I mean, I really thought, for many, many years, I'd be in farming and in the ag industry. So the fact that I've somehow pulled off the music business is still quite shocking."
2. He worked in a grocery store.
In addition to working on a peanut farm,  Bryan's first real job was working at Rubo's in Leesburg, a local grocery store.
"At age 12 through 13, I worked at Rubo's IGA Supermarket in Leesburg, Georgia. I worked during the summers on Monday and Tuesday. I stocked and cleaned up the produce. They paid me under the table …I peeled off all of the brown lettuce," Bryan told Taste of Country. "When I was 15, I was a cashier at K-Mart for two months. I worked at K-Mart for two months, and then I reverted back to Rubo's because it didn't really make sense for me to drive all the way into Albany and work for K-Mart. The benefits were great though — you'd get an hour-long on the blue light special."
3. He and his wife, Caroline, were college sweethearts.
Bryan and Caroline dated in college, and then broke up, because Caroline wasn't sure she was ready to be serious. But a chance encounter a couple of years later made them both realize that there were still sparks between the two, and they've been together ever since.
"I was a drug rep in Macon, [Georgia], but I was in Statesboro for work, and my brother said, 'Guess who is playing in town?'" Caroline recalled on the Get Real podcast (via CMT). "I saw Luke playing, and something was different. We made eye contact and we locked eyes. I was in my work clothes, not going-out clothes. I felt like a grandma. Then he took a break, and I thought he was trying to avoid me. So I left. He called my brother's house at 3:00 a.m., and I answered.
"He was like, 'Where did you go?' I said, 'I thought you didn't want to see me,'" she added. "Anyway, we've been together ever since. He and I would've never ever, ever lasted if we didn't have a break. We appreciate each other."
4. His favorite meal is cornbread with turnip greens.
Bryan can afford to eat anything he wants, but his favorite meal is actually very simple, and homegrown.
"My dad kept a vegetable garden, and in the winter he grew turnips," Bryan told Southern Living. "He'd cook a big pot of turnips and some flat lace cornbread. Whenever turnips were on the stove, my friends and I would scoop them into big cups and eat them while we drove around in our trucks. Now, that's about as country as it gets."
5. He was days away from moving to Nashville when his brother, Chris, was killed in a car accident.
Bryan was 19 when his brother died, and he decided to stay home a little longer and put his music career on hold, until his father forced him to move.
"I said, 'You know, if you're going to pursue your music career, you need to pack your truck up and move to Nashville,'" Tommy told ABC News.
6. He gave the eulogy at his brother-in-law's Ben funeral.
Bryan not only lost his brother, Chris, but also his sister, Kelly, who passed away unexpectedly in 2007, followed by Kelly's husband, Ben Lee Cheshire, in 2014. Bryan, who along with Caroline immediately started taking care of his nieces Kris and Jordan, and nephew Til, spoke at his brother-in-law's service. Later, Bryan spoke about his family's loss at an awards show.
"I want to thank all of my fans for the last couple of weeks in my life, for keeping my family in your prayers," Bryan said at the time. "And I wanna also recognize the country music community, all the artists. Fans, let me explain something to you: You guys support wonderful artists, because they have rallied around me and helped me and my family through the last couple of weeks. It's just nice to feel loved in a situation [like that]. Just thank you guys for an amazing 2014."
7. He enjoys cooking when he's home, and has a signature dish.
Bryan might be known as a singer, songwriter and performer, but he also has another talent: cooking!
"I enjoy cooking when I can," Bryan told Yahoo!. "My favorite thing to make is homemade chicken and rice soup. My dad has a special barbecue sauce that we are addicted to so I always whip that up if we are making our own barbecue at the farm."
8. The first album he ever bought was Thriller by Michael Jackson.
Bryan is a bona fide country music star, but his taste in music is really eclectic, and covers a lot of different genres.
"If you didn't have Thriller, you weren't cool," Bryan said (via ABC Audio). "Yes, I could moonwalk. No, we couldn't afford the glove and the red jacket."
9. He wrote Billy Currington's "Good Directions."
Bryan has written plenty of his own hits, but he's also written songs for other artists, including a No. 1 hit for Billy Currington, with "Good Directions."
"People would always say, 'Play the sweet tea song,'" Bryan told The Boot of the song, which he wrote with Rachel Thibodeau. "They would never call it 'Good Directions,' because the sweet tea and turnip greens stuff overshadowed the rest of the song. But it made people listen!"
10. He was hit by a car when he was in second grade.
Bryan fortunately was relatively unscathed, after he was hit by a car while walking home from school one day.
"About 3:35, and the crossing guard had left," Bryan recalls to The Bobby Bones Show. "A school bus is coming down the road. Now we're not talking about a highway here. We're talking about Leesburg, Georgia. A school bus pulls up and lets the stop sign out for me to cross, and I take off running, and a car runs the stop sign. I run into the side of the car and get hit with the rearview mirror, of the side mirror. It spins me around in the road, the car slams on the brakes, and I take off running to the house. It was a perfect timing thing."
11. His mother taught him to dance to George Strait.
Bryan has his mother and George Strait to thank for his nonstop dance moves on stage.
"Not like the butt shaking I do onstage," Bryan told Southern Living. "She taught me how to really dance: how to slow dance properly, how to lead a lady and be a gentleman. I love the memory of dancing cheek-to-cheek with my mama in our living room to George Strait's 'You Look So Good in Love.'"