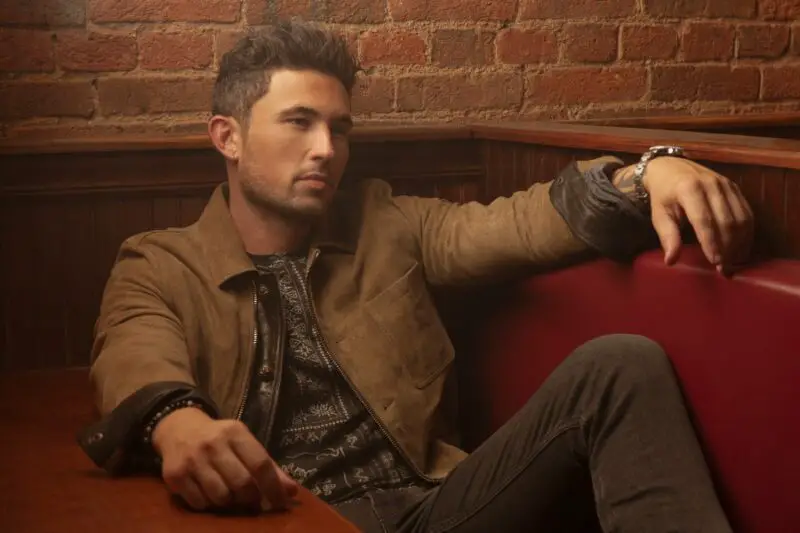 Michael Ray is back with a brand-new single, "Whiskey and Rain." The song, from his upcoming third studio album, is a bit of a new direction for the singer, finally embracing his love of the sounds of traditional country music that he grew up on.
"It's what I've always had in my head," Michael told Everything Nash. "I guess I always knew that I wanted  more of a traditional country sound. That's what I grew up on, what I listen to, to this day. And I just always felt like that was the record I wanted to make. It took this year, I guess, to really realize that on my own. So this song, it was just that catchy, hooky melody, that throwback to the Gary Allan. It sounds like Gary Allan, Dwight Yoakam — all of that. It just stood out. And really, we felt was a great way to introduce this new record and new sound."
"'Whiskey and Rain," written by Josh Thompson and Jesse Frasure, was one of the very first songs that Michael recorded for his new album, paving the way for other, similar-sounding songs as well.
"I had this record in my head for a long time," Michael maintained. "I know what I want to have. I know what I want to say on this record. You're going to have some of the Florida-swamp kind of sounds. You're going to have stuff that throws back like 'Whiskey and Rain,' but my influences of that '90s era of country music sound is sprinkled all over this record."
The new set of tunes follows Michael's successful sophomore album, Amos, which included the hit singles "Get to You," "One That Got Away" and "Her World or Mine." For the 32-year-old, the project became the perfect stepping block for his new record.
"It's evolving," Michael explained. "I think each record is different. I think that chapter is closed, but it allowed me to grow a lot and allowed me to learn a lot about myself musically, and what I wanted to say. It gave me the confidence to be able to make this record now. So, I feel good about it."
Michael wrote one song, "Run Away With You," for his self-titled freshman album, and didn't write any on Amos, but he promises his new album will likely include some songs he wrote.
"When Nashville has so many great songwriters, and you're writing songs and you're also on the road so many dates," he reflected. "I'm on a bus with my band and crew, and we're a tight squeeze … I love listening to songs, and listening to the songwriters, and I love that process of making a record. But I do have more on this record than I had on Amos."
Download "Whiskey and Rain" here.
Photo Credit: Courtesy of EB Media / Sean Hagwell