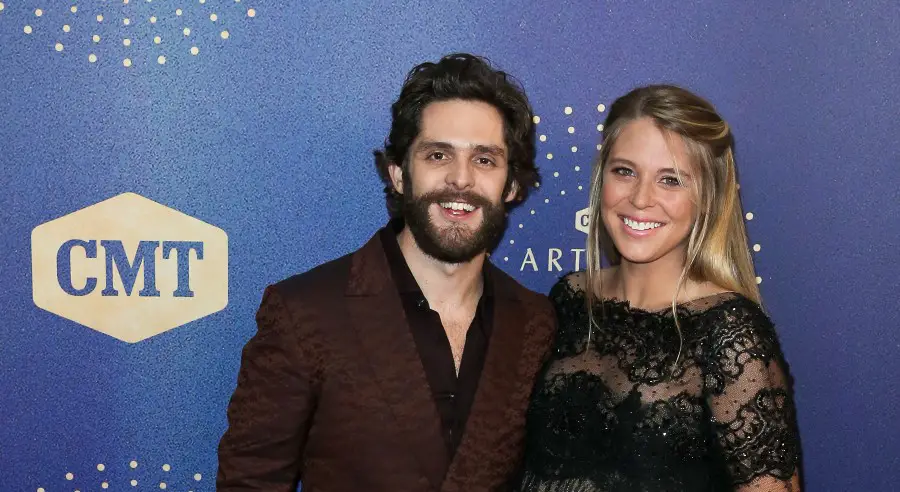 Baby will soon make six for Thomas Rhett and Lauren Akins, when they become parents to four children, all girls, later this year. The "What's Your Country Song" singer announced the good news while performing at Billy Bob's in Texas, after first getting the go-ahead from his wife.
"Well… we are pregnant again!" Rhett later posted on social media. "Tonight when I was about to play 'To the Guys That Date My Girls,' my wife talked to me in my (ear monitors) and said 'You can tell them if you want' so anyways, now you know. We are pumped to be having our 4th girl! Love you so much [Lauren Akins]. We always wanted a big Thanksgiving table."
Well… we are pregnant again! Tonight when I was on stage in Fort Worth about to play "to the guys that date my girls"…

Posted by Thomas Rhett on Sunday, May 9, 2021
Akins also commented after the news was revealed.
"SURPRISE!! he just couldn't wait any longer," Akins also wrote shared on social media, "so [Thomas Rhett] told our newest little secret onstage at [Billy Bob's] in Ft. Worth (my mama's hometown 🥰) just in time for Mother's Day: Akins family expanding in November 2021 with our FOURTH baby girl."
Rhett and Akins are already parents to five-year-old Willa Gray, three-year-old Ada James, and Lennon Love, who is 14 months old. But while their family might seem to be getting big, they likely aren't done yet.
"My wife has wanted five kids for forever, so I'm sure we're gonna have at least that many," Rhett told People. "I would love a son. But at the same time, I'm so used to embracing this 'girl dad' life that I don't really know what I would do with a boy, to be honest with you!"
Rhett has enjoyed plenty of extra family time over the past year, where he enjoyed doting on his three little girls.
"I just love getting to spend one-on-one time with each of them, which is something that I didn't think was really important before," Rhett admitted. "I just thought as long as the five of us were together, we were good. But I think the longer I've gone as a dad, it's like each child really does need that one-on-one time — in the same way that Lauren and I just need time with each other."
"To the Guys That Date My Girls" is from Rhett's recently-released Country Again: Side A album. The song was inspired by Rhett imagining what it will be like to have his daughters go out on a date.
"I wrote that song on the road," Rhett recalled to Everything Nash and other outlets at a virtual media event. "I was in Birmingham, Alabama in 2019. Me and my dad and Josh Thompson and Will Bundy wrote this song the day of the show. I had this idea for a while. And basically the song is a letter to the guys who are going to show up on my doorstep one day and and be like, 'Hey,
Mr. Akins, I'm here to take your daughter out on a date.' I've thought about all the ways I would approach that situation. Am I going to be like a super strict dad? Am I going to be the dad that invites him in for coffee? What kind of conversation is that going to be like? We sat down and wrote out a list of things that I wanted these guys to know. "