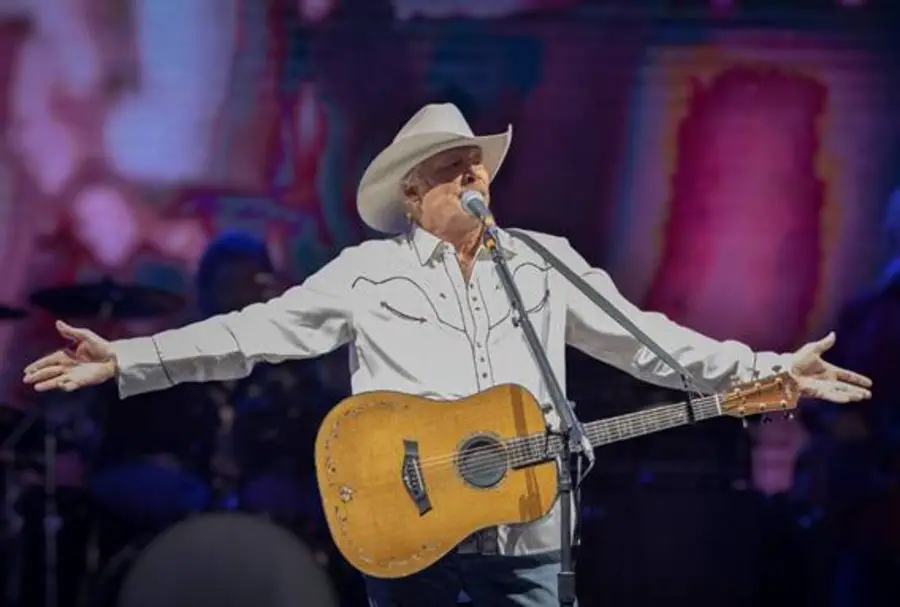 Country music is filled with stories of lost love and other tales of heartache. For decades, the genre has been known to sing about break-ups and tragedies, a trend that, for better or worse, continues today. While there are far too many to list, we counted down 10 of what we consider to be the saddest songs in country music.
10. "Concrete Angel," Martina McBride
Stephanie Bentley and Rob Crosby co-wrote "Concrete Angel," which was included on Martina McBride's 2001 Greatest Hits album. Telling the heartbreaking story of a little girl who was being abused at home, while those around her ignored all of the signs, McBride sings, "A statue stands in a shaded place / An angel girl with an upturned face / A name is written on a polished rock / A broken heart that the world forgot," as a reminder of the consequences of others' choices.
9. "I'm So Lonesome I Could Cry," Hank Williams
The entire life of Hank Williams is in itself a tragic story, passing away at only 29 years old while in the prime of his music career. But this song gives a hint to the sadness the singer must have felt, especially with lines like "Did you ever see a robin weep / When leaves begin to die / That means he's lost the will to live / I'm so lonesome I could cry." "I'm So Lonesome I Could Cry" has been recorded and/or performed by numerous artists since Hank passed away, including Elvis Presley, B.J. Thomas, Glen Campbell, Al Green and more.
8. "Where Were You (When the World Stopped Turning)," Alan Jackson
Alan Jackson penned "Where Were You (When the World Stopped Turning)," a little more than a month after the tragic 9/11 attacks.
"[It] came out of nowhere," Jackson later told The Boot. "It was just a gift. I got up and scribbled it down and put the melody down so I wouldn't forget it, and the next day I started piecing all those verses together, thoughts I had or visuals I had."
Jackson performed the song at the CMA Awards only a few days after he wrote the song.
7.  "You Should Be Here," Cole Swindell
Cole Swindell wrote this with his good friend, Ashley Gorley about his father, William Swindell, who unexpectedly passed away after a truck fell on him in 2013, mere weeks after Cole signed his record deal with Warner Music.
"From start to finish, it was one of those things where we both had chills when we were writing it," Swindell recalled to The Tennessean. "It felt so real to me, but everybody can relate. I've been able to experience so many things since I've had my record deal. I just know that he was proud, but I know that these moments – if he was there and could share it with me – it would be even better. This song is kind of my every moment."
The video for "You Should Be Here" begins with Swindell speaking to his father, as he was on his way to celebrate his new record deal with his friends, and ends with Swindell at the gravesite.
6.  "What Might Have Been," Little Texas
There are very few heartbreak songs that sting as much as "What Might Have Been." The song, with lines like, "We could sit and talk about this all night long / And wonder why we didn't last / Yes, they might be the best days we will ever know / But we'll have to leave them in the past / I try not to think about what might have been / Cause that was then and we have taken different roads / We can't go back again / There's no use giving in / And there's no way to know / What might have been," laments a love that could have been. "What Might Have Been" also became the band's only hit to land in the Top 20 on the Adult Contemporary chart as well.
5. "The Dance," Garth Brooks
Tony Arata wrote "The Dance," which a then-unknown Garth Brooks heard Arata perform at Douglas Corner in Nashville. Although far from famous, Brooks was so stricken with the song, he vowed to Arata that if he ever got a record deal, he would include it on his album, and he held to his word. "The Dance," which says, "I'm glad I didn't know / The way it all would end / The way it all would go / Our lives / Are better left to chance / I could have missed the pain / But I'd have had to miss / The dance," spent four weeks at the top of the charts, and earned Brooks an ACM Award for Song of the Year.
4. "I Drive Your Truck," Lee Brice
Lee Brice included "I Drive Your Truck" on his sophomore Hard 2 Love album, released in 2012. Based on a true story, when Brice heard how personal the song was, he asked his own brother to star in the video. Written by Connie Harrington, Jessi Alexander and Jimmy Yeary, the three wrote the song after Harrington heard an interview on NPR with Paul Monti, whose son, Jared C. Monti, a sergeant in the Army was killed in Afghanistan in 2006, when his patrol was ambushed.
"This song honors every single Gold Star family in the country,' Monti later said. "They all hold on to something, whether it's a truck, a car, dog tags, CDs, a baseball glove, a teddy bear – whatever it is, all of us hold on to something from our child."
"I Drive Your Truck" earned both a CMA and ACM Award for Song of the Year.
3. "Chiseled in Stone," Vern Gosdin
"Chiseled in Stone" was the title track of Vern Gosdin's tenth studio album. Written by Gosdin, along with Max D. Barnes, the song, which says "You don't know about lonely / Or how long nights can be / Till you've lived through the story / That's still livin' in me / You don't know about sadness / Till you've faced life alone / You don't know about lonely / Till it's chiseled in stone," was partly based on a true story, after Barnes' son, Butch, was killed in a car accident.
"I remember the night my dad woke me and told me about my brother," Max's son, songwriter Max T. Barnes, told American Songwriter. "Life goes on, but losing a child is deep. Although the story [in the song] is not specific, my dad was always able to draw from that well of pain. He had a great diverse background as well to pull from. Trucker, carpenter, biker, tuna boat fisherman, he had a lot of colors at his disposal."
2.  "If You're Reading This," Tim McGraw
"If You're Reading This," written by Tim McGraw along with Brad and Brett Warren (better known as the Warren Brothers), is from the perspective of a soldier who doesn't return from war. Beginning with the lines, "If you're reading this / My Momma's sitting there / Looks like I only got a one way ticket over here," the song also says he will miss not being able to see the birth of his baby girl, and tells his wife that she is free to marry again, before ending, "So lay me down / In that open field out on the edge of town / And know my soul / Is where my momma always prayed / That it would go / And if you're reading this / I'm already home."
"This was after 9/11 happened, and we still had soldiers in Afghanistan, and the whole thing was weighing on everybody's mind," Brett told Rolling Stone. "Tim was on an airplane, reading a Time magazine piece about all the letters that soldiers were writing home to their wives. He wanted to write a song similar to that."
"If You're Reading This" became an unexpected single after radio stations played McGraw's live performance of the song at the 2007 ACM Awards.
1. "He Stopped Loving Her Today," George Jones
George Jones' "He Stopped Loving Her Today" will probably go down in history as one of the saddest songs of all time, of any genre. Written by Bobby Braddock and Curly Putman, the song, which says in part, "He stopped loving her today / They placed a wreath upon his door / And soon they'll carry him away / He stopped loving her today," was never expected to be considered by many to be the greatest country music song of all time, by either the writers or George.
"It's the story of a man whose love was so strong that the only way he could get over this woman was to die," Braddock later said (via Songfacts). "I think he was a terrible role model, a very bad role model. The man was obsessed with this woman and he never got over. He never moved on … I thought it was just an okay song. I didn't think it was that great a song."