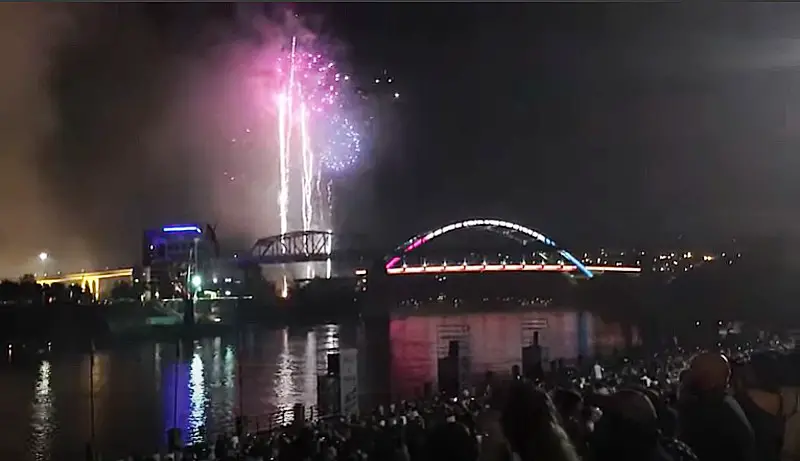 July 4th this year falls on a Monday, which means the Independence Day celebrations will take place all weekend long. We found 10 places to celebrate July 4th this weekend, with something for everyone's interests.
Nashville's annual fireworks display, Let Freedom Sing!, is returning in a big way this year. Old Dominion will headline the event, with performances by Gramps Morgan, Cassadee Pope, Levi Hummon, and more. Let Freedom Sing! promises the largest fireworks display in Nashville's history, once again set to the backdrop of the gorgeous Nashville Symphony.
100 1st Ave N, Nashville, TN 37201
Before heading to the fireworks downtown, enjoy some hot chicken at the Music City Hot Chicken Festival. Held every year on July 4th, the annual event, which is free, begins at 10:30 AM with a fire truck parade. Many of Nashville's popular restaurants featuring hot chicken will be on hand for guests to sample, along with other food, Yazoo cold beer, live music and more.
700 Woodland St, Nashville, TN 37206
What better place to enjoy watching the fireworks than from the Nashville Shores? The water park is including their stunning fireworks display with admission to the park. The show will take place on Sunday, July 3, beginning at 8:45 PM.
4001 Bell Road Hermitage, TN 37076
Nashville's Adventure Science Center is once again hosting their annual Red, White and Boom event. Guests can bring their lawn chairs and enjoy views of the downtown Nashville fireworks, along with several science demonstrations, lawn games, food trucks and free parking. Guests can also bring their own food. Tickets are required.
800 Fort Negley Blvd, Nashville, TN 37203
Ole Red Nashville is hosting more than a week's worth of celebrations. From now through July 5, Blake Shelton's famous bar and restaurant is offering special live music, featured drinks and more. Rooftop viewing of Nashville's fireworks display will also be available on July 4. Tickets are required.
Enjoy the Nashville fireworks while sipping on champagne and eating specially-themed sliders, on the rooftop of the Twelve Thirty Club. A DJ will also be on hand, as will champagne for the special occasion.
550 Broadway, Nashville, TN 37203
Those wanting to head outside of Music City can enjoy a spectacular fireworks display at The Park at Harlinsdale Farm in Franklin, Tennessee. The fun begins on the historic grounds at 6:00 PM with live music, followed by the fireworks show. Prior to heading to Harlinsdale Farm, enjoy Franklin on the Fourth, in downtown Franklin, with live music, antique cars and a kids parade. The events are free.
239 Franklin Rd, Franklin, TN 37064
There are few places that are offering as much family fun as the 4th of July Celebration at the James E. Ward Agricultural Center in Lebanon, Tennessee. In addition to the fireworks, the event, which begins at noon, includes inflatables, a balloon artist, face-painting, a car show, a craft table, live music and more. Free hot dogs and free watermelon will also be available. Both the event and the parking are free.
945 E. Baddour Pkwy, Lebanon, TN 37087
Watertown is about 40 miles outside of Nashville, but this event will definitely be worth the drive, especially if you don't mind getting wet! The city is hosting its Stars, Stripes and Squirt Guns annual event, a parade filled with squirt guns. A water-free zone will also be available for those who wish not to get wet.
745 W. Main Street, Watertown, TN 37184
Gallatin's Mountain of Foam will take place again this year at Triple Creek Park. Festivities begin at 2:00 PM, with local food vendors and an obstacle course, with the Mountain of Foam beginning at 4:00 PM. A $2 donation is suggested, which goes to the Sumner County Food Bank.
240 Champion Dr, Gallatin, TN 37066