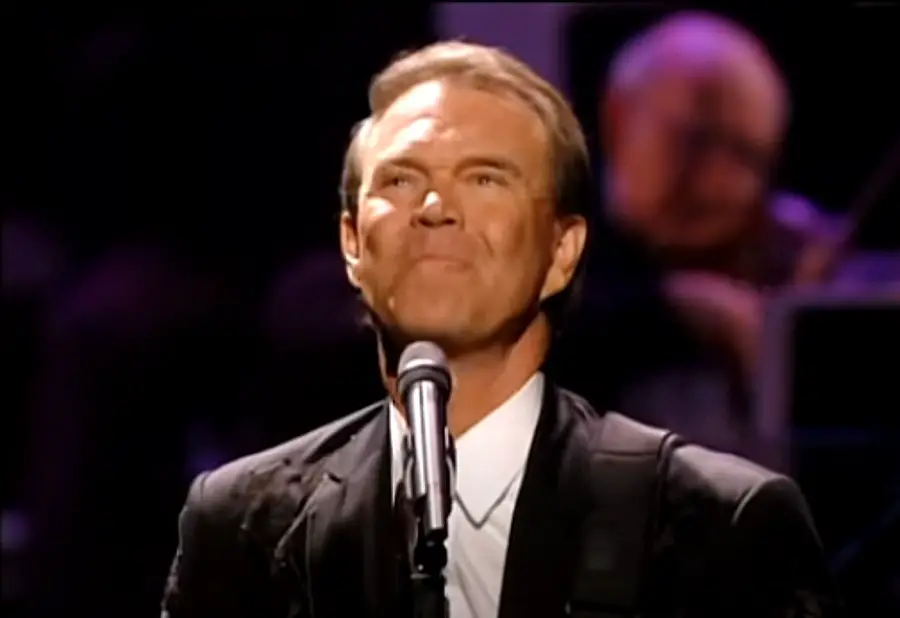 Glen Campbell would have turned 86 on April 22. Campbell, who passed away in 2017 from complications of Alzheimer's, was one of the true pioneers in country music, whose legacy will continue for years to come. Keep reading to know more about the country music icon.
1. He was one of 12 children, born to a sharecropper.
Campbell's childhood was anything but easy. One of 12 children born to a sharecropper in Arkansas, Campbell recalled struggling as a child, living on a farm where they grew cotton, corn, watermelon and potatoes, and did not have electricity. To help his family, Campbell picked cotton for extra money.
2. He almost died as a toddler.
When Campbell was a toddler, he fell into the Little Missouri River near his home. When he was pulled from the water, his lips were blue, and he was believed to have already passed away. But his brother, Lyndell resuscitated him and he miraculously lived.
3. He got married for the first time at age 17.
Campbell was married four times, with his first marriage taking place when he was only 17, and his wife, Diane Kirk, was just 16. The two met after Campbell moved to New Mexico to play in his uncle's band, Dick Bills and the Sandia Mountain Boys. The marriage lasted four years, and produced two children, although tragically, his firstborn, a son named Glen Travis Campbell, Jr., was born two months premature, and passed away.
4. He became sober in 1987.
Campbell had a history of drug and alcohol addiction, becoming sober in 1987, at his wife Kim's insistence, after he pointed a pistol at her in a drunken rage. Campbell remained sober until 2003, when he relapsed, and was arrested on suspicion of DUI and aggravated assault on a police officer following a hit-and-run accident.
"I was so mad," Kim told People. "I was back to trembling again. I was shaking like a leaf with my cellphone just saying, 'Nobody better go get him. Nobody go get him. He needs to sit in that jail. He needs to wake up and sober up in there and face what he's done.' I was so mad."
5. He was a sought-after studio musician.
Campbell might best be known for his more than 70 albums he released, but he also played on plenty of other records as well. Quickly becoming known as one of the best guitar players around, in any genre, Campbell played on projects by several notable artists, including for Frank Sinatra, Merle Haggard, Roger Miller, Doris Day, The Everly Brothers, and more.
6. He used to be in the Beach Boys.
After Campbell played on the Beach Boys' iconic Pet Sounds album in 1966, he was asked to fill in for Brian Wilson, following Wilson's breakdown, and temporary inability to tour and perform. Campbell was reportedly offered a permanent position with the group, but turned it down over a disagreement about royalties.
7. He was an avid golfer.
If Campbell had any free time, chances are good he was on the golf course. In fact, he became the host of his own Glen Campbell Open on the PGA Tour from 1971 to 1983. He was also known to sometimes wear cowboy boots instead of golf shoes on the golf course.
8. He didn't write some of his biggest hits.
Although Campbell did write several of his songs, some of his biggest hits were written by other writers, including "Rhinestone Cowboy," "Gentle On My Mind," "Wichita Lineman" and "Galveston."
9. He loved acting almost as much as singing.
Campbell not only had a successful music career, but an acting career as well. He appeared in several films and TV shows, including True Grit, The Cool Ones, Norwood and more. He also was the host of his own The Glen Campbell Goodtime Hour, which ran from 1969 to 1972.
10. He won six Grammys.
Campbell won six Grammy awards, which is not uncommon for a successful artist. But what makes Campbell's wins unique is the time span between his first and his last. In 1967, Campbell won four Grammys, two for "By the Time I Get to Phoenix," and two for "Gentle On My Mind." He won another one in 1968, also for "By the Time I Get to Phoenix," and then, although he had other nominations, he didn't win his final one until 2014. That one was for Best Country Song, for "I'm Not Gonna Miss You," which he wrote with Julian Raymond, about his battle with Alzheimer's. He also won the Lifetime Achievement Award in 2012.
11. He was diagnosed with Alzheimer's in 2010.
Campbell lived with Alzheimer's for almost seven years. He was diagnosed in 2010, but waited until 2011 to share the devastating news.
"We had been suspecting and fearing that that might be the case, because he slowly began to have some short-term memory loss … We just take one day as it comes, and make the most of every day," Kim told USA Today.
Campbell embarked on his Goodbye Tour in 2011, with some of his family members joining him on the road to help him when he forgot lyrics. In 2014, Campbell moved into a Alzheimer's care facility. He briefly returned home in 2015, before Kim returned him to the facility over his increasing needs.
"It was just more than I could handle," Kim told People at the time. "He's the sweetest person in the world, but he becomes combative when you try to change his clothes or bathe him. It really wasn't the best situation."