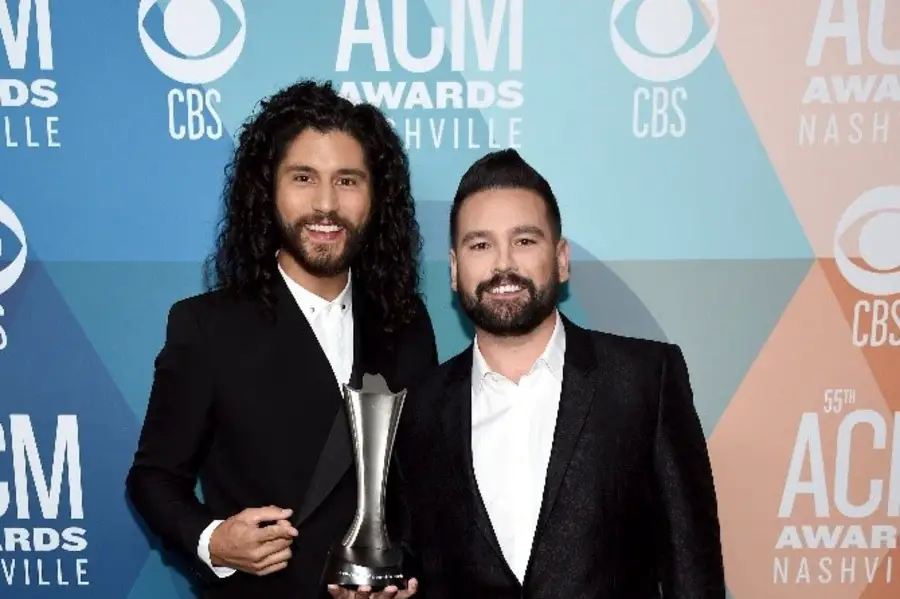 Dan + Shay just won the CMA Award for Vocal Duo of the Year! The category also included Brooks & Dunn, Brothers Osborne, Florida Georgia Line and Maddie & Tae.
"This is absolutely incredible. So thankful to be here with so many incredible people. I just thank God that we can do music. In a time like this, I feel like it's very important that we tell the people we love that we love them, so I love you dude," Shay Mooney said, speaking to his duo partner, Dan Smyers. "I'm so thankful to get to do this for a living, to wake up and get to do something that I love.
"Thank you to my wife, Hannah, and Asher and Ames, my little boys, watching at home," he continued. "I'm so thankful to do this. Thank you so much to country music, and to everyone that got us here, our fans. This is amazing."
"Thank you to my wife, Abby. I love you so much," Dan added. "To our team …. Country music fans, you guys are the best. Thank you for this. It means the world."
Dan + Shay performed earlier in the live broadcast, singing "10,000 Hours," their collaboration with Justin Bieber. The pair are also working on a new album, which includes both "10,000 Hours" and their latest single, "I Should Probably Go to Bed."
"We hadn't put out any new music since '10,000 Hours,' which was October 4 of last year," Shay told The Country Daily. "And, we have the luxury of time right now. We have the responsibility to write the best music we possibly can and try to one-up the last thing we did. And so, right now, we have time to do that . . . and we've got a lot of stuff in the tank that we're super proud of that we've recorded and written that we're super stoked on."
Dan + Shay have been nominated for Vocal Duo of the Year every year since 2014. This is their second win in the category.