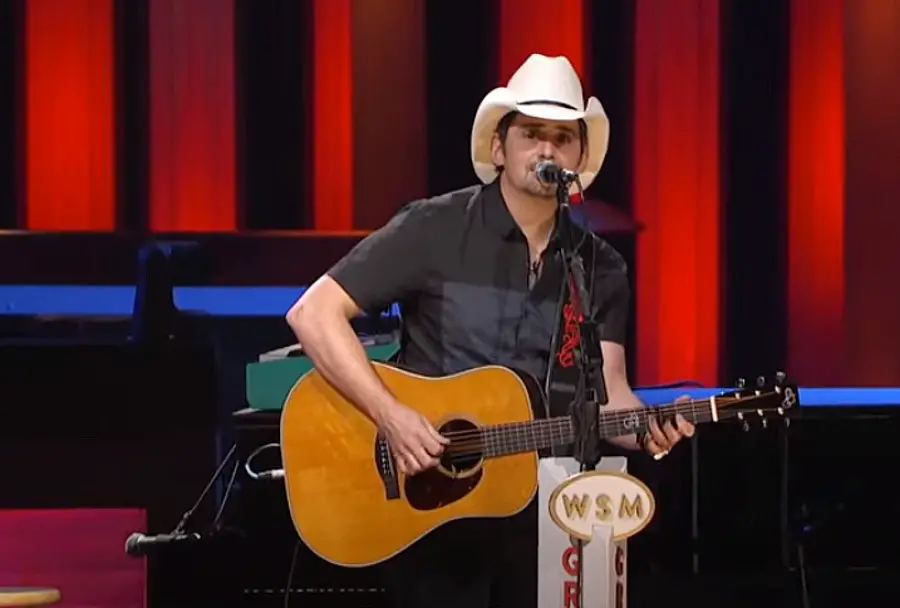 21 years ago today, on February 17, 2001, Brad Paisley officially became a member of the Grand Ole Opry. The West Virginia native was 28 years old when he was inducted by Steve Wariner.
During his induction, a letter was read from George Jones to Paisley.
"I am counting on you to carry on the tradition, and make folks sit up and listen to what good country music should sound like," Jones said in part.
Paisley was only a few months away from releasing his sophomore Part II album when he became a member of the Grand Ole Opry. He had also just celebrated his second No. 1 single, with "We Danced."
"I don't feel worthy but I hope to earn it," Paisley said from stage. "I'll spend my career making this place proud they did this. It means the world to me that my friend Steve Wariner was part of it."
Paisley was invited to join the Grand Ole Opry by Bill Anderson the previous December.
"Not unlike our first 75 years, the Grand Ole Opry's future will be secured by a group of dedicated and talented artists distinguished as Opry members," Pete Fisher, manager of the Grand Ole Opry at the time, said of Paisley. "In only 18 months, Brad Paisley has built an impressive list of career accomplishments. As a result of these achievements, along with a sincere commitment he has shown through his numerous Opry appearances, we look forward to naming him as the newest addition to the Opry family February 17th at the Ryman Auditorium,"
With more than two decades of membership so far, the 49-year-old still calls the Opry one of his favorite places to play.
"You don't last long here if you're anything other than humble and down-to-earth," Paisley says of the hallowed institution.
In 2012, Paisley was able to return the favor, by inviting Darius Rucker to join the Grand Ole Opry.
Paisley just announced two intimate shows in Las Vegas. The singer shared on social media that he will perform on March 11 and 12, with just him and his guitar.
Me. You. My guitar. Las Vegas. March 11-12. https://t.co/lLaUSOFkjX pic.twitter.com/xXMAHlQKsp

— Brad Paisley (@BradPaisley) February 17, 2022
"I'm playing at the Wynn," Paisley announced. "It's the greatest little stage. It is so intimate, and I can play anything you want me to play. Just shout it out. It's one of those nights — last time I did this, it was one of the most magical experiences I've ever had on stage. and I expect nothing less this time. Come see me. in Las Vegas, in the city of everything."
Paisley will be spending a lot of 2022 on an airplane. His tour schedule this year includes shows in Ireland, Denmark, Sweden and more. Find tour dates at BradPaisley.com.