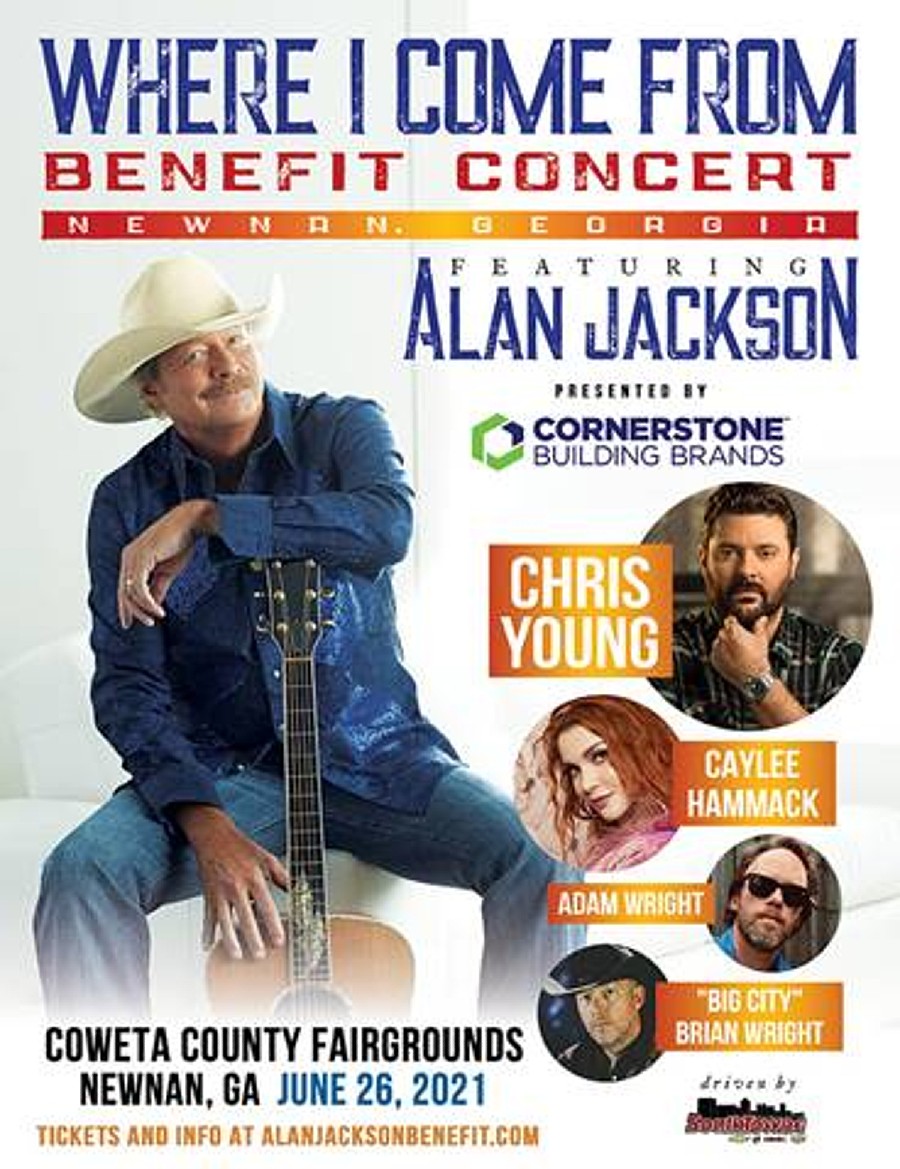 Alan Jackson is returning to his hometown of Newman, Georgia, for a special benefit concert, where he will be joined by a few of his famous friends. The 62-year-old will perform for the Where I Come From: Tornado Benefit Featuring Alan Jackson show on June 26, joined by Chris Young, Caylee Hammack and fellow Newman natives Adam Wright and Brian Wright, all joining forces to raise money for the rural town, following an EF-4 tornado. The tornado destroyed more than 70 homes and damaged many more, along with caused damage to more than 1700 buildings.
"After the tornadoes came through Newnan I knew that I wanted to do what I could to help my hometown. I started working on an idea to do some kind of benefit in Nashville to help those affected in Newnan, but then heard from a group of leaders in Newnan," Jackson explains. "I'm glad we came up with a way to bring this show to my hometown…and I'm happy to be helping the people who need it most."
The news of the benefit concert comes only a few days after Jackson released his pure country Where Have You Gone album, once again joining forces with his longtime producer, Keith Stegall.
"When Keith and I went in, I said, 'Man, we're going to make a country album. I don't have to worry about radio anymore; they probably won't play me anyway. I'm just going to make what I like — and what I know my fans like,'" Jackson said on Apple Music's Today's Country Radio with Kelleigh Bannen. "And we went in there and I brought these old pickers back that played of most my records, and they played some of the coolest tracks that we've played in 30 years. When Keith sent me those first two or three cuts that were kind of half-done, it just about made me tear up. I had to pull over. I was so proud, and so glad to hear some real country music. … I just sat there, and then I told my wife, 'These songs need to come with a six-pack of beer and a bottle of Jack Daniel's.'"
Tickets for the Where I Come From: Tornado Benefit Featuring Alan Jackson will be available beginning on May 21. Find more information at AlanJackson.com/benefit.