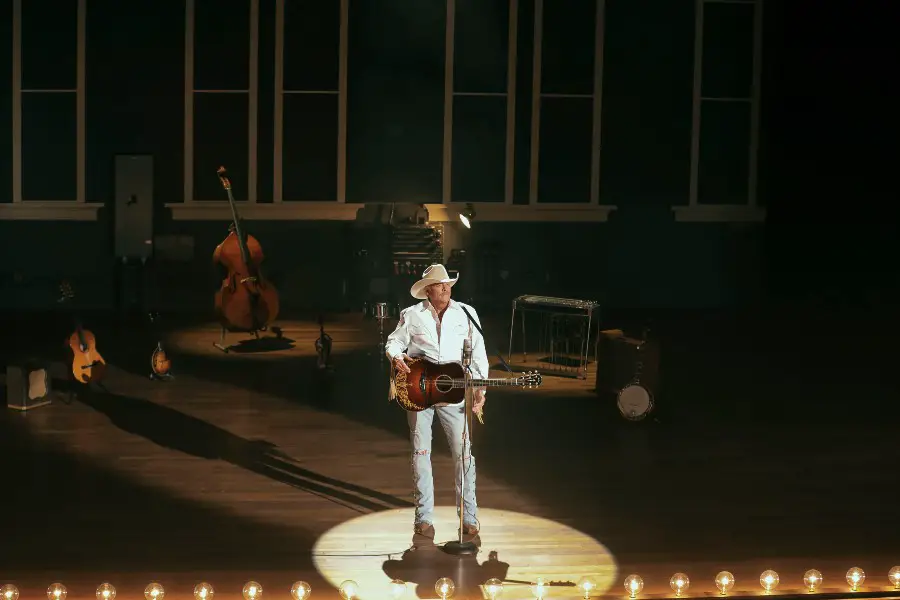 Alan Jackson just released the video for "Where Have You Gone," the title track of his latest album. The black and white video, filmed from the stage of the Ryman Auditorium,  honors the country music legends of years gone by.
In the video, Jackson can be seen surrounded by instruments such as fiddle, steel guitar, banjo, upright bass, acoustic guitar, simple drum, waiting to be played, along with images of Johnny Cash, Patsy Cline, Merle Haggard, George Jones, Hank Williams and Tammy Wynette.
"The song kind of starts out like it's a lost love," Jackson says. "I love what I call 'real country music,' and I just see it fading away more than I ever have. I just wanted to say that."
"This is Alan's idea … capturing all of this incredible history that's happened here," adds director Peter Zavadil. "The goal was to make the Ryman as much of a character in this as Alan is the artist onstage. This is a magical place."
Jackson previously said that the song, and the rest of the record, was inspired by the music of his own country music heroes, and his longing for the traditional country music sounds that seem to have largely disappeared.
"Merle and George and Hank," Jackson said, speaking of what drew him into country music. "A lot of young people liked that music when I was growing up, but it felt like nobody was making it. Somebody had to go to Nashville to make that kind of country. Randy [Travis] did and was great. But real country music is gone. It feels like 1985 again, and somebody has to bring it back. Because it's not just 50-year-old people, it's 20- and 25-year-olds. They have a real ear for country music, because it is real and genuine. They know the difference, and you can't fake those things."
The 62-year-old , whose last album, Angels and Alcohol, was released in 2015, built a wildly successful career, which has spanned more than 30 years, on making country music, without following any of the changing trends.
"I never felt the need to chase anything different than I did," Jackson reflected. "I just did what I liked and was lucky enough to connect with people who love the same kind of country music I do. My heart was in the real country music, that was what I wanted to do, and I thought if my career lasts three or four years, I'd be happy."
Purchase Where Have You Gone here.*
*Everything Nash has an affiliate relationship with Amazon Music, which means we may receive a small commission from purchases on this page, at no additional cost to the artist or consumer.