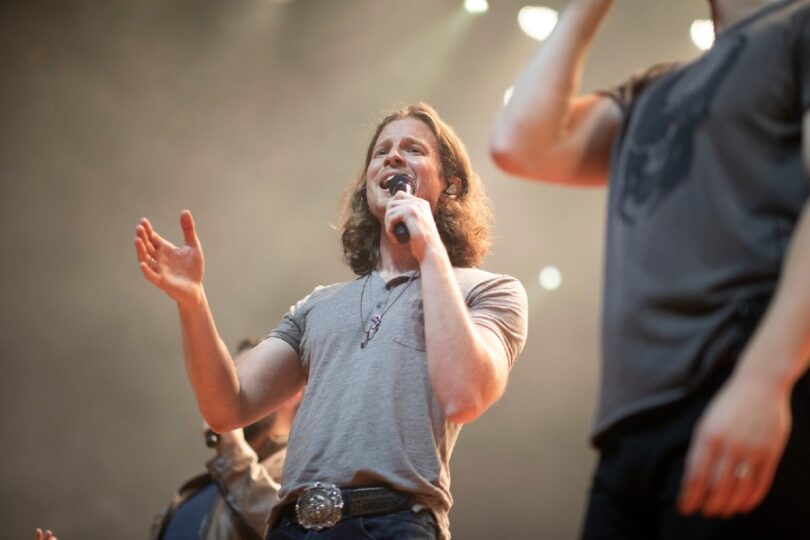 Home Free's Austin Brown joined the group in 2013, after discovering the singers while working on a cruise ship. By the time Brown became part of Home Free, the group had already been working since 2000, founded by Chris Rupp as a hobby before realizing he wanted to make Home Free a full-time job. While the group now tours all over the world, selling out large venues, their beginnings were anything but easy.
"Adam Rupp and Chris Rupp and Matt Atwood, the guy whose place I took, they kept the band going," Brown boasts to YouTube's Jacob Restituto.  "The first seven or eight years of this band was so much work, and they lost so much money, and time. They kept thinking, 'Oh this will be the time when we finally start to turn a profit.' They were doing it because it was fun, but they also knew they could turn it into something."
If not for Chris Rupp's determination, Brown doubts Home Free would have anywhere near the success they have today. Although Chris Rupp left Home Free in 2016 to pursue other musical interests, his influence and persistence is what Brown largely credits to making Home Free the success that it is today.
"Chris Rupp is one of the most tenacious people I have ever met in my life," Brown says. "He's such a hard worker. And when they started the band, they just kept it going. And the things that they went through, they would have made 99.9 percent of the people in this world, would have quit … But for some reason, they kept going. There are several stories that they have about how they almost quit, because it was just so terrible, in the pouring down snow, minus 20 and the van breaks down, and the trailer pops a tire, and they're all falling trying to get stuff fixed, and they're stuck after losing money to go do a show.
"But they kept going, and I'm so grateful for that," he adds. "Because when I was able to join the band in 2013, they had a good thing going at that point. It was a blessing for me to join at that point. I was like, 'This is awesome!'"
Brown has learned plenty since his time with Home Free, mostly about hard work. The son of a Southern gospel singer, Brown was unaware of how much time and effort it would take to build a successful music career, until he joined the legendary group.
"It's important to love it," ascertains the singer. "Self-discipline is something I did not have for the bulk of my life. I worked hard, but I had no discipline, just because of the nature of how I was brought up, and I think it's a common theme with a lot of folks in this generation, in America or the Western mind maybe. I think we all want to grow up like a Disney princess and just [hope] some miracle happens, and then we sail off into the sunset. We get to watch TV and go to shows and party, all the time. No one actually wants to work hard.
"But these last few years, I've really rediscovered just how awesome it can be to work hard and to discipline yourself," he continues. "When you start achieving goals, and you see how much faster everything happens when you just focus, and tune out all of the garbage in the world, and just focus on what's important right here, right now."
Home Free will resume their Dive Bar Saints Tour on February 17 in Greensboro, North Carolina. Find a list of all of their upcoming shows at HomeFreeMusic.com.