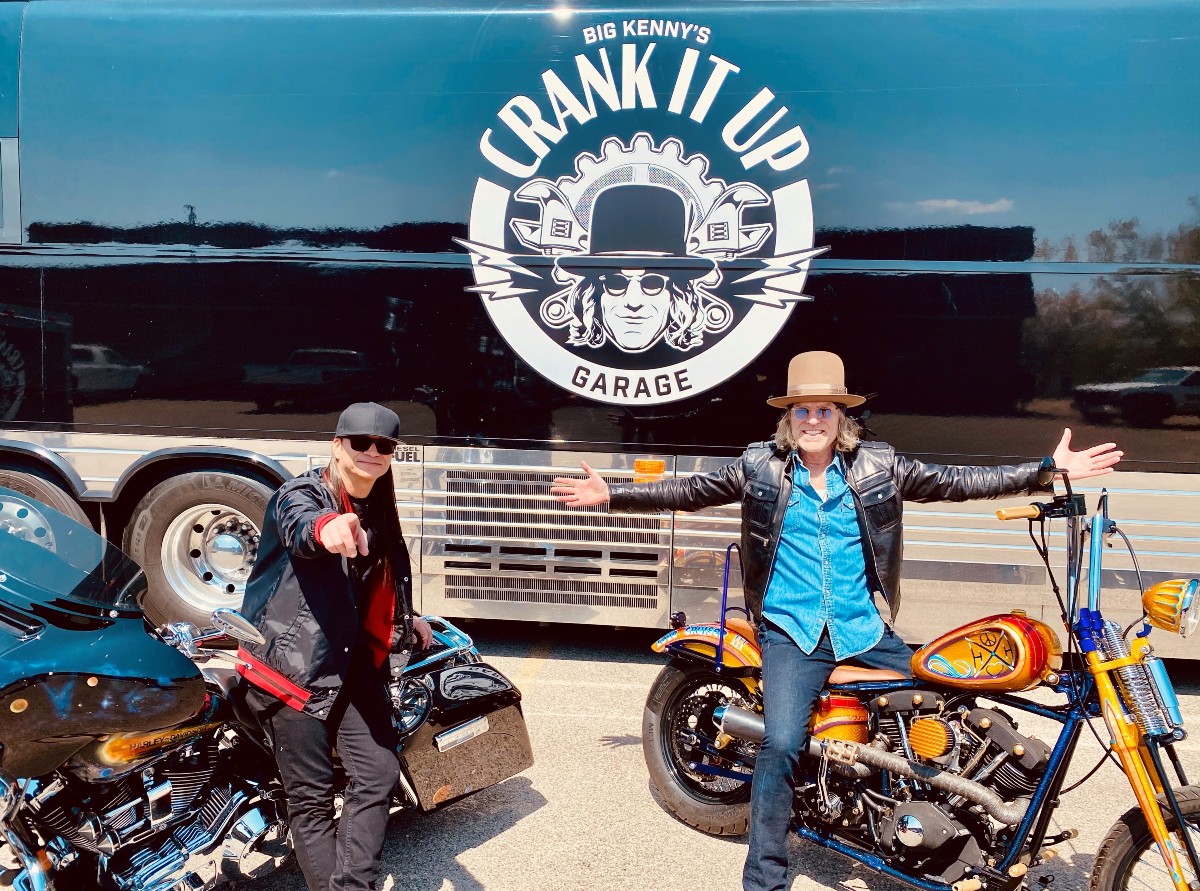 Big Kenny is launching a brand-new show, this time focusing on vehicles instead of music. The Big & Rich singer, whose real name is Kenny Alphin, will launch Big Kenny's Crank It Up Garage on Thursday, July 8, airing on Circle All Access. The show, which also features Charlie Pennachio, highlights unbelievable, unique motorized creations, including a golf cart that can travel over water, a jet-propelled Amish buggy, a limo jet, and more.
"It was kind of funny how it came together," Big Kenny tells Everything Nash. "We were at my place. We were just out in my shop,  right outside of the studio, and we were shooting for another show for Circle here last spring. I think it was actually right around the beginning of April that we had finished shooting that. When they got here, I'm thinking they're going to want to shoot it in the studio, but they had passed by the garage and everybody liked the shot. So they wanted to set it up out there."
It was while they were out in Big Kenny's shop, while looking at what the singer was storing in there, including an old Kawasaki motorcycle, that the idea for Big Kenny's Crank It Up Garage was born.
"I just started talking about how I love seeing all these folks out there, all the creatives in the world that build stuff, that have ideas and they take them from an idea to magnificent," Big Kenny shares. "And I love shops. I love tools. I love seeing what people can do with their tools. Charlie started chiming in about the stuff that we're just constantly showing each other back and forth. That week I think he'd sent me a picture of a dude that had a souped-up bathtub. I'd sent him one of a dude that had taken a wheelchair and put a motor on it."
The more they talked, the more they realized they were actually coming up with a new TV show concept.
"We just continued to talk about all these creatives that we see," Big Kenny said. "I love just love being able to see vehicles and all the new stuff that's coming about constantly. Next thing you know, I said, 'Man, we could shoot a show about this and tell these stories.'"
Not only did Big Kenny have the idea for Crank It Up Garage, but he also was very hands-on with all the details, including visiting the owners of the vehicles at their house.
"I would call the guys or gals who had them and say, 'This is Charlie from Big Kenny's Crank It Up Garage, and they'd go 'Big Kenny like Big & Rich Kenny?" Pennachio recalls. "I'd go, 'Yeah … Kenny has a new TV show and we want to come to your shop or your house to see these vehicles.' And everybody, they start going 'Big Kenny from Big & Rich is coming to our house. Is this a joke?' It was right around April when we started this, so they thought it was April Fools'. I'm like, 'No, for real, we're coming to your house.' It was great. And to this day,  after shooting, me and Kenny still speak to these folks. We love them all. They're incredible people. It was so neat to go see them."
The people might have been thrilled to have Big Kenny at their house, but it was just as fun, if not more, for him.
"It's completely backwards of what you think," Big Kenny reflects. "People are used to seeing our tour buses pull into venues, and pull into festivals, but our tour bus is pulled into their backyard. That's just a little bit of a different concept. So, it was quite fun to see the smiles on their faces. When we hop off the bus and see their kids come up, want to say hi and, and their families and friends there, it was exciting. It was exciting for us. It's exciting for them. It was just a really all-around glorious experience. It was a glorious experience to go there and see these people, meet these people and see their shops. It was super cool to go to their world. They always come to my world; they come to our shows, they come see what I do, but it was just super cool for us to go to their world."
Big Kenny's Crank It Up Garage will premiere on Thursday, July 8, at 8:30 PM ET on Circle Network. Check local listings here.