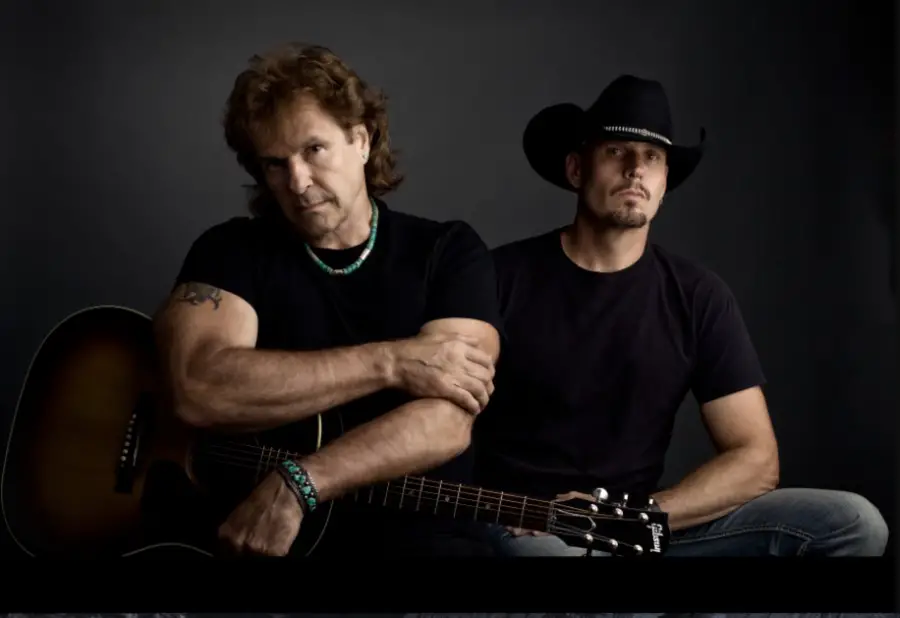 New music is coming from BlackHawk, and what a project it is. The iconic band will release the acoustic double album, Just About Right: Live From Atlanta on Friday, November 13, via BFD / Audium Nashville / The Orchard.
BlackHawk, which is made up of Henry Paul and Dave Robbins, also originally included the late Van Stephenson, who tragically passed away from cancer in 2001. For Just About Right, BlackHawk returned with their original backing band, which "made for a very memorable musical moment," said Henry. "Many of the songs we chose were personal favorites from our early records spanning nearly a decade."
"Making a live BlackHawk acoustic recording takes me back to when Henry, Van, and I started writing and singing together as a trio," Dave said of the record, which was recorded at the famed Eddie's Attic in Atlanta, Georgia.  "It's representative of BlackHawk in its purist form, having old friends join us on stage and tried-and-true fans makes everything 'just about right' on that special night in Atlanta."
Returning with the band that helped them make music for most of their career, while recording songs like "Goodbye Says It All," "I Sure Can Smell the Rain" and more, made the experience of recording Just About Right all the more meaningful for BlackHawk.
"Having this music that's so special to us performed by the people that helped create it sets this double live album apart from anything we've recorded and released," Paul said. "I especially love the acoustic nature of this collection because it casts these songs in the true spirit in which they were written."
Fans who pre-order Just About Right: Live From Atlanta will receive a download of "That's Just About Right." Order the album here.
Just About Right: Live From Atlanta Track Listing:
Disc 1
1. Down in Flames (M. Clark, J. Stevens)
2. Goodbye Says It All (C. Black, B. Fischer, J. McRae)
3. Every Once in a While (H. Paul, D. Robbins, V. Stephenson)
4. Love Like This (P. Bunch, M. Kennedy, P. Rose)
5. Let Em' Whirl (H. Paul. V. Stephenson, G. Jennings)
6. Almost a Memory Now (D. Robbins, V. Stephenson, D. Oliver)
7. Wichita (D. Robbins, T. Robbins, T. Gates)
8. I'm Not Strong Enough to Say No (R. Lange)
9. Ships of Heaven (V. Stephenson)
10. Ain't No Yesterday (W. Aldridge, M. Narmore)
11. Always Have, Always Will (D. Robbins)
Disc 2
1. Days of America (H. Paul, D. Robbins, L. Miller)
2. Dances With Her Shadow (H. Paul, D. Robbins, V. Stephenson, D. Oliver)
3. Bluest Eyes in Texas (D. Robbins, V. Stephenson, T. DuBois)
4. Spirit Dancer (H. Paul, D Robbins, J. Peterick)
5. There You Have It (S. Bogard, R. Giles)
6. Brothers of the Southland (H. Paul, D. Robbins, J. Peterick)
7. One More Heartache (H. Paul, D. Robbins, V. Stephenson)
8. I Sure Can Smell the Rain (W. Aldridge, J. Jarrard)
9. That's Just About Right (J. Black)
10. Postmarked Birmingham (P. Vasser, D. Sampson)
11. Big Guitar (H. Paul, H. Gross)