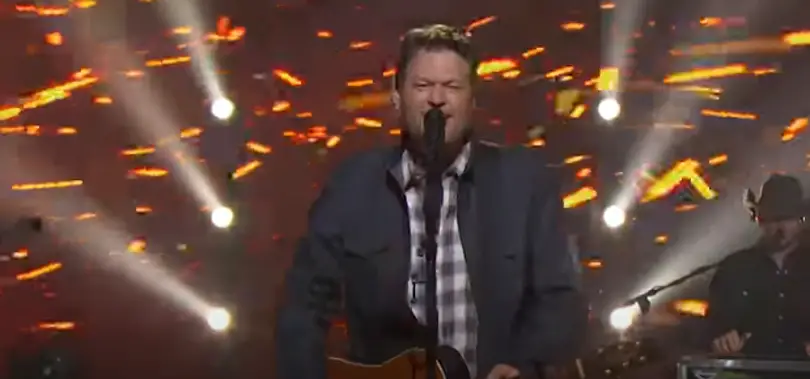 Blake Shelton and Carson Daly are teaming up for another TV show besides The Voice. The two friends just announced a new show, Barmageddon, airing on the USA Network, and filmed at Shelton's own Ole Red Nashville bar.
According to Deadline, Daly will serve as the resident bartender, while Shelton performs with Ole Red's house band for a live music sing-along. WWE Hall of Famer Nikki Bella will host the show, featuring Shelton's celebrity friends competing against each other in several classic bar games with a unique twist, including Air Cannon Cornhole, Keg Curling, Drunken Axe Hole, Sharts ("Shelton Darts") and more.
Two celebrities will compete against each other, with the goal of winning a prize for a viral internet sensation each one personally chose to support, who will be at Ole Red. The loser has the chance to spin the Wheel of Redemption, described as a "risky move with hilarious consequences."
"Nashville is known for great music and hospitality, which makes it the perfect setting," Shelton says of the new show. "I'm excited about Barmageddon and can't wait for friends, old and new, to join my buddy Carson and me for some drinks, music and high-spirited fun at Ole Red."
Shelton and Daly will serve as the show's executive producers, along with Lee Metzger and White Label's Chris Wagner.
"Blake, Lee and I wanted to create a show where the audience can feel like they're hanging out with us at Ole Red in Nashville, having a drink and cheering on friends as they compete in the ultimate test of athleticism and endurance – bar games!" adds Daly.
Daly, who also serves as a host on the Today Show, says Barmageddon makes sense as a joint project for the two friends.
"They say write what you know. Well, we produced what we know. We know bars and having fun," Carson said on Today. "The world's a complex place and this show's the opposite of that.".
Shelton and Daly's friendship extends far beyond The Voice. It was Daly who officiated Shelton's wedding to Gwen Stefani last July, chosen by both of them because of how close they both feel to him. It was Daly who also encouraged the couple to write their own wedding vows.
"I went to them months ago and said, 'I think you guys should write your own vows. We shouldn't just do the repeat after me,'" Daly recalled on the Today Show. "They were really reluctant to do that, but they decided to. It's two of the best songwriters in the world; we want to hear your words."
A premiere date for Barmageddon has yet to be announced.