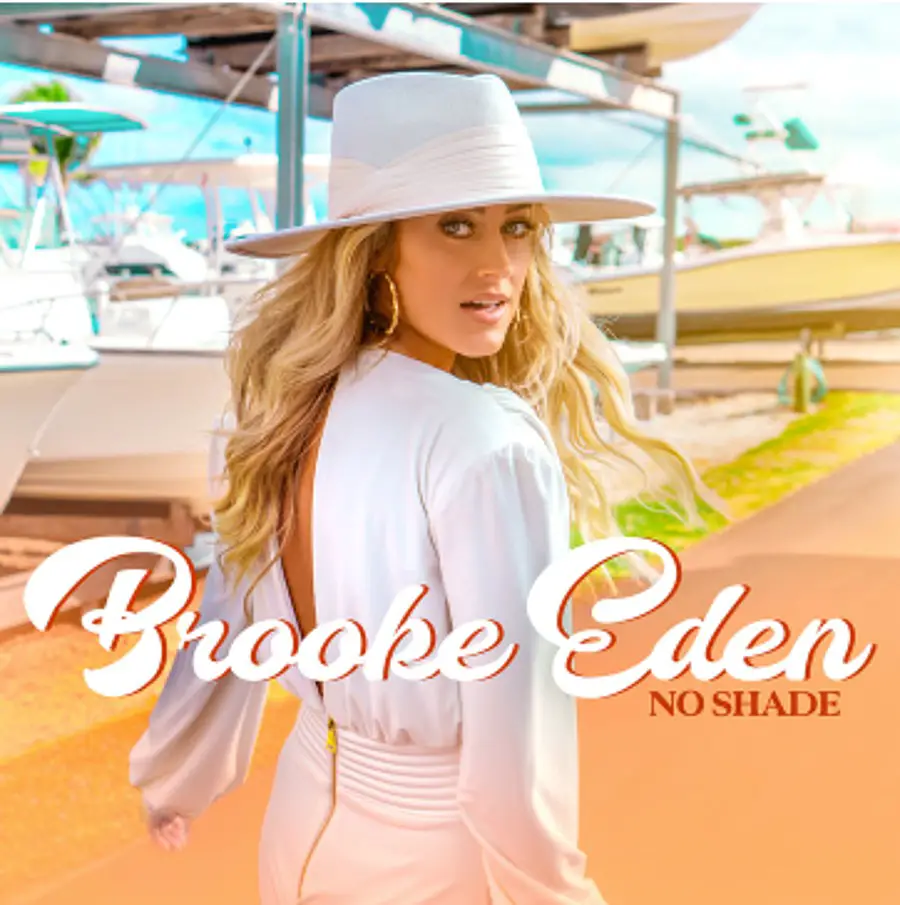 It's been four years since Brooke Eden has released new music, but she is now back, and better than ever. The Florida native just released "No Shade," one of a trilogy of songs that she promises to release in 2021, showcasing her new, brave sound — and new lease on life as well. "No Shade" follows Eden's 2017 single, "Act Like You Don't," but starts an entirely new chapter for the powerful singer.
"I feel like it's kind of where I left off," Eden tells Everything Nash. "'Act Like You Don't,' that was a song about being in a toxic relationship and 'No Shade' is about coming out of that toxic relationship, and realizing that you've lost yourself, you've lost your fire in that. And then seeing the light at the end of the tunnel, and finding out who you are now, and realizing that growth.
"This song originated because someone was like, 'Hey, don't judge me for this,' and said what they were judging themselves for," she adds. "And I was like, 'Hey, no shade coming from me.' And I just realized there's so many different ways that those words can go."
Eden wrote "No Shade" with Steven Lee Olsen and Brandon Day, with the song reflecting in many ways where she is in her own life, which is very, very happy. After years of keeping it in the dark, Eden just opened up that she has been in a longterm relationship with her girlfriend, Hilary, for the last several years, and has never been happier.
"The music sounds different this time, and that's because I'm really happy," Eden gushes. "I wanted my music to reflect that … Hilary is such a huge piece of me. And I'm like, 'How am I supposed to put out music and connect with these fans and these people, if they don't know such a huge chunk of my life?' I just think it's really beautiful that we're all kind of getting to this point now in country music, where we feel safe enough to live out loud."
To help create the new sound, Eden enlisted hit songwriter and producer, Jesse Frasure, who also co-wrote one of her upcoming songs.
"I was like, 'Hey, I want to create this sound that is retro, soulful and country,'" Eden recounts. "He's from Detroit, and he has that whole Motown soul. So I was like, 'I know that we can create this together.' For so long, the sound had only been living in my head, and I didn't know if I'd ever be able to get it into music."
Frasure co-wrote another song from the trilogy of singles, "Sunroof," which happened quickly after Eden first met with him.
"Truly after we had that conversation, the first four chords that he played were from 'Sunroof,'" Eden recalls. "That was kind of the beginning of this new sound that is happy and beachy, full of sunshine and colorful. It's been really fun to create."
Eden released a powerful video last week, "Let Me Introduce Myself," where she shared more of her journey the last four years, including a scary health battle that forced her off the road. Thankfully, she is doing better than ever, and is ready to move full-speed ahead into whatever 2021 brings her way.
"I stay healthy," Eden shares. I got a Peloton, so I'm on the Peloton all the time to keep my heart happy. Sleep is huge. I've limited my alcohol intake to special occasions, and being in a pandemic has actually really helped with that, because I don't really like to sit around and drink at the house. It's more of a social thing for me. I'm drinking a lot of water. All the boring stuff you do is what I do."
Beyond the trilogy of songs, Eden doesn't know what new music will look like for her this year, but she does say she is using the time at home to be very creative.
"I personally am writing constantly and would love to put out a full album," she teases, "but that's not 100% percent happening yet."
For now, "No Shade" is available at BrookeEden.com.