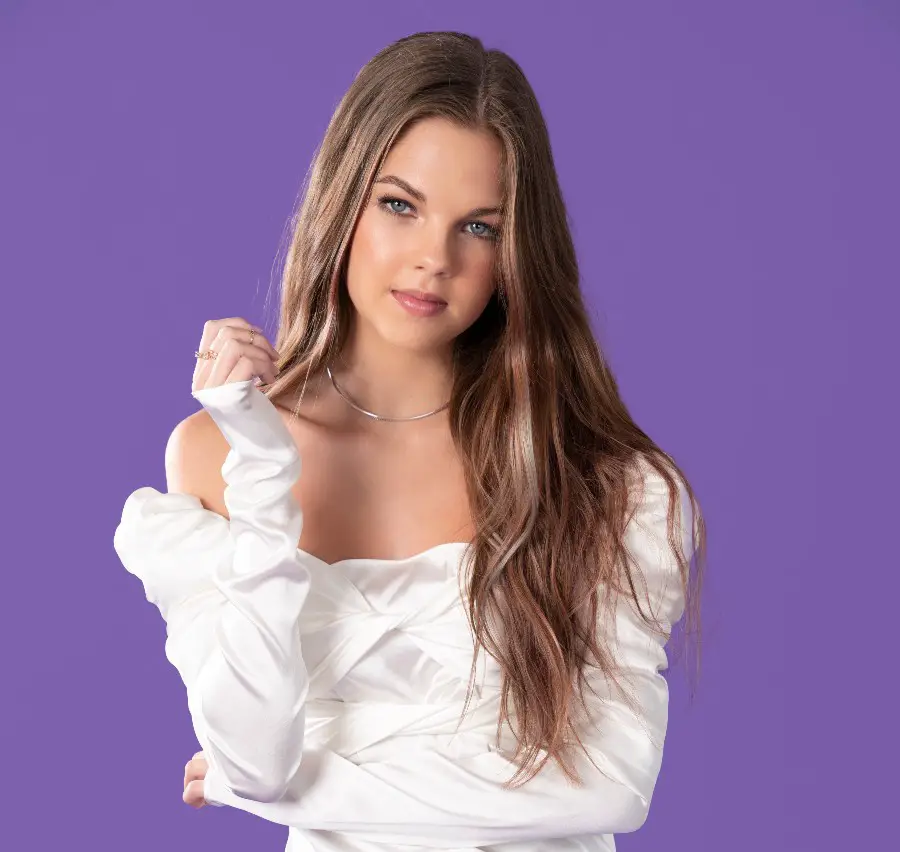 Callista Clark is quickly becoming one of the most talked about new artists in country music, and with good reason. The rising star released her debut Real to Me EP earlier this year, co-writing all five songs with hit songwriters like Laura Veltz, Emily Shackleton, Chris DeStefano and more — a feat even more impressive since Clark is only 17 years old.
"Most of the songs on this collection were some of the very first songs I ever wrote in Nashville, so my very first co-writes ever," Clark tells Everything Nash. "And so, when I was thinking about what to put out first, it just felt natural to start from the beginning, and it felt like a great way to introduce myself. All of these songs were the ones that I got to play live before 2020."
Included in Real to Me is her current single, "It's Cause I Am," which she wrote with Veltz and Cameron Jaymes.
"I wrote them around two years ago, and the newest one is 'It's Cause I Am,'" Clark says. "I wrote that one about a year ago. It was the December before 2020, so right before the world shut down. And right when I wrote it, I was supposed to go into studio top of 2020, and that one just jumped up to the favorites, so we knew we were going to cut that one as well. And nothing went the way it was supposed to."
Clark might not be old enough to vote, but she has a wisdom the defies her youth, which comes out in her music, especially "It's Cause I Am." The song, which says in part, "I can't help that I'm one of a kind / I'm more than meets the eye / If I ain't what you like / Well that's alright / You want a one-dimensional woman / It's okay, I understand / If I seem too complicated for ya / It's 'cause I am," was an intentional message from Clark.
"It was really fun to write that song, because it came from the feeling of having people doubt you before they know who you are, or what you're capable of, and they think they have you all figured out," Clark reflects. "And I think that really goes with the one-dimensional woman line that's in the chorus, because I don't think anyone is ever that easy to figure out. There's no such thing as normal. Everyone always has something that makes them different, something that makes them special. And I just really feel like that's the case. You should never judge someone on a split second."
Although Clark has been singing since she was a little girl, becoming an artist might be a surprising choice for her, since she was too shy to even speak in school until she was in second grade.
"I'm better at singing than I am talking," Clark reflects. "I've always been really shy, and it's something that I've just learned to get over, and get better and better at. But with singing, my kindergarten teacher figured out that I could sing. There was a kindergarten graduation that they did. And she said, 'You're going to sing. You're going to do it.' I didn't even have to try out or sing for anybody or whatever.
"She was just like, 'You're going to do it,'" she remembers. "And I sang 'Man in the Mirror' in the big auditorium, I don't remember anything about it. I don't remember one thing about doing it, but there's videos of me doing it. And I was so scared. So scared."
The Georgia native still relies on the lessons that her kindergarten teacher taught her today, especially when she is on stage.
"If I'm nervous, then I feel like that's a good thing," Clark notes. "I just try and still be honest, and just go for it. I hope people can relate to, especially now, the songs that I write. That's the biggest thing I can hope for. So if that happens, then we're doing good. At this point, I try and consider it more introverted than shy. I feel like that's helps me. I like to internalize things and just think about things a lot. And that's the way I tell myself it is."
Real to Me is available for purchase at CallistaClark.com.