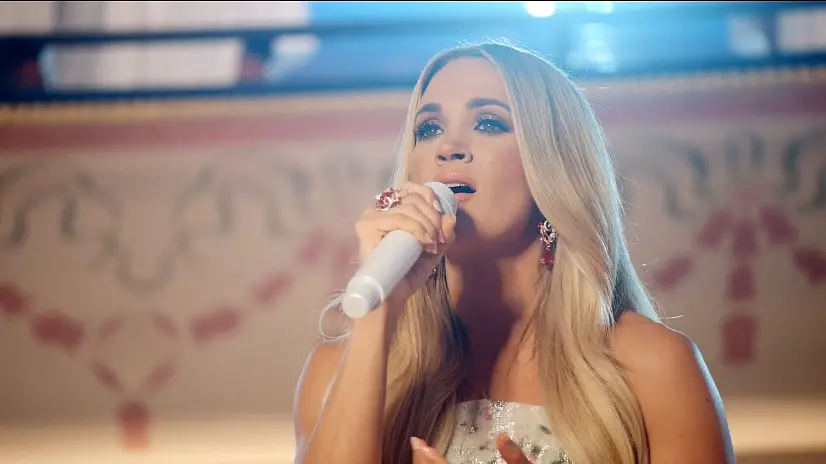 Carrie Underwood celebrated Easter in a big way, with a livestream of songs from her recently-released My Savior album. The show, My Savior: Live From the Ryman, streamed live on her Facebook page, where it is still available to view. Proceeds from the show, which have exceeded $100,000, benefit  the non-profit, Save the Children.
Underwood was joined for My Savior: Live From the Ryman by CeCe Winans, who sang "Great Is Thy Faithfulness," with Underwood, along with NEEDTOBREATHE's Bear Rinehart, who provided background vocals on "Nothing But the Blood." Musicians Mac MacAnally and Buddy Greene, who played on My Savior, also shared the stage with Underwood as well.
"This is an album I have always wanted to record and I'm thrilled to be able to bring these uplifting, inspirational songs to life in this special way," Underwood said of her Ryman show. "It means so much to be able to bring this event to people in their homes on a day that holds so much meaning for us spiritually and to be able to raise much needed funds and awareness for the incredible work of Save the Children as we celebrate the importance of family."
Underwood immediately went to work recording the songs on My Savior, after finishing her holiday My Gift record.
"I felt like my soul was in such a great place," Underwood previously explained. "I wanted to keep making music like the music off of My Gift, so I am here to give you guys a little gift right now and announce that I did that. I went ahead and made some more music. I made an album called My Savior, which is hopefully just a little companion to My Gift. This album is full of gospel hymns that I grew up singing."
All of the songs on My Savior have a personal connection to the American Idol alum.
"These particular songs for My Savior,  I grew up singing these in church," Underwood told her record label. "My church that we go to right now, they play a lot of very contemporary Christian songs, praise and worship songs, and it's great. But every once in a while, they'll throw in a chorus or something of some hymn that I grew up wit,h and there's an immediate sense of home when I hear that.
"And that's kind of where I was at when we were recording this," she continued. "It should be like a warm hug, and I feel like there's so many people that are like me that kind of long for that. You think back to that sense of home and your church that you grew up in with the pews. It's just one of those things that it just feels like home. And after a year like last year, I feel like people are definitely searching. A lot of people were thrown out of their daily routines and trying to figure life out and be more introspective or kind of slow down. We were all forced to slow down."