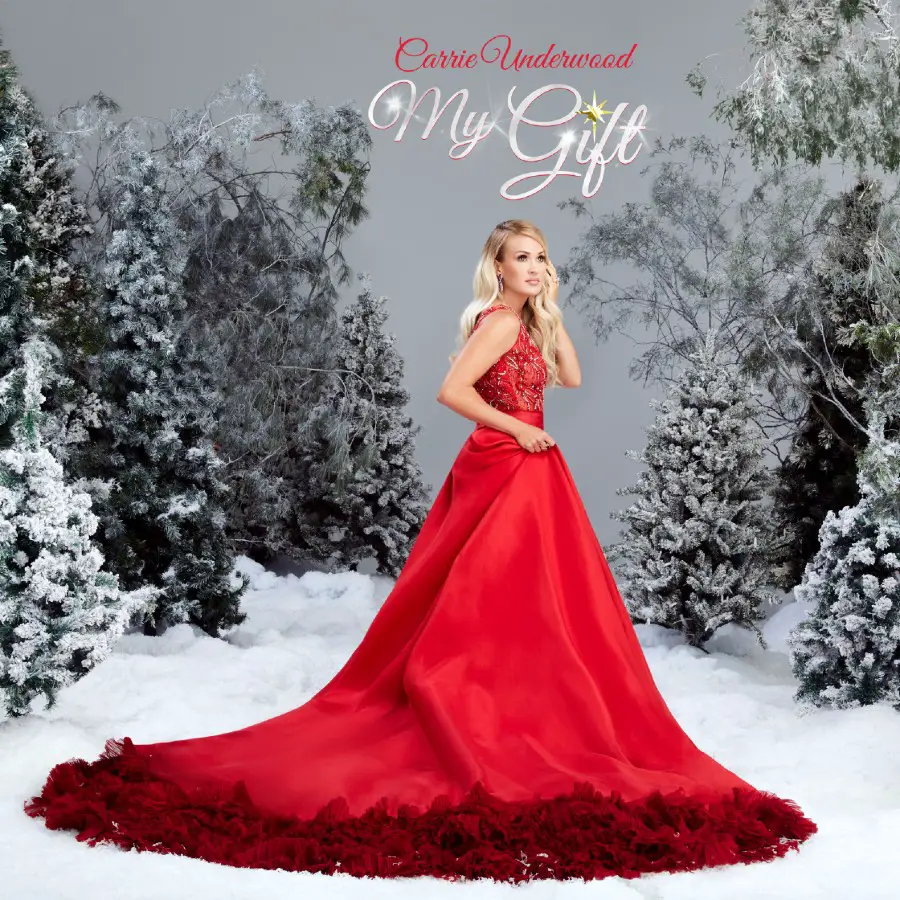 Carrie Underwood just revealed the songs on her upcoming My Gift Christmas album, as well as a surprise collaboration! The singer shared the news on social media.
"The songs on [My Gift] are a mix of Christmas classics that are close to my heart and new songs that I hope will become close to yours," Carrie wrote. "The album also includes a couple of very special guests…I can't wait for you all to hear 'Hallelujah,' written by and sung with the incredible John Legend, and a very special version of 'Little Drummer Boy,' featuring my own little drummer boy, Isaiah. September 25 can't come soon enough!"
Carrie previously revealed that making a holiday record was a dream she held for a long, long time.
"I've always wanted to make a Christmas album and it's been a long time coming," Carrie said when announcing the project. "I knew this would be my next music project after wrapping my tour last year, and I think it's turned out to be the perfect time for an album like this, in this period of such personal and spiritual reflection.
"For me, it's more important than ever to focus on the true meaning of Christmas in a project like this," she continued. "Even though it has been a tough year for all of us, sometimes I feel like the greatest realizations can be inspired by the most difficult times, and make us more grateful for the things we do have and for what truly matters."
It's fitting that her son, Isaiah, joins her on "Little Drummer Boy," since looking at the song through his eyes is what inspired the record's title.
"It's really hard naming a Christmas album," Carrie acknowledged. "I tried to think about the songs that were in it. I started thinking about individual songs. One of my favorites is 'Little Drummer Boy.' It's one of my favorites because the sentiment behind it is just so honest. There's a little boy, and of course I think of my five-year-old Isaiah. They're bringing gifts to baby Jesus. He doesn't have anything; he's poor. So he says, 'I know. I'm gonna play my drum for Him. That's what I have.'
"To me, that's a gift that was given to him by God, his love of music," she continued. "I imagine he was a good little drummer. I love music; I love singing. That is my personal little gift that I get to do, that I'm so blessed to do. I want to use that gift, and I want to give it back to Jesus. That's why I landed on My Gift as an album title."
See a complete track list below. Pre-order My Gift by visiting her website.
My Gift Track List:
1. Joyful, Joyful, We Adore Thee
2. O Come All Ye Faithful
3. Let There Be Peace
4. Little Drummer Boy (feat. Isaiah Fisher)
5. Sweet Baby Jesus
6. Hallelujah (feat. John Legend)
7. O Holy Night
8. Mary, Did You Know?
9. Have Yourself A Merry Little Christmas
10. Away in a Manger
11. Silent Night