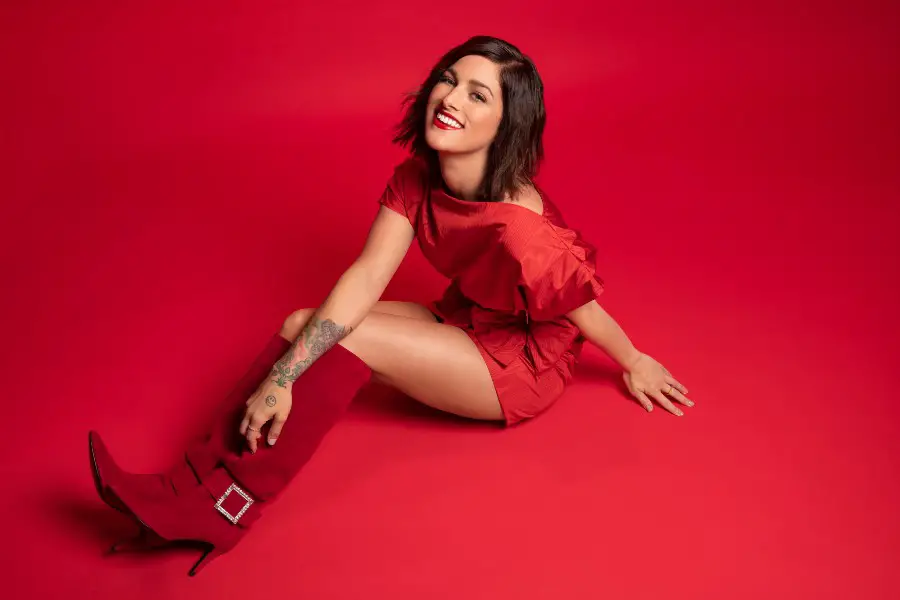 Cassadee Pope is back with new music, this time featuring two of her closest friends. The song, "What the Stars See," features both Little Big Town's Karen Fairchild, and Lindsay Ell on the infectious new track. Written by Pope, along with Jake Rose and Lindsey Rimes, the idea for the song was inspired by a conversation Pope had with her longtime boyfriend, Sam Palladio.
"Last year I wrote a lot, all of it on Zoom and my first Zoom writing session was the one where I wrote 'What the Stars See,'" Pope tells Everything Nash. "The night before the session, I was outside with Sam and just looking up at the stars. It was a very starry night. And I just remember thinking, 'Gosh, their perspective is crazy. They can see everybody, and see what everybody's doing in their most private, intimate moments.'
"I was thinking how awesome would it have been to have been able to see what my exes were doing when we first broke up, and see if they were crying over me or just over me," she continues. "And then it made me think about anybody that you're not in contact with any more that you wish you could know what they were thinking and doing."
Fairchild had already signed on to help produce the track, along with The All-American Rejects' Nick Wheeler. It was Fairchild's idea to make "What the Stars See" a collaborative effort.
"We were listening to the demo, and she was like, 'I feel like this could be a collaboration moment,'" Pope remembers. "'I feel like if you want, I could sing on it.' And I was like, 'Yes. Yes. Say no more. Put it in writing.' And then, it's such a guitar driven song. It's a rock song with a country lyric, and country concept that I just couldn't help, but think of Lindsay. She's one of my best friends. So it just kind of happened very naturally. Both Karen and Lindsay are not only a couple of my favorite artists, but a couple of my favorite people. So to have them involved in such a sentimental kind of song is just awesome."
Pope's last album, Rise and Shine, was released in 2020. The Season 3 winner of The Voice got her start fronting the punk rock band, Hey Monday, before releasing two country albums, Frame by Frame, and Stages. With her new music, Pope is bravely combining all of the elements of music she loves, making her own path in music.
"I really found a nice blend of embracing my kind of pop punk elements that I've always loved and done,  and maybe sort of watered down over the years," reflects the singer. "I think maybe the pandemic is what made me reflect on what it is I really want to do. I really just got back in touch with that part of myself, and it made me feel really good to write from that perspective last year.
"And I still am, but just not neglecting the thing that makes me different and not looking at it as, 'Oh, it might not work in the country round,' but look at it like this could be my lane, and I'm doing it authentically," she continues. "So sticking true to my country background and just my country sensibilities songwriting wise, but leaning into the pop punk stuff that I love so much."
Pope knows that her style of music might not be conventional, but playing it safe has never been her primary goal.
"There are a few of us from that world that are in country now," Pope says of embracing the pop punk style of music. "They're not all artists; they're producers and songwriters in town that are behind these country songs. So I think that there's been elements of it, but I think I'm going to have my own version of it. The pop punk, it's specific, but it's also like country music. Country music has its shtick, and then there's all of these other branches of it out there. It's the same thing for pop punk. So, I'll have my version of it."
Download "What the Stars See" here.
Photo Credit: Courtesy of True Public Relations / John Shearer