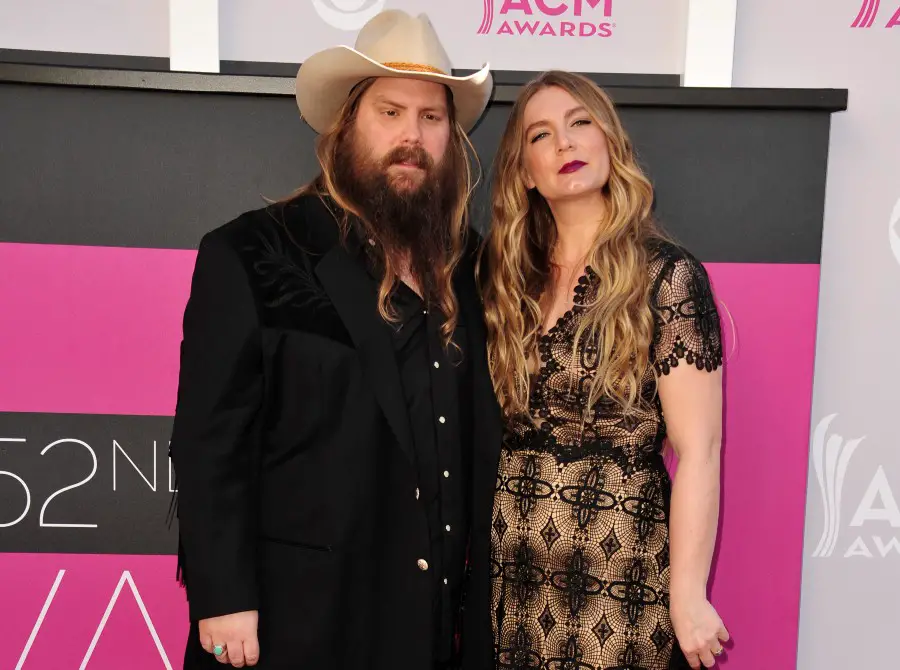 Happy anniversary to Chris Stapleton and his wife, Morgane! The couple, who are also parents to five children, celebrated their 14th anniversary with touching social media posts.
"Happy anniversary to the lady who's always got my back!" Stapleton wrote, along with a photo of the pair.
Happy Anniversary to the lady who's always got my back!

📸: @bfluke pic.twitter.com/rwuAocvmQ5

— Chris Stapleton (@ChrisStapleton) October 27, 2021
Morgane also honored her husband with a touching post on Instagram.
"14 years today,' Morgane wrote. "I don't remember much about life before you. Thank you for loving me. Thank you for hearing me. Thank you for teaching me. Thank you for respecting me. Thank you for giving me everything I cherish in this life. I love you more than I'll ever be able to put into words, but I'll spend the rest of my time here on earth trying. Happy anniversary my love!"
Stapleton and Morgane initially met as songwriters, with their romance beginning in a songwriting session. Since then, although Stapleton might be in the spotlight, it is Morgane who has the biggest influence on both his life and career.
"Recording to me is trying to capture magic, as much as you can, the magic of the moment," Stapleton told CBS This Morning, ahead of the release of his 2020 Starting Over. "My wife tells me …Me and Dave Cobb may be listed as producers on the record, but my wife is generally the producer of my life, so my wife will let me know when it's right. I used to say she has excellent taste in everything but men."
Morgane also travels and sings with Stapleton when he is on the road, and is to Stapleton the most important person on stage, at least to him.
"We're married so we hold each other accountable," Stapleton previously said (via Country Living). "We can lift each other up on bad nights, kind of give each other a wink when we screw up or do something funny."
Stapleton is nominated for four upcoming CMA Awards. The Kentucky native is nominated for Entertainer of the Year, Male Vocalist of the Year, Album of the Year, for Starting Over, and both Song of the Year and Single of the Year, for the record's title track. He will also perform his single, "Cold."
Read '11 Things to Know About Chris Stapleton' here.