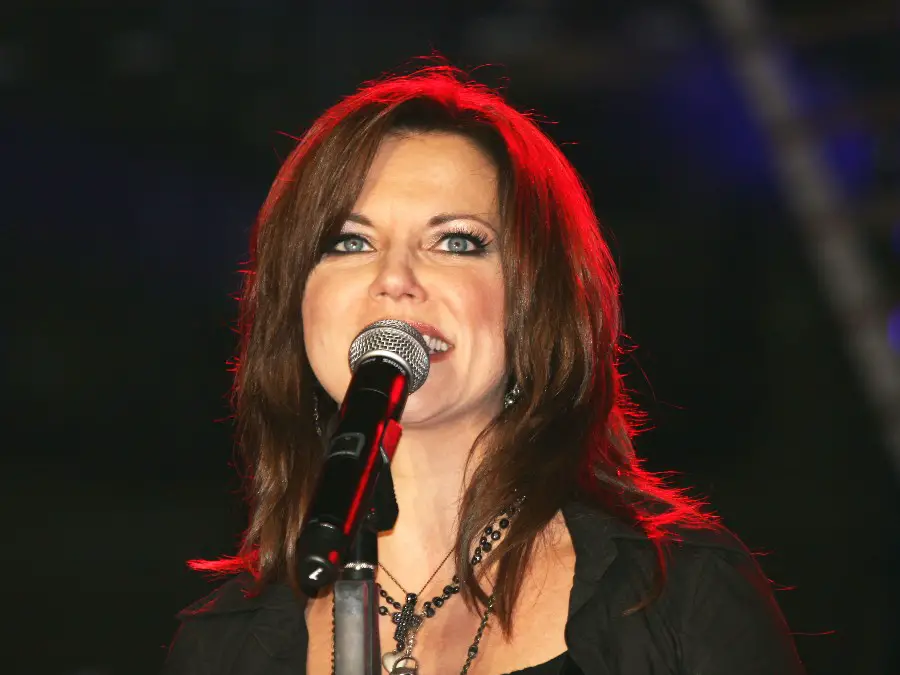 Martina McBride and her husband, John, have been married for more than 33 years, with their relationship as strong as it's ever been. McBride recently opened up about their love story, sharing what she believes is the secret to their success.
"John and I really like hanging out and experiencing new things together," McBride tells People. "We try to go out once a week, even if it's just to go grab a beer or a cup of coffee or go for a walk."
In the beginning, the couple planned their outings as a way to get away from their three daughters. Although that's not the case anymore, McBride still enjoys spending time away from home with her husband.
"We did that a lot when the kids were little, but now that two of them have moved out of the house and the other one is driving, we spend a lot of time together," McBride explains. "I'm glad we like each other, because when you're at your empty nest at the end of the day, it's important to have somebody who you can just be silent with."
McBride, who met John when she rented rehearsal space from him for a band she was in at the time, didn't settle into a career in country music until after they were married.
"[My family] had never entered any kind of contest, but for some reason we entered this Battle of the Bands, and Dad asked me if I'd come back and sing with them," McBride recalls to Music Row. "My husband, John, engineered the show and he recorded it on a cassette. During the break we went out to our car and listened to the cassette and it just hit me. I was like, 'This is what I want to do.'"
It was John who got a job on the road, working for Garth Brooks, which is how McBride ultimately got her big break.
"At the time, I was waiting tables and singing demos, so I asked if I could get a job on the tour to travel with my husband," McBride recalls. "I ended up selling merch for Garth. My husband told him at some point that I was a singer trying to get a record deal, and I'm sure he thought, 'Yeah, like every other girl in Nashville.'"
Brooks might have had his reservations, but once he heard her sing, those reservations vanished, and he invited McBride to open for him, before her record was even released.
"He invited us over to the house and he asked me to sing something a capella, which I did," McBride recalls on I Miss…90s Country Radio with Nick Hoffman. "And he said, 'How would you like to open all my shows for me next year?' And I was like, 'I mean, dude, you don't know if I can perform. I don't know if I can perform.'"
Read 'Martina McBride: 11 Things to Know About the Powerful Singer' here.