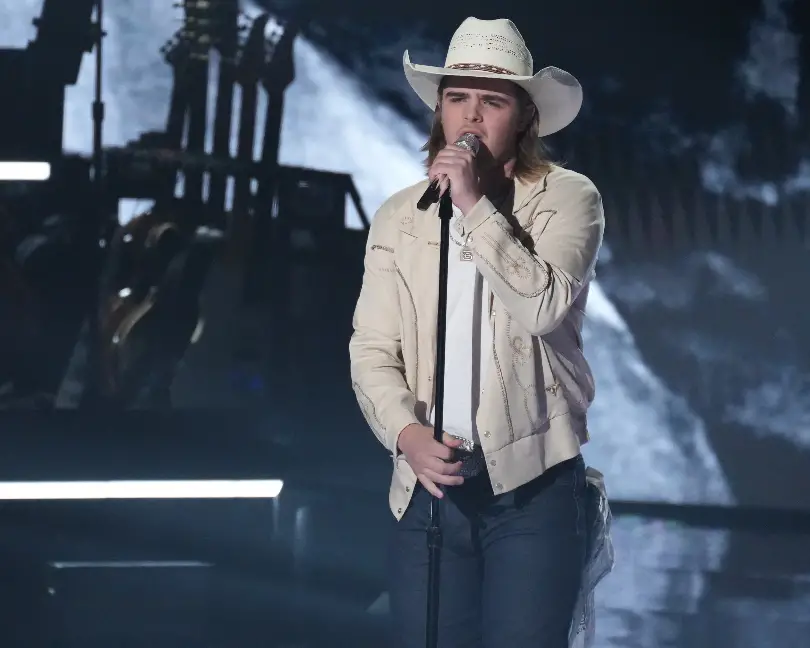 Colin Stough may not have won American Idol, with that title going to Iam Tongi, but he still has a very promising career ahead of him. The Mississippi native just dropped "I Still Talk to Jesus" as his debut single, with the song already racking up more than 87,000 views already on YouTube.
"The main point of the song is to not give up," Stough says. "Especially in this generation, and in this world, it is really hard to keep going. It's hard to find people that you can talk to. This song is a reminder that you will always have that one source that is always with you."
Ahead of the Idol finale, Stough spoke about "I Still Talk To Jesus" on social media, on the day he recorded the song at the famed Sound Factory studio, marking his first time he ever got to record his own music.
"Being able to record my own song, it makes me feel really great," Stough said. "It's definitely a phase in life I never thought I'd be able to see or be able to get to, and now we're here. To be here and get to be in this environment, the hospitality is really amazing. It makes me feel like you're supposed to be here, and you can really see that deep down there are just people here that care about you. They're not just here doing their job or anything like that."
Stough is proud of the message behind "I Still Talk To Jesus," even if he has a hard time articulating what the song means to him.
"This song, 'I Still Talk To Jesus,' when I try to think about it and try to talk about it, I get lost of words, because it's exactly what it says it is," says the singer. "'I Still Talk To Jesus,' it really means to me just finding that ear that will listen. Whether it's an ear you can see or one you cannot, you can always talk to Jesus. It really hits me deep down in the heart. It's definitely a great tune."
I got asked what I Still Talk To Jesus means to me and I tried my best to put it into words, but I think the song will speak for itself.

Make sure to give it a listen when it's out tonight at 9pm PST/12am EST. pic.twitter.com/2MFgxpJLUb

— colin stough (@ColinStough) May 19, 2023
"The overall message of this song is really just like the main line, don't give up," he continues. "Especially in this generation, in this world, it's really, really hard to keep going, and still be able to find people that you can talk to. It's just a reminder that you always have that one source."
Stough came in an impressive third place on American Idol. As he now pursues music full-time, the rising star hopes he can connect with old and new fans with "I Still Talk To Jesus."
"I want my listeners, whenever they listen to this song, I want them to feel that they're not alone," Stough explains. "There are more people in the world out there that feel the same way you do, if not the exact same way you do, or even worse than you do."
Stough's time on American Idol might be over, but in many ways, the 18-year-old is just getting started.
"Being in the music industry is something I've always dreamed about," Stough tells Hollywood Life.. "I've kind of got a list; I've got goals for my life like everybody else does, and I want to keep checking them off."
Stough didn't stick to one genre while competing on American Idol, and he doesn't plan on sticking to one genre now that he is launching his solo career.
"I'm definitely going to be a little bit all over the place with them really," Stough hints. "I'm not really narrowing it down to one genre. I'm just up there having fun. We all gotta go home at some point."
With a debut single already out, Stough says he plans on releasing more music, and a lot of it, in the near future.
"I'm writing every single day," he says. "Even if it's just lines, I'm writing them down and getting them in my head. I definitely would love to drop an album one day."
Find "I Still Talk To Jesus" here.
Photo Credit: Courtesy of ABC