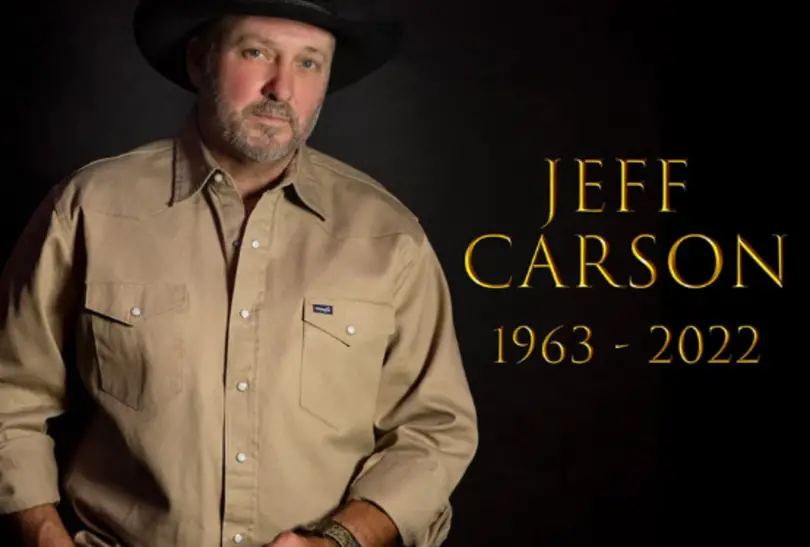 Jeff Carson has passed away. The country singer, best known for songs like "The Car," "Holdin' Onto Somethin'" and his No. 1 hit, "Not On Your Love," died on March 26 at Williamson Medical Center, located just outside of Nashville, Tennessee, after suffering a heart attack.
Born in Oklahoma and raised in Arkansas, Carson began his career singing in Branson, Missouri, before he moved to Nashville to pursue music full-time. In addition to writing songs, Carson was hired as a demo singer, singing songs that were eventually recorded by other artists, including Tracy Byrd's "Walkin' To Jerusalem," Tracy Lawrence's "I See It Now," Reba McEntire's "The Heart Is A Lonely Hunter," Tim McGraw's "I Wouldn't Want It Any Other Way," and "It Matters To Me" by Faith Hill, among others.
Carson released three albums on Curb Records: his eponymous debut in 1995, followed by Butterfly Kisses in 1997 and Real Life in 2001. He won one Academy of Country Music Award, in 1996, for "The Car."
In 2009, Carson switched careers to become a police officer in Franklin, Tennessee, where he remained employed until he passed away. He also made a return to music in 2019, signing a singles deal with MC1 Nashville to re-record and release a previously recorded song "God Save The World," which landed in the Top 40 on Music Row. He had more recently been spending time in the studio to record another album to be released later this year, which included duets with Michael Ray, Darryl Worley, Mark Wills, and Craig Morgan.
Carson is survived by his wife, Kim Cooper Carson, son Dayton Grei Herndon Carson, mother Virginia Norton, brother Steve Herndon, sister Karen Spurlock, as well as numerous aunts, uncles, nieces, and nephews. Funeral services have yet to be announced.
Everything Nash extends our deepest condolences to Carson's family.