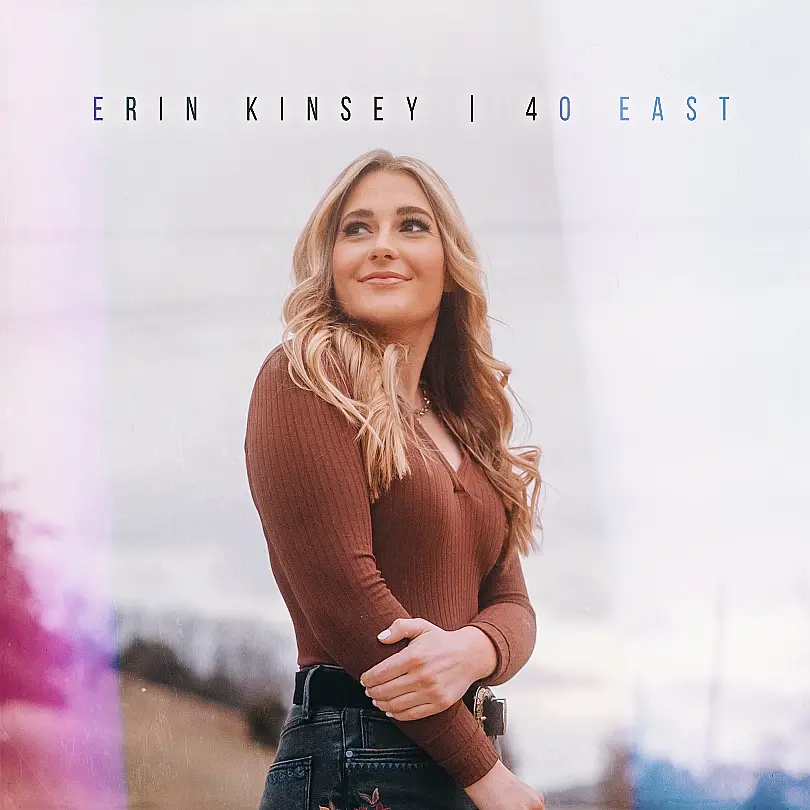 Erin Kinsey's debut EP, 40 East, is out! The five-track record, co-written entirely by Kinsey, reflects on her decision to relocate from her home in Texas to pursue music in Nashville, moving right after high school with the singular focus of creating for herself a career in country music.
"I started writing songs when I was around 11," Kinsey says. "I've written hundreds of songs. I'm just so excited to have this project. It's five songs, and an alternate version of 'Just Drive.' It's something that I feel really encompasses my life so far. Most of the songs are either about my boyfriend or about me moving, and those have been two really big things for me up until now, being 21. Thesee are five songs I'm really proud of. I feel like they encompass me and I hope that people, after they listen to them, feel like they know me a little better."
Kinsey is eager to share who she is with her growing fanbase, but she admits there is a bit of trepidation about it as well.
"I'm definitely nervous, just because a lot of the songs are really raw and real to me," Kinsey concedes. "I hope that people like them and hear them the way that I want them to. It's a leap of faith of just putting a version out of me that I feel like is really honest to who I am. It's always nerve-wracking to put out something that feels so honest, but I'm also just excited for it to be out in the world. Like having a wedding day, I've dreamed about having my first project out for so long."
"Just Drive" was inspired by Kinsey's relationship with her longtime boyfriend, who moved to Nashville with her after high school.
"We started dating my freshman year," Kinsey shares. "He was a year older than me, but I graduated a year early, so it all worked out. He told me that he knew he wanted to leave Texas for college, but didn't really know where he wanted to go. I threw out Nashville as an idea. I said, 'I'm going to Nashville,' and he ended up going to Belmont and he really likes it. He's about to graduate."
Kinsey is signed to RECORDS Nashville, and has watched her fan base explode, ever since releasing "Just Drive" last year. While she is grateful for all that has happened to her since making the move to Music City, Kinsey is aware that, in many ways, her hard work is just beginning.
"In a lot of ways, everything has changed, but even more, I feel like I'm just still grinding it out, the same way I was when I was 11 in my room trying to figure out how to play the guitar or how to write a song and how to rhyme words." says the singer. "It's been a really crazy ride and the last year has been really exciting, but it's also made me realize that a lot of the times when I didn't feel like anything was going in where, that the ball wasn't moving forward, it's easy now to look back and realize that it always was."
See a track list for 40 East below. The record is available for purchase here.
Photo Credit: Courtesy of Monarch Publicity / Robby Stevens