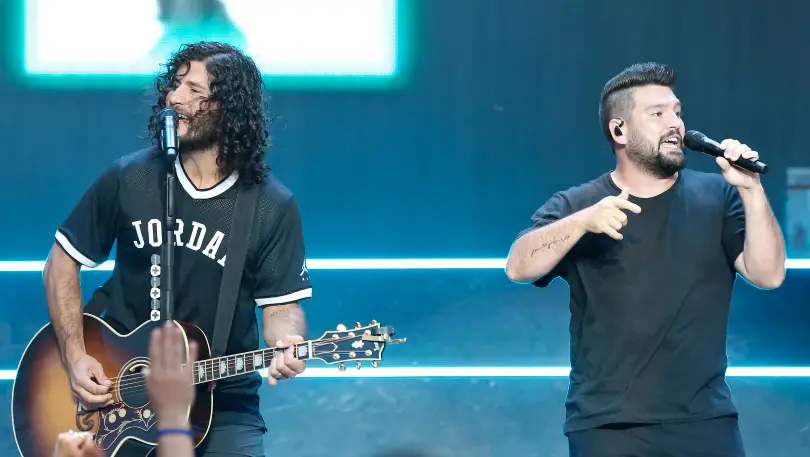 Dan + Shay are honoring their tour boss with a brand-new song. The duo, made up of Dan Smyers and Shay Mooney, are currently on the road with Kenny Chesney, serving as the opening act on Chesney's Here and Now Tour.
Dan + Shay posted the new tune on social media, explaining what it meant to be on the road with their musical idol, especially playing in their hometown of Nashville.
"We knew this weekend would be emotional and full circle getting to play Nissan Stadium in Nashville with Kenny Chesney, so we decided to hop on the bus early and write a song," Dan + Shay shared. "Being on this tour is a dream come true for us for so many reasons, but mainly because we grew up going to these shows every summer and singing our hearts out. We're grateful that we get to stand on stage every night and do what we love, but at the root of it all, we're still just two die-hard country music fans who lucked out and got a pair of front row seats."
Dan + Shay said that one of their close friends met them in the parking lot at Nissan Stadium to record a quick video of their brand-new song,
"We filmed a quick acoustic video on an iPhone after soundcheck just to have as a memory to look back on, never really intending to post it, but as we were watching Kenny's set, we decided why not share it," Dan + Shay said. "We haven't recorded a note of the song or even ironed out all the details, so apologies for the rough draft. If you don't mind, give it a listen, drop a comment, and let us know if it's something you think we should record for real. As always, thanks for reading through the novel of a caption. We love y'all so much and appreciate the support more than you know."
Watch Dan + Shay perform their tribute to Chesney here.
Dan + Shay are joined by Old Dominion and Carly Pearce in serving as the opening act on Chesney's Here and Now Tour. Find tour dates here.