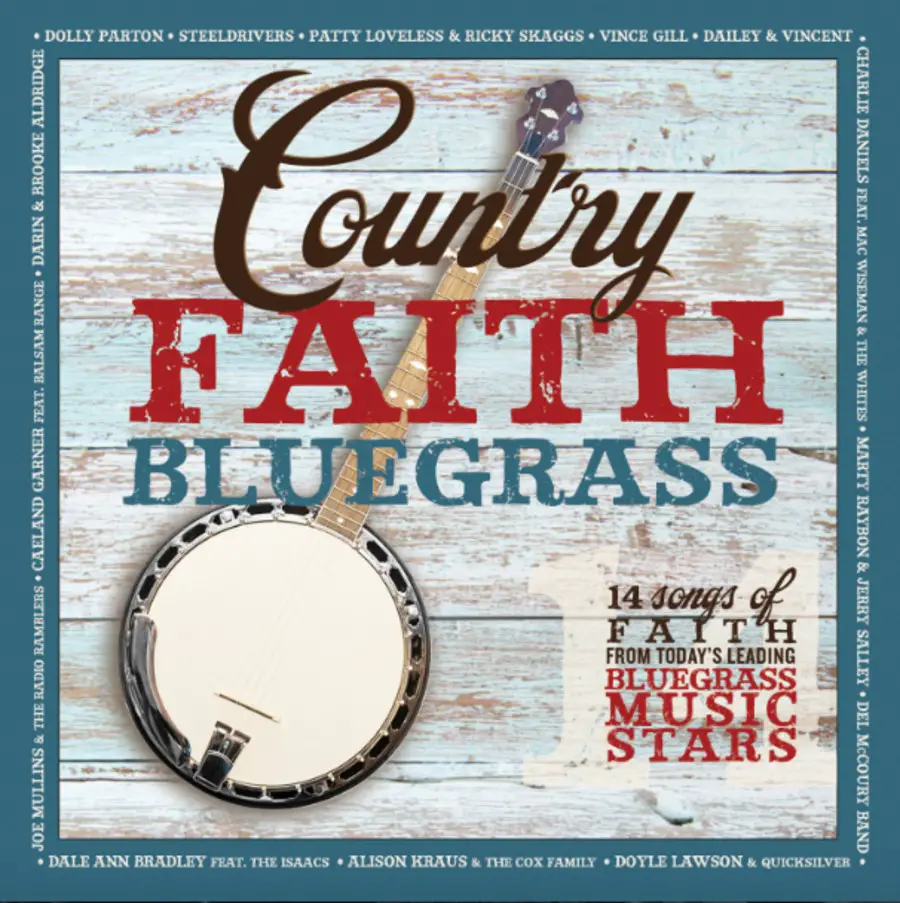 Country Faith Bluegrass, the 14-track album of both original and classic songs, is out now. The record includes songs performed by an all-star list of artists, including Dolly Parton, Vince Gill, Alison Krauss, Patty Loveless, the late Charlie Daniels, Marty Raybon, Ricky Skaggs and more.
"This is the 10th project in the Country Faith series," producer Jerry Salley tells Everything Nash. "In the past, on the Country Faith projects that they had released previously, they only leased songs from different projects. They didn't have any brand-new recordings on it. They were all just leased from previously released projects."
Thanks to a partnership between Daywind Records and Billy Blue Records, a bluegrass label helmed by Salley, the new Country Faith Bluegrass album was able to have both new and previously recorded songs, including Parton's "In the Sweet By and By." Salley reached out to Parton via a mutual friend, with Parton agreeing to lend her talents to the project, although she was hesitant to head into the studio at the time.
"It was during COVID," Salley recounts. "It was 2020 when we were trying to get all this together. She said, 'I really am not crazy about going out in a studio, but what I'll do is, I have a recording. It's just a guitar vocal. That's it, a guitar vocal of me singing 'In the Sweet By and By.'  She had released it on a previous bluegrass album, but this was a totally different vocal that had never been heard. And she said, 'You can give this to Jerry and tell him he can do anything with it that he wants to.' And so that's how it all came about."
Salley worked his magic on Parton's "In the Sweet By and By," resulting in one of the most favorite arrangements he has ever created.
"I had to have her approval in the end. I built a bluegrass band around her, and I even double-timed it after the first verse and chorus. I double-timed it to give it a place to go. It's one of my crowning moments, to be honest with you," Salley says, adding that he also sang on the song, along with Larry Cordle, Carl Jackson and Bradley Walker.
"I wasn't going to produce the record and not get a chance to sing with her," he adds with a laugh.
One of the other stand-out tracks on Country Faith Bluegrass is "River of Forgiveness," marking a career first for The SteelDrivers.
"They have never recorded a gospel song in their career, ever," Salley says of the a capella track. "As a matter of fact, when they do their show out, they get up there, and after a few songs, they say, 'We only have two rules that our shows one: the No. 1 rule is no drinking during gospel songs. Rule No. 2, no gospel songs.'"
Deborah Evans Price, Danny McGuffey and Dottie Leonard Miller served as the Country Faith Bluegrass executive producers. See a track list below. Physical copies of Country Faith Bluegrass will be available exclusively at Cracker Barrel beginning on October 4. Download the album here.
Country Faith Bluegrass Track List:
1. All Prayed Up – Vince Gill from the album All Prayed Up
(Vince Gill)
2. In the Sweet By and By – Dolly Parton with Cordle, Jackson, Salley & Walker ***
(Bennett / Webster)
3. Shall We Gather at the River – Doyle Lawson & Quicksilver ***
(R. Lowry)
4. Will There Be Any Stars? – Alison Krauss & The Cox Family from the album I Know Who Holds Tomorrow
(E. Hewitt / J. Sweeney)
5. My Future Ain't What It Used to Be – Marty Raybon & Jerry Salley ***
(Dianne Wilkinson / Jerry Salley)
6. By the Mark – Dailey & Vincent from the album Dailey & Vincent
(David Rawlings / Gillian Welch)
7. Working on a Building – Dale Ann Bradley ft. The Isaacs ***
(A.P. Carter)
8. I'm Bound for the Land of Canaan – The Del McCoury Band from the album The Promised Land
(Albert E. Brumley)
9. Rank Strangers – Joe Mullins & the Radio Ramblers ***
(Albert E. Brumley)
10. Daniel Prayed – Patty Loveless & Ricky Skaggs from the album Mountain Soul
(Ralph Stanley)
11. River of Forgiveness – The SteelDrivers ***
(Tammy Rogers-King / Jerry Salley)
12. Walk with Me – Caeland Garner ft. Balsam Range ***
(Kelly Collins / Caeland Garner / Jerry Salley)
13. Drifting Too Far from the Shore – Darin and Brooke Aldridge ***
(C. Moody)
14. Walking in Jerusalem (Just Like John) – Charlie Daniels ft. Mac Wiseman & The Whites from the album Songs from The Longleaf Pines
(Bill Monroe)
(*** denotes a new recording)