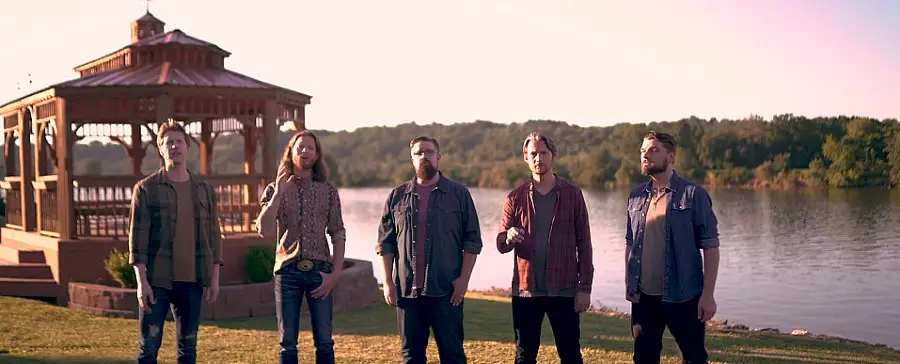 Home Free is back with a new song and video, this time of the song, "Bless the Broken Road." Written by Marcus Hummon, Bobby Boyd, and Jeff Hanna, the song became a No. 1 hit for Rascal Flatts, but takes on an entirely new sound with the stellar Home Free harmonies.
Home Free filmed the video in Nashville, while the couple starring in the video filmed their segments in a desert. Both Rob Lundquist and Austin Brown share the lead on the romantic song.
"Bless the Broken Road" is one of several songs that the all-vocal group has shared in recent weeks. In addition to "Undivided," which appears on their latest Land Of The Free  record, Home Free has also recently shared videos for an eclectic list of songs, including Huey Lewis and the News' "Workin' for a Livin'," Old Dominion's "One Man Band," Patsy Cline's "Crazy" and more. Home Free has created a large, and rapidly growing, fanbase based on their unique videos, which they credit with an idea from their manager, in the early years of Home Free.
"A lot of credit goes to our manager, but when we were coming off of The Sing-Off, we were very aware that the spotlight of reality television fades very quickly," Foust tells Everything Nash. "And so that was one of the few things that we had complete control over, is the type of media that we continue to release. We saw the trends that were happening on YouTube and social media, and so we just decided to dive in and start aggressively releasing music videos in hopes that it would keep the attention of the fans. And it worked."
Home Free has also collaborated with numerous other artists, including Kenny Rogers, the Oak Ridge Boys, Don McLean, Alabama, Lee Greenwood, but there are a few other superstars that they still hope to sing with someday.
"We're real country music fans," Brown tells Everything Nash. "So we look up to everybody in this industry … We know that Dolly Parton has at least heard a pitch from us. She was interested last year, and she was like, 'Maybe next year,' 'cause she had a thing last year. So who knows. There's no validity to that. That's just a hope. Ideally, we'd love to work with Dolly. And one of my favorite artists in country music of all time is Travis Tritt. I'd really love a chance to get to work with him."
"I'd like to get together with Little Big Town, and just do like a nine-part choir," adds Foust.
Home Free is currently on their Dive Bar Saints Tour. Find dates at HomeFreeMusic.com.
Want to see more exclusive artist interviews? Click here to subscribe to our YouTube channel.