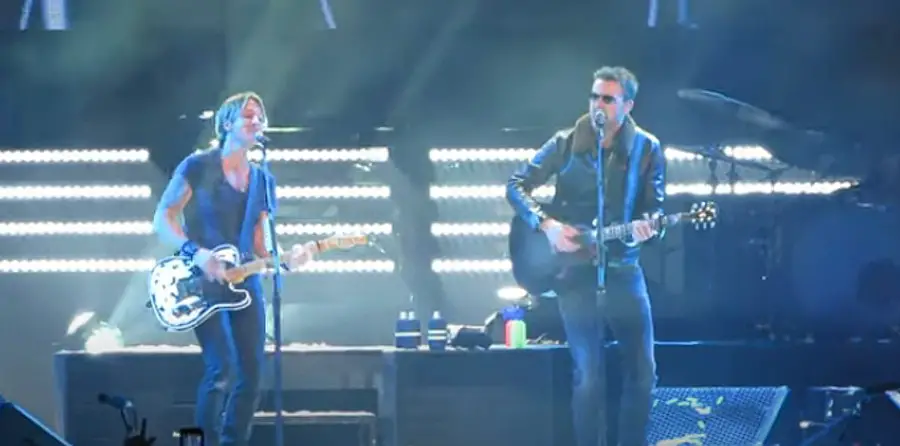 Eric Church recently learned what a generous gift giver Keith Urban is, after Urban gave Church an unexpected, and lavish, Christmas present. Church recently shared the story while chatting on Today's Country Radio with Kelleigh Bannen on Apple Music Country.
"You know what's interesting? Keith Urban sent me a 1933 Martin for Christmas," Church recounted. "This Christmas. I came back and it was underneath the tree and I was blown away. He was thanking for the 'We Were' song that we had. Unbelievable. I came back from Christmas, underneath the tree and he had a letter with it. I was just, I was floored. I was totally floored."
Urban recently opened up about the close friendship the two superstars share, which began after they collaborated on the "Raise 'Em Up" duet, from Urban's 2013 Fuse album.
"Eric and I text each other all the time, giving each other music and songs," Urban told WILD 95.3. "That genuine friendship is key to a good collab."
Urban might have recorded "We Were," but his decision wasn't based on Church writing it. In fact, Urban didn't even know who wrote it until after the song was complted.
"It got sent to me, not by Eric, but by someone who finds songs for me," Urban said on The Bobby Bones Show. "I didn't know he was a writer, which was really cool, because it wasn't until we recorded the song, it was all done, and I found out after the fact. I found out and I called Eric, and I was like, 'Dude, I just cut this song.' He was thrilled. I said, 'I had no idea that you were a writer on it.' He said, 'Well that's even better, because it means you really loved the song.' I do. I really love the song."
Church just announced the release of three albums, Heart & Soul, in April. All of the music was written and recorded while Church spent 28 days with songwriters and producer Jay Joyce, in the hills of North Carolina.
"I've always been intrigued when a song is born in a writer room – there is a magic that happens there," Church acknowledged. "I wanted to put that in the studio form. So, every day, we would write a song in the morning and we would record the song that night. Doing it that way allowed for the songwriters to get involved in the studio process and the musicians to be involved in the creative process. You felt a little bit like you were secretly doing something that was special, and you knew it… You started going, 'Hmm, wait 'til the world finds out about this.'"