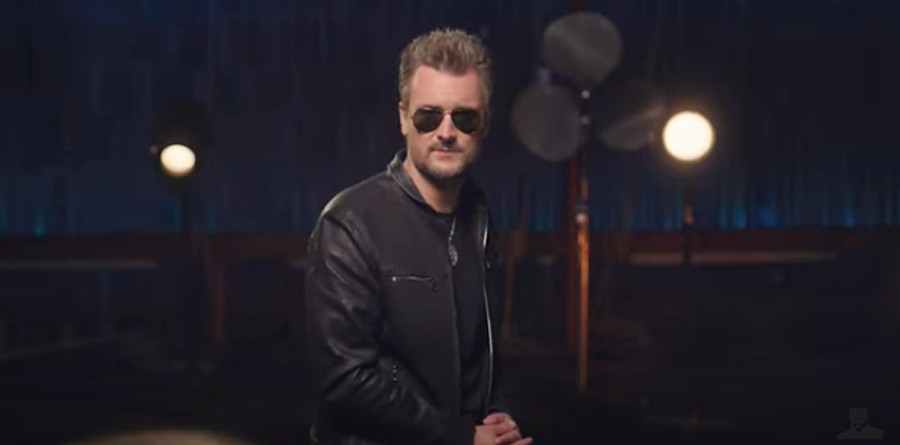 Eric Church has a new single out! The song, "Doing Life With Me," was written by Church, Jeffrey Steele and Casey Beathard, and included on his 2021 Heart & Soul project.
"We had a little writer's cabin that I would go to," Church shares with UMG Nashville. "That's where the writers stayed and I would pop in and out because I couldn't stand to be with them all the time because I would lose my mind, but I would pop in and out. And one day [Steele] had this little – that little riff on 'Life With Me' just up and down my neck. And he goes 'I don't know what this is.' And then Casey Beathard walks in and he goes 'Man, I had this lady I was just talking to and talking about her husband and she goes, 'I guess that's what he gets for doing life with me.''
"And I thought,' That's interesting,'" he continues. "It just turned into a thing, but it was over Jeffrey's thing. So, that night in the studio as opposed to having a session guy, Jeffrey Steele played that part and Jeffrey Steele sang harmony on that part and so did Casey."
Heart & Soul are three records that Church released separately, as part of one cohesive project. The songs were written in the mountains of North Carolina over the course of several weeks, a both artistically freeing and logistically daunting accomplishment.
"I spent about a month on-site," Church says. "I did not anticipate the mental creative grind that doing this daily would do, where you have to come up with something everyday. I got to where there was one stretch, three or four days, I didn't sleep, because when I would lay down at night to try to sleep, after we recorded a song, first of all, you've got a lot of energy from recording. But then immediately you go, 'We're gonna do this again tomorrow, and I have nothing.
"There was a period there where it was hard," he admits. "It was a lot harder than I thought, and just going through that grind mentally, creatively, I've never been there before. I've never been that far out on a limb with the creative process."
While Church might never attempt to record an album again like he did with Heart & Soul, he knows that the hard work was more than worth it in the end.
"Every day, what we would do, we would write a song in the morning, or whenever during the day, and we would record the song that night," Church recalls. "It really put creativity in the driver's seat, and it was exciting to me, because there were a number of days that I didn't really have a good second verse yet, or maybe my bridge was missing something, but I liked the song. And I decided, just start it, and we'll figure it out as we go. Normally it's not like that. You know exactly what you're going to cut, and you cut it."
Find all of Church's music and tour dates at EricChurch.com.