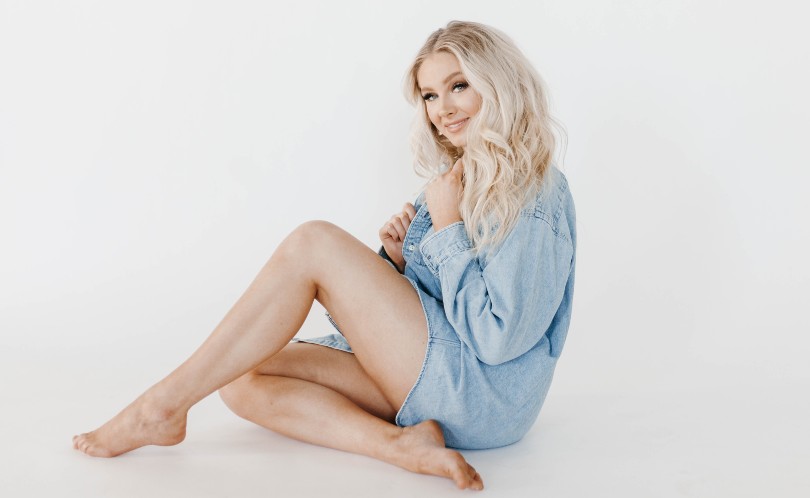 Erin Grand is giving Everything Nash the exclusive first look at the lyric video for her fun new single, "Heartless." Written by Grand, along with Channing Krentz, Alex Kiel and Jonathan Krentz, the song was inspired by Grand's own romantic loves and losses, and her determination to make better decisions about the people she dated.
"I remember writing this song so quickly," Grand recalls to Everything Nash. "The story behind this song is that I had been dating these same few people on and off throughout this specific time in my life. They weren't good for me and I knew they weren't the right ones deep down, but they would always play with my heart and I would let my heart play along. Long story short I learned I needed to trust my heart less. I was thinking too much with my heart and taking in what these people were saying to me too seriously. I know everyone says to trust your heart but in my experience I needed to try thinking with my head and not my heart this time. Hence the line, 'I gotta trust my heart less.'"
The Minnesota native relocated to Nashville to pursue music full-time, right as the city was going through an unprecedented series of challenges. The timing, although challenging, ultimately proved to increase her faith, both in God and in her own talents and determination.
"I moved at the most interesting time," Grand reflects. "Right as I got everything moved into my apartment, the tornado came through Nashville. Then about a couple weeks later, the virus came and shut everything down. It was definitely a very defeating and trying time for me. I kept thinking 'Is God trying to tell me this isn't the right time to move down here? Should I just go back home? How am I going to be inspired through all of this?' Ultimately, I knew this was all God's plan and I needed to just stick with it and follow through.
"'Heartless' was actually the first song written during COVID," she adds. "So I guess I could say I couldn't be more grateful for the songs that came out of this crazy time in our world. I was more inspired than I thought I would be."
Grand, who has previously released songs like "Mood," "Better With Wine" and "Lonely Does," plans to keep releasing music, working with a team of powerful women, as she hones her craft as a singer and songwriter.
"I have some really fun things up my sleeve for upcoming releases," Grand teases. "I can't share too much right now but what I will say is keep your eyes out for the holidays and the month of January!"
Find all of Grand's music by visiting her website.
Photo Credit: Courtesy of Elicity PR / Christa Rayne