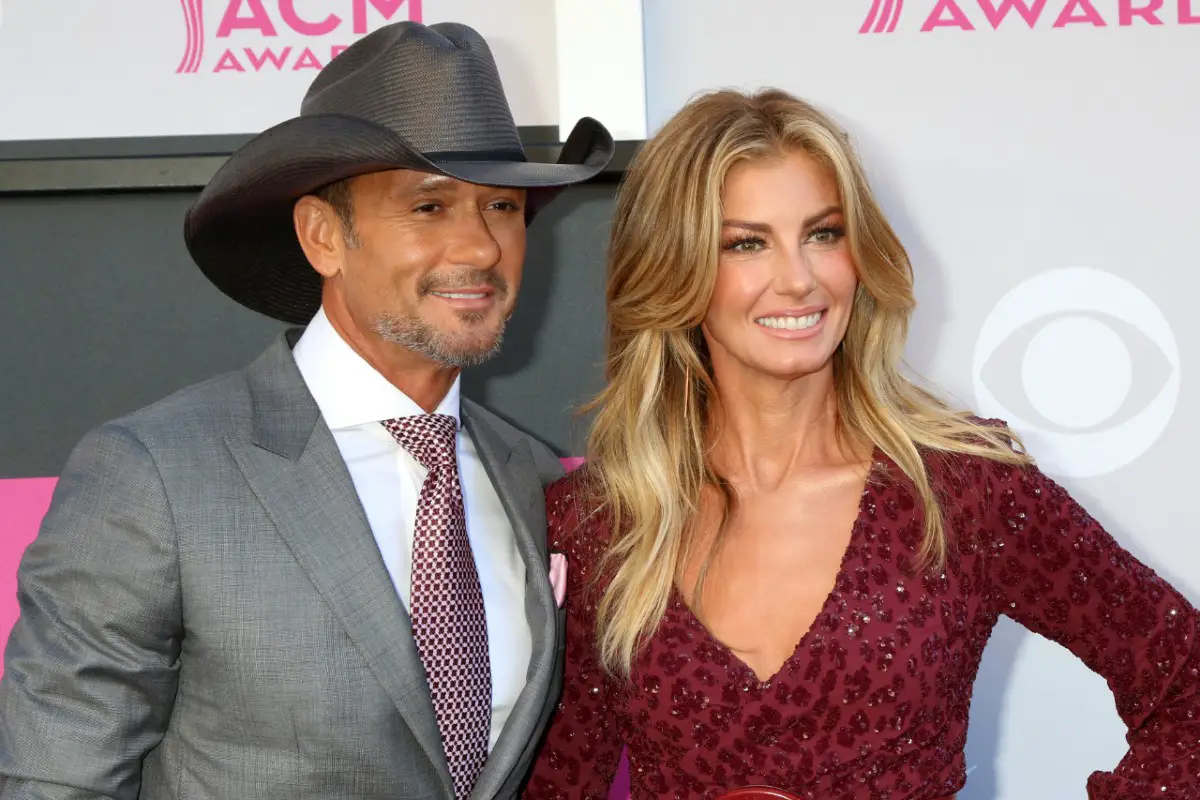 Tim McGraw and Faith Hill celebrated 25 years of wedded bliss on October 6. The couple fell in love and got engaged while Hill was opening for him on his Spontaneous Combustion Tour, although McGraw's proposal was anything but typical.
"We had dated for a while," McGraw shared in a video he posted on social media, in honor of their big day. "I actually asked her to marry me quite a few times and she kept saying no. She said, 'I'm not going to get involved with another country singer, it's just not going to work out.'"
But at one of the outdoor festivals they were playing at, Hill had a change of heart, and decided to — finally — accept his proposal.
"They had these trailer houses set up," McGraw recalled. "I'm getting ready to go on stage, and I had this sort of case that had this big mirror in it. She's standing there, and we're talking, and I said, 'Look, let's get married.' And she says, 'You're asking me to marry you at a country music festival in a trailer house.' And I said, 'Well, it's pretty apropos if you think about it.' She goes, 'Are you serious?' And I said, 'Well yeah, I'm serious.' And then they called me and I had to go to stage. I went to stage and I did the show, and then
"I came off the stage and went back into my dressing room and Faith wasn't there, but I looked at the mirror," he added. "In lipstick it said, 'Yes! I'm gonna be your wife,'" the singer said. "And we still have that mirror. And it was the best day of my life, that's for sure."
25 years later and it's still the best day of my life. Thanks for going on this journey with me. Love you @FaithHill ❤️ pic.twitter.com/DmxXCDnOH3

— Tim McGraw (@TheTimMcGraw) October 6, 2021
McGraw and Hill also share their three daughters, Gracie, Maggie and Audrey. It is Hill who McGraw says deserves the credit for how well they all turned out.
"They have the best role model in the world with Faith because—you know Faith; she's a strong woman," McGraw recently told Garret Hedlund, for Leo. She's a fantastic mother and a great wife and a good business woman. She knows her head better than I do for sure. They have that to look up to."
"She is always going to make you feel at home," he continued. "There is something really cool that our daughters learned being around us when we are working and being around us at home. They got to see her being superstar mama, all made up, in these beautiful dresses on stage, killing it, being very professional. And then they cut her off as she gets on the bus, or see her be a mom all day until she has to go to work."
Read Top 8 Tim McGraw and Faith Hill Duets, Ranked here.