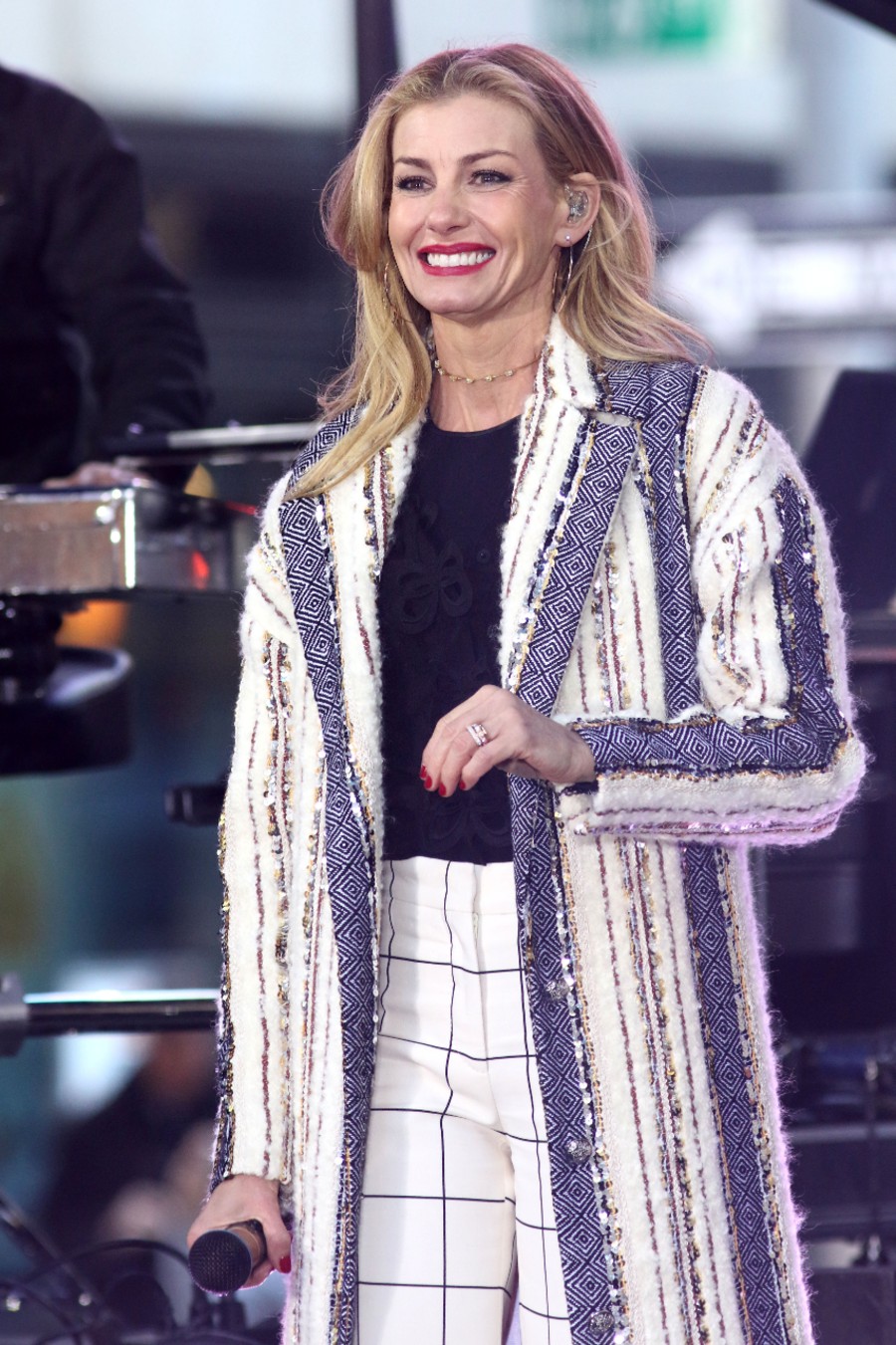 Faith Hill's performance of the National Anthem at the Super Bowl in 2000 is still lauded as one of the best Super Bowl performances of all time. Little did anyone know that the singer was terrified, practicing in a public bathroom moments before she walked out onto the field.
"The most extraordinary amount of pressure, ever," Hill admitted during a recent appearance on The Late Show with Stephen Colbert. "There are a couple of things in my career that would top that. I never thought it could. But singing the National Anthem at the Super Bowl was terrifying. However, when I sang it, the Tennessee Titans happened to make it to the Super Bowl that same year. I had accepted the honor — I was asked — and I said, 'Oh my gosh, yes!' And then I was like, 'What did I just do?' It's terrifying."
Fortunately, it was the Titans being in the Super Bowl that helped calm Hill's nerves, but only by a little.
"Honestly, the Tennessee Titans were playing in this particular Super Bowl, and that calmed me, because I was so proud of our team," Hill acknowledged. "But I did spend a lot of time in the restroom just rehearsing. Seriously, I did, with a boom box. Literally, a boom box in the public restroom before I walked out. I walked from the public restroom out to the field and sang the National Anthem."
Hill's fear was at least partly founded. In addition to performing live in front of millions of TV viewers, the Mississippi native had an unfortunate experience early in her career, when she forgot the words to the patriotic tune.
"It's one of those songs that you know so well, and you think, 'I'll never forget the lyrics,'" Hill reflected. "It's happened to me before. It was at a playoff game many years prior. I was singing at a Dallas playoff game, the beginning of my career, and I was asked to sing the National Anthem at the playoff game, at the beginning of my career. And I'm walking out to the center of the field with this very generous guard, this woman that was walking me out. And I say to her — and this is televised — 'Would you happen to know just the first word of the National Anthem? All I need is the first word.' The 'Oh.' And she said, 'Seriously?' And we're walking hand in hand. I said 'I'm serious. I'm very serious.' She said, 'Oh my, honey, I don't know.'"
Hill said she almost sang "Amazing Grace" instead, rationalizing "they'll forgive me for that."
Hill also sang the praises of Mickey Guyton, who was just announced as this year's National Anthem performer for the Super Bowl.
"Amazing artist," Hill gushed. "I have not met her, but I am such a huge fan and supporter, and she is going to slay it. She's gonna slay it."
Watch Hill's performance here.
Guyton will perform ahead of Super Bowl LVI, which will take place at 6:30 PM ET, with the Cincinnati Bengals playing the Los Angeles Rams.