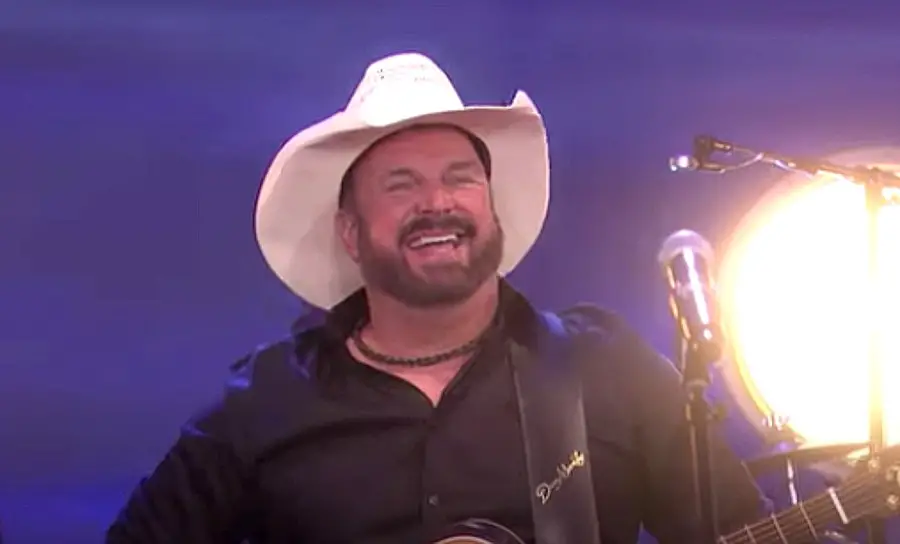 Garth Brooks can add Ashley McBryde to the lengthy list of people he has sat down with to write a song. The 59-year-old revealed that he recently collaborated with the "Martha Divine" singer, along with Mitch Rossell, during his weekly Inside Studio G Facebook series.
"I got to write with Ashley McBryde today, which we never got to, and so that was pretty cool, and Mitch Rossell," Brooks said. "We got a three-way write. Me and Mitch just sat and watched her. She's an animal. She just tore it up …I can tell you exactly what we wrote – something country. It's country. I love writing country music. I'll be happy to go off and do kind of a modern take on country music with some of these writers, but this one is stone country. It's my favorite kind."
Brooks also teased more Chris Gaines music, referring to his 1999 The Life of Chris Gaines album, and vowed the record would also be available in other formats.
"You're going to have it in every format you can possibly imagine," Brooks hinted. "It's coming. Even in vinyl. You're going to have Chris Gaines stuff nobody's ever heard before either. It's all coming. The Chris Gaines thing, you've just got to handle it with kid gloves, and put it together. But it's coming. I love that project, so I'm excited."
Brooks began the video by thanking fans for their support and prayers, after his wife, Trisha Yearwood, contracted COVID-19.
"Thank you for all the love and lots of prayers for Miss Yearwood," Brooks said. "She was a beast. She walked right through it. We'd have never gone through it together, but it snowed up here, iced us in, and so she was eight days in before she ever went and got a test. So when she tested positive, I thought, 'Shoot, if I haven't gotten it by now …'
"But I have to say this: witnessing it, it's something that you need to respect, and something that you need to take very seriously," he added. "It's just my two cents. I will say, hats off to my wife. I love you. Just when I think you can't be more of a beast, you're beastier."