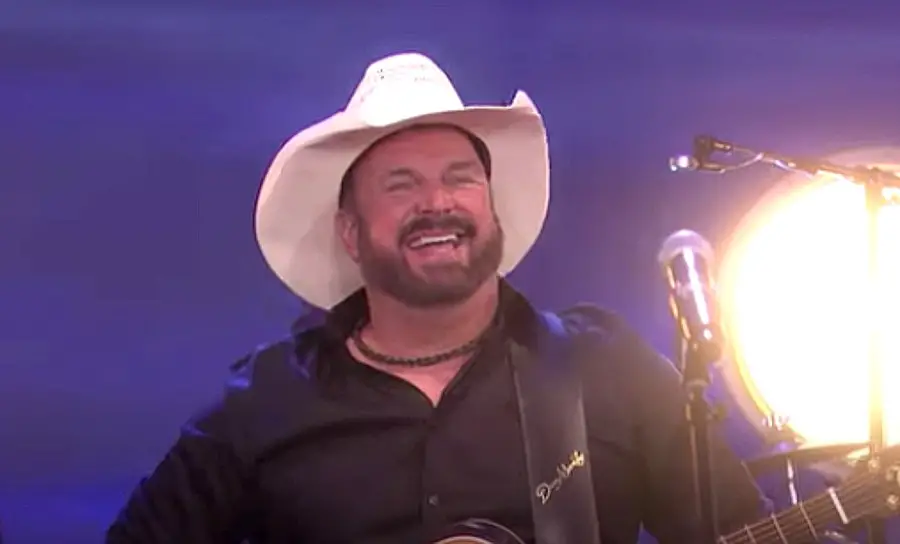 Even superstars can have heroes. Just ask Garth Brooks. The 59-year-old reveals he was inspired by George Strait to pursue music instead of sports, and still wakes up every day inspired by the King of Country.
"I was going to be a professional athlete, and the only thing, that little minute thing that kept me from being a professional athlete was my athletic ability," Brooks recalled on the Serendipity podcast (via CMT). "So, when I heard George Strait, that's when I realized what I wanted to do with the rest of my life."
Brooks has broken sales records and sold out massive arenas all over the world — but that doesn't mean he has stopped wanting to be Strait.
"I've been lucky to do some pretty cool things," Brooks reflected. "But I would be lying if I told you every morning when I woke up, I no longer want to be George Strait. That would be a lie. Every day, there's just something about him that's going to be forever cool for me."
Strait might have been Brooks' guiding light in country music, but his musical ability is in his blood. The Oklahoma native grew up surrounded by music, thanks to his talented parents.
"I love music," Brooks said, "[I was] the last of six kids, so lots of music in the house. Dad played guitar, and Mom actually was signed to Capitol Records in the '50s, so the dream had always kind of been in our house. So, it didn't seem impossible at the time."
This isn't the first time Brooks has spoken about his affection for Strait. When releasing his FUN album last year, Brooks told CMT that Strait still influences much of his music today.
"I don't want to be the George Strait of right now. I want to be George Strait. That's all I've ever wanted to be. And so much so that my producer Allen [Reynolds] pulled me out of the very first session we ever did — I think we were recording 'Not Counting You' — and he goes, 'What is this voice I'm hearing? There's already one George Strait. No one's gonna do it better than George. You just be you.'
"Since then, I've been me, but I love Strait and that'll always be in me," he added. "And I'm really proud of that. You do cowboy stuff all the time, but it was playing at the rodeos that was my thing. So the whole cowboy life, like the art of roping and cutting cattle and branding cattle, was my life."