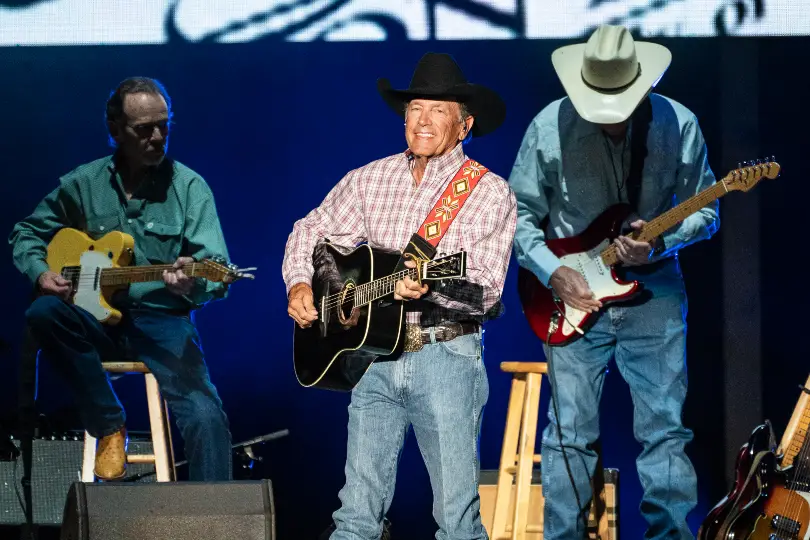 George Strait's debut album, Strait Country, was released more than 40 years ago, in 1981. Since then, Strait has continued releasing music, scoring more No. 1 singles than any other artist in history, and selling over 12 million tickets to his live shows throughout his career. Artists with much less success than Strait have felt fulfilled enough to ride off into the proverbial sunset and spend their days basking in their accomplishments.
Fortunately, Strait isn't one of those artists. The 69-year-old reveals he is once again working on another record, with the only label he has ever called home, MCA Records.
"I would say that I'm working at just the right pace for me," Strait tells Pollstar. "I think I'll do eight shows next year. That's about perfect. I'll have plenty of time off and still be able to scratch that itch that I have for live shows. I also want to make another record soon. I just re-signed with MCA Records and I'm really excited about that and the fact that they still want me around. They're the only record company I've ever been with, and I guess the only one I'll ever have. They can bury me under the building when that time comes."
Strait embarked on his The Cowboy Rides Away Tour in 2013, signifying the end of the massive, cross-country tours that The King of Country Music was known for. But since then, Strait has still been performing, albeit not at the pace he did throughout most of his career. Strait continues to perform his Strait to Vegas residency, at the T-Mobile Arena in Las Vegas. He also recently closed out the Houston Rodeo, drawing more than 79,000 fans, and will open the brand-new Moody Center in Austin, with his good friend, Willie Nelson, on April 29.
After more than two years off of the road in 2020 and 2021, Strait is now soaking up every minute of his time on stage.
"When live music shut down due to COVID, I wasn't sure if I would ever be able to play live again," Strait admits. "It made me really sit back and realize how fortunate I had been all of these years to be able to do that. I mean, time was passing and I wasn't getting any younger. It was scary; I wasn't ready to quit. I think after we were able to come back it gave me a different appreciation for being able to perform for people.  I really, really love doing it and I'm so appreciative that my fans still love to come hear us.
"Like my song says, 'I don't know how many more years I've got left to do this, but I figure a few,'" he continues, referencing "I'll Always Remember You." "It's true. There's nothing like it and I can't describe it. Not many people get to do it at this level and I feel very lucky and blessed to be one of those few. Come see us."
While artists for decades have marveled at all Strait has accomplished, no one is perhaps more astounded than Strait.
"It's definitely not easy to process," the Country Music Hall of Fame member concedes. "I've always said I have the best fans out there. They've been extremely loyal throughout my career – and they don't seem to be slowing down any."
Find all of Strait's music and tour dates at GeorgeStrait.com.
Photo Credit: Courtesy of EB Media / Erika Goldring