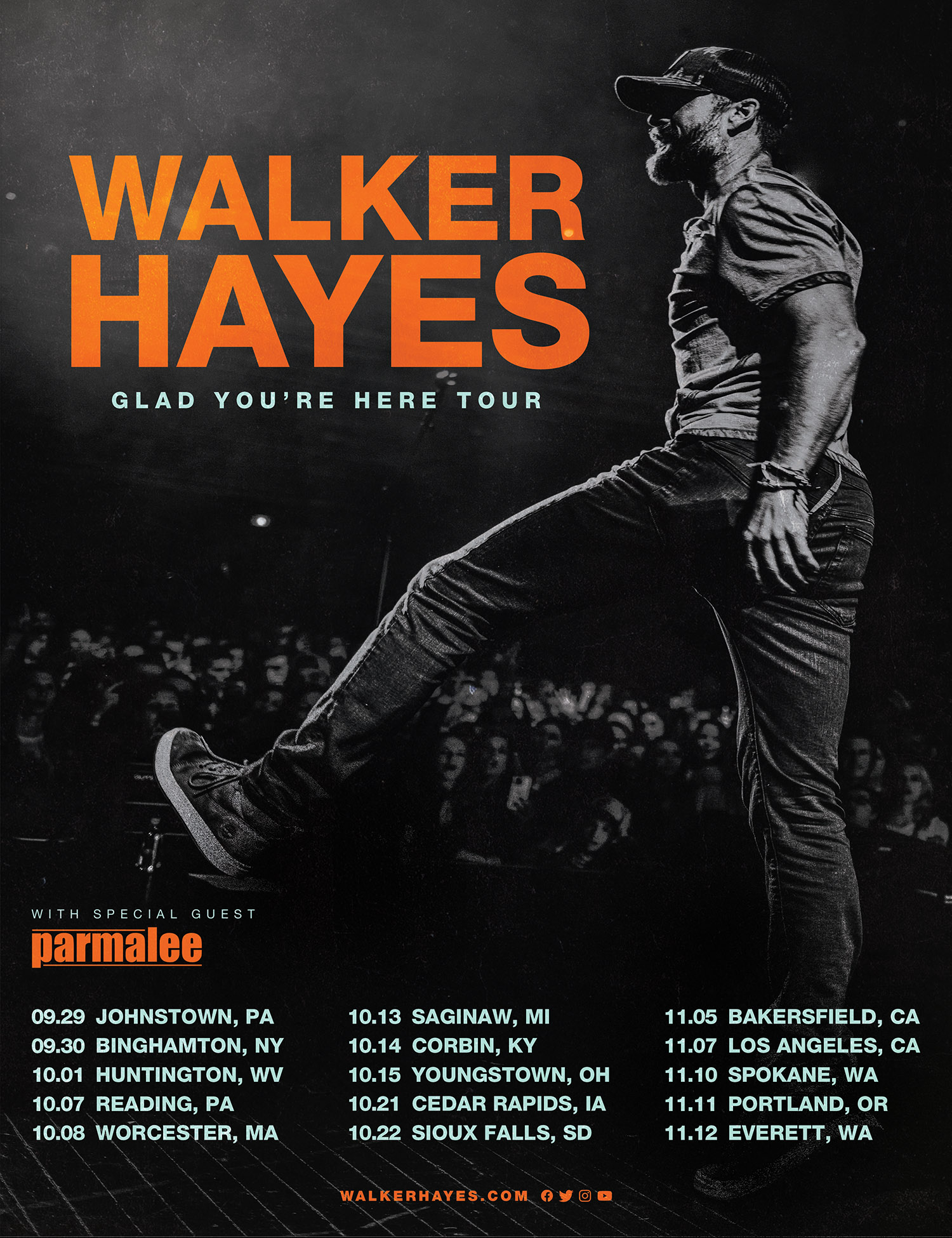 Walker Hayes is heading back out on the road! The father of six, who wrapped up his Fancy Like Tour earlier this year, announces plans to embark on his Glad You're Here Tour, hitting arenas all over the country. Parmalee will serve as Hayes' opening act. The tour marks Hayes' first time headlining arenas, after selling out most theaters on his Fancy Like Tour.
"I can't believe that we are playing arenas," says Hayes. "It's mind-blowing how our team is growing, how the crowds are growing, and how the music continues to connect with my audience. I'm just so grateful."
The title of Hayes' tour is also the title of his upcoming book, Glad You're Here, which he wrote with his good friend, Craig Cooper. It was Cooper who also inspired Hayes' song, "Craig," released on both Hayes' 2017 Boom album, and his latest Country Stuff the Album, this time with MercyMe.
"[Glad You're Here] documents our life together and what an impact [Craig] and his family had on us and why, which is just because of Christ," Hayes told  Music Mayhem. "The funny thing is when I wrote the song, 'Craig,' I did not say the name of Jesus because I would have denied him at that point in my life, I did not believe in Jesus. And while that saddens me, now he's all I want to sing about. And that's largely what the song is about, just through unlikely friends becoming neighbors."
It was Craig who ultimately made Hayes return to his Christian faith, something he wasn't ready to admit when he first wrote the song.
"I thought I was super clever,' Hayes told Everything Nash. "I didn't put Jesus' name in the song because look, I respected Craig and his love for us was otherworldly, and unconditional beyond any love we had ever received from humans. And it made me curious, like the song says. I was like, 'Man, I don't know. Maybe he does know Jesus.' And then I met the Lord; I met Jesus myself. And now I see that that was the light of Christ shining through Craig."
Glad You're Here will be released on May 3. Pre-order is available here.
The Glad You're Here Tour kicks off on September 29 in Johnstown, Pennsylvania, and will wrap up on November 12 in Everett, Washington. Tickets will go on sale on Friday, April 29. See a list of dates below, and find more information at WalkerHayes.com.
Glad You're Here Tour dates:
9/29 – 1st Summit Arena, Johnstown, PA
9/30 – Visions Veterans Memorial Arena, Binghamton, NY
10/1 – Mountain Health Arena, Huntington, WV
10/7 – Santander Arena, Reading, PA
10/8 – DCU Center, Worcester, MA
10/13 – Dow Event Center Arena, Saginaw, MI
10/14 – Corbin Arena, Corbin, KY
10/15 – Covelli Centre, Youngstown, OH
10/21 – Alliant Energy Powerhouse, Cedar Rapids, IA
10/22 – Danny Sanford Premiere Center, Sioux Falls, SD
11/5 – Mechanics Bank Arena, Bakersfield, CA
11/7 – The Greek, Los Angeles, CA
11/10 – Spokane Arena, Spokane, WA
11/11 – Theater of the Clouds, Portland, OR
11/12 – Angel Of the Winds Arena, Everett, WA