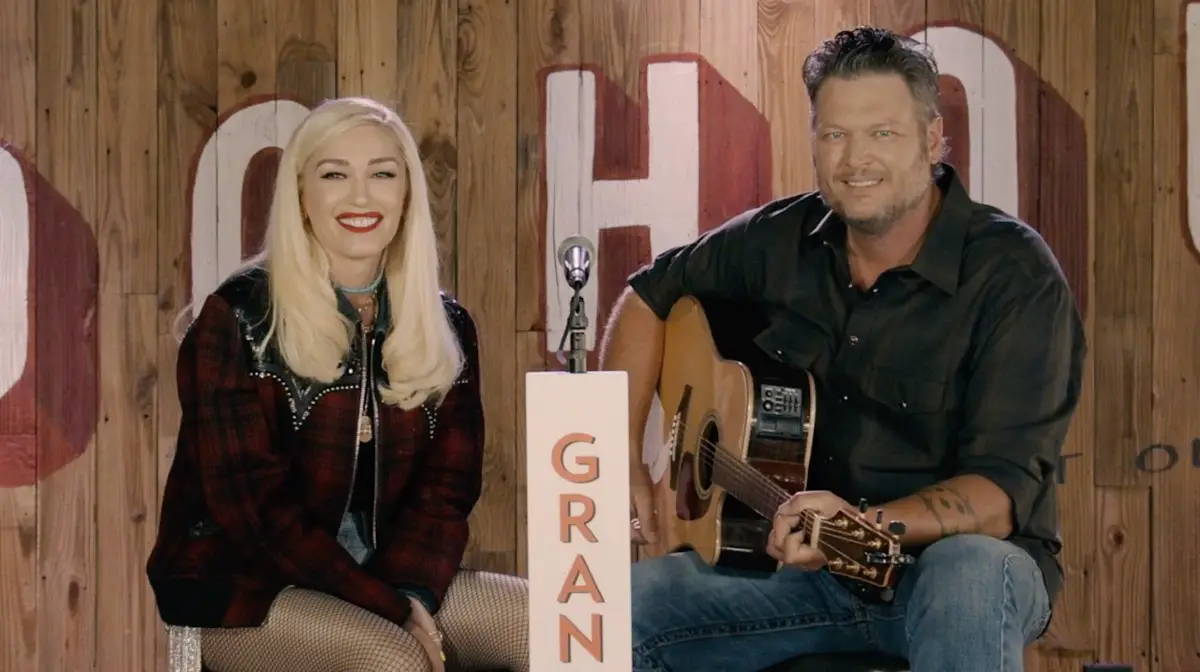 Gwen Stefani never imagined she would have one song on the country charts, let alone two. The future wife of Blake Shelton has joined Shelton on both "Nobody But You" and "Happy Anywhere," opening up the No Doubt singer to a genre she now loves.
"I would have never imagined that," Stefani says on Jimmy Kimmel Live of being embraced by country music. "It's so far out there, that it's hard to even remember my other life back then. But honestly, being actually opened up to the country music genre has been really cool, because I kind of define myself, what I feel like makes me feel good about myself, is my songwriting. That's what makes me feel like I'm actually contributing to the world.
"Some of the songwriting in country music, is just masterful," she boasts. "It's storytelling, and it's very familiar in a lot of ways, in the sense that, the story's getting across, the heart's getting across, and the message. I learned a lot. I'm so happy to be opened up to the whole genre."
Stefani might have become part of Shelton's country music world, but she doubts that Shelton will become part of her ska world, even though he has become a fan of the genre.
"He is very curious about it," Stefani boasts. "And he's a musical jukebox, so I feel like he's always constantly asking me. He'll get online and he'll be like, he'll list all these random ska bands that I've never heard of in my life, that I don't even know really existed or not."
Stefani and Shelton spent much of the last year quarantining on Shelton's Oklahoma ranch, a place the California native unexpectedly fell in love with.
"It's not that green right now, but it is pretty magic, I have to say," Stefani shares. "I had no idea myself that it was such an amazing place. But it feels like you kind of go into a portal, and you're all of a sudden in nature. I get to be face-to-face with Blake Shelton every day … You should see those eyes under the Oklahoma stars."