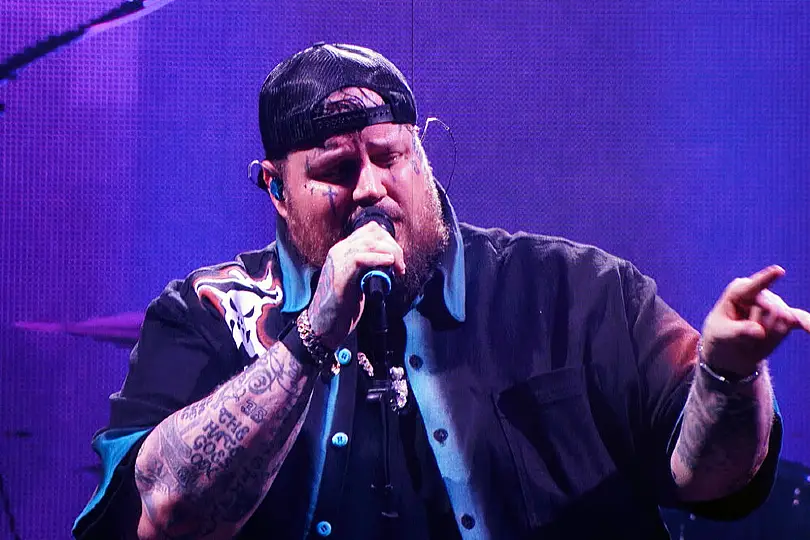 Jelly Roll wasn't able to be in Nashville for the inaugural People's Choice Country Awards, but that didn't keep him from winning a few trophies, or performing live. The Nashville native was in Cincinnati, Ohio, on his headlining Backroad Baptism Tour, but still managed to win Male Artist of 2023, New Artist of 2023, Song of 2023 and C Collaboration Song of 2023.
He also closed out the show by performing "Save Me," which won Collaboration Song, for his version with Lainey Wilson.
Jelly Roll admitted he didn't expect to win any of the People's Choice Country Awards, especially Male Artist — a category that included Bailey Zimmerman, Blake Shelton, HARDY, Kane Brown, Luke Combs, Morgan Wallen and Zach Bryan.
"Right now live in Nashville, Tennessee, they are doing the People's Choice Country Awards, right now as we speak," Jelly Roll said during his show, after Elle King surprised him with the news that he won. "And I thought when I was here, I didn't have a chance of winning, but the losers won again, baby. This award has nothing to do with me, and it has everything to do with y'all. This was fan-voted. This is for the fans. It's always for the fans. The underdogs are back on top, baby.
"And I want to say thank you to the People's Choice Country Awards, for giving an opportunity for me and these 20,000 degenerates to celebrate this together live on national television, from Cincinnati, Ohio," he added.
.@laineywilson talking about @jellyroll615 is the *sweetest* 🥹💕 #PCCAs pic.twitter.com/mPcNC2CDvB

— People's Choice (@peopleschoice) September 29, 2023
Wilson accepted the People's Choice Country Award for Jelly Roll, after they were announced as the Collaboration Song of 2023 winners.
"Man, I wish he was here. I really wish he was here," Wilson said. "I have gotten to know Jelly over the last few years. Actually, back in 2013 I believe, he was doing a music video with Uncle Kracker, and they were paying folks about a hundred dollars to go be extras in the music video, and I was a drunk girl passed out on the ground. I never got my hundred dollars, but I just wanna say, Jelly is one of the purest souls I have gotten to know.
"And I think it is so cool that he has fans who love him for him," she added. "And he makes people feel like they can be true to themselves and their stories, and that right there is special, so this is for Jelly Roll."
Jelly Roll is also nominated for five CMA Awards, Find all of Jelly Roll's music and upcoming shows at JellyRoll615.com.