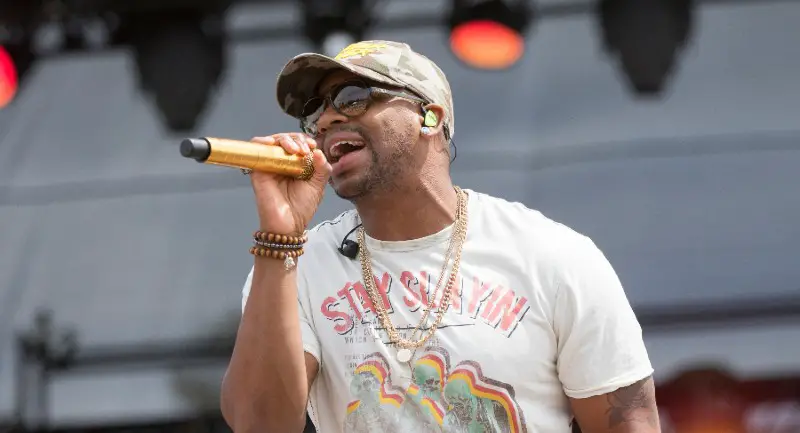 Jimmie Allen had a star-studded wedding to his fiancée, Alexis Gale in May, with Darius Rucker, Tyler Rich and his wife Sabina Gadecki, and Chuck Wicks and wife Kasi among those in attendance. But now, the couple reveals they actually got married in June of 2020, during the pandemic.
"We haven't officially announced this, but we've actually been married for a year," Gale tells People. "We got married on his birthday — June 18 — last year. Actually being publicly Mr. and Mrs. has been really exciting! I thought it was going to be the same, but I feel like it's a new honeymoon stage for us. We get to wear our rings out in public."
Allen was already a dad to son Aadyn, now seven, when he met Gale, with whom he now shares daughter Naomi Bettie, and is expecting another daughter this November. While the Delaware native always wanted to be a father, he never planned on becoming a husband, until he met Gale.
"I wanted to be a dad and do music, that's it," Allen maintains. "I never wanted to get married. The whole husband thing was not something I ever wanted to do. But Alexis changed that. Now, I like it. It gives me some security — she can't just be like, 'I'm done.' Divorce is a lot of paperwork!"
Allen's dad passed away before he married Gale, but he still managed to get his father's approval.
"Before my dad died, he was in the hospital," Allen recalls. "Lex came and she met my dad, and he liked her. He pulled me to the side and said, 'Listen, you mess up a lot when it comes to relationships. Don't let this one go.' I said, 'All right.'"
Allen wanted to have a large wedding in 2020, but was unable to because of COVID-19.
"We were going to do it last year," Allen told Everything Nash. "The only reason that we didn't do it last year, it wasn't really for COVID, [but] we were nervous about COVID. It was more about a lot of people lost their jobs, and we didn't want people to financially stress out over coming to our wedding. We didn't want people to come to the wedding and then put themselves in a financial bind, and we didn't want to have it, and the people that were going to come not be able to come because of financial restrictions."
For more exclusive artist interviews, subscribe to our YouTube channel here.