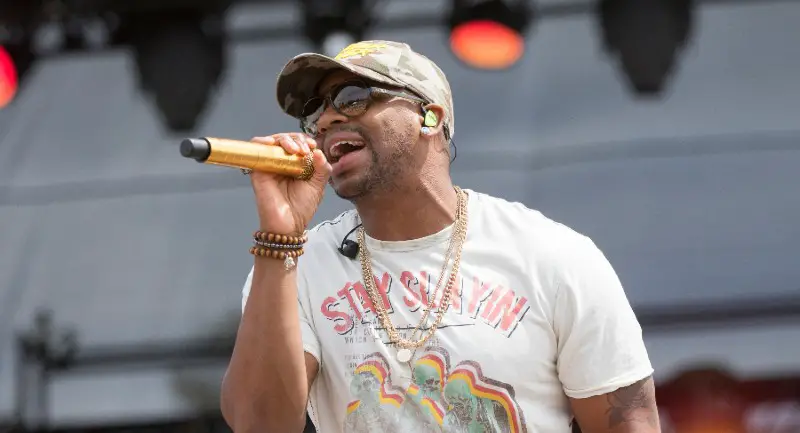 Jimmie Allen is a married man! The singer tied the knot with his longtime fiancée, Alexis Gale, on Thursday night, May 27, in a star-studded ceremony that was attended by Darius Rucker, Tyler Rich and his wife Sabina Gadecki, and Chuck Wicks and wife Kasi, among others.
Allen and Gale planned on getting married in 2020, but decided to delay their plans, because of COVID-19.
"We were going to do it last year," Allen previously told Everything Nash. "The only reason that we didn't do it last year, it wasn't really for COVID, [but] we were nervous about COVID. It was more about a lot of people lost their jobs, and we didn't want people to financially stress out over coming to our wedding. We didn't want people to come to the wedding and then put themselves in a financial bind, and we didn't want to have it, and the people that were going to come not be able to come because of financial restrictions."
Allen and Gale are both from Milton, Delaware, but were set up by his cousin's wife. Still, it didn't take long after they met until Allen realized she was The One.
"Her smile melts me, her pure heart challenges me to love better, the way she motivates and supports me is unlike anything I've ever seen," Allen tells People of his new bride, "The way she loves me and my son is unlike anything I've ever experienced. It feels incredible to find the type of love I've been writing songs about all these years!"
Allen won't have much time for a honeymoon. The 34-year-old, who shares 14-month-old daughter Naomi Bettie with Gale, and also has a seven-year-old son, Aadyn, from a previous relationship, will hit the road on June 10, serving as the opening act on Brad Paisley's upcoming tour. He also hints he is working on new music, the follow-up to his 2020 Bettie James record, which included Rucker, Tim McGraw, Paisley, the Oak Ridge Boys and more.
"I'm going to name, for awhile, my albums after streets," Allen hinted to Everything Nash. "I did Mercury Lane, the street I grew up on, and I did the Bettie James album, and then the next album is going to be called Tulip Drive. We're trying to figure out if we're going to release Tulip Drive first, or I'm sitting on a bunch of other collaborations. We might do a Bette James deluxe version, because I'm sitting on so many collaborations right now, just in the bank and I'm just like, 'Let's just put them out and see.'"
See all of Allen's upcoming shows here.