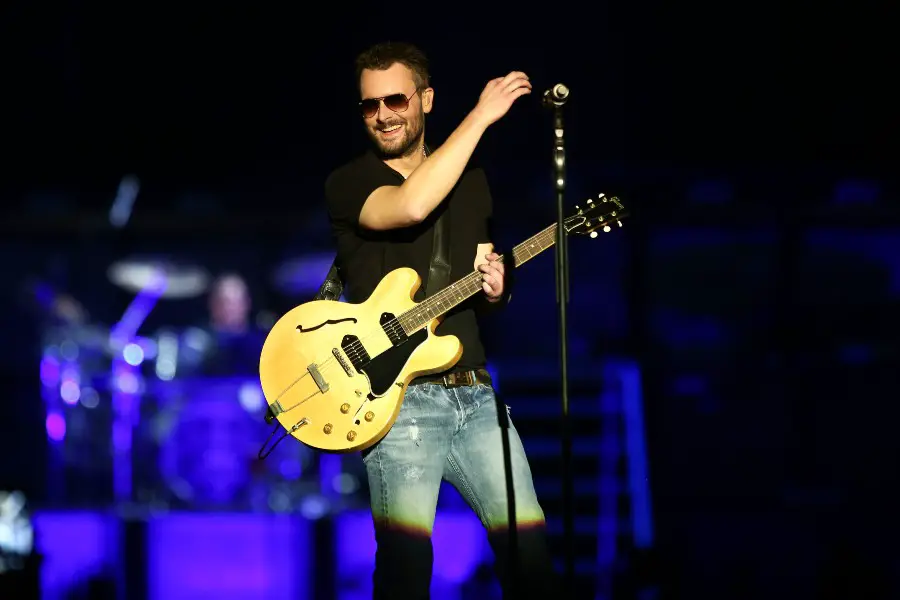 Joanna Cotten is getting ready to fly solo. The singer-songwriter, who has been part of Eric Church's band for at least ten years, reveals on social media that she will no longer be performing with the country music superstar.
"Hello, friends and fans," Cotten writes. "I want to let you all know that I made the decision to take some time off after the Gather Again tour to focus on writing some new songs and have a time of rest and recovery. It was my intention to return, but God has other plans. I want you all to know that your energy carried me through so many shows with Eric.
"What a run we had," she continues. "I am so grateful for the stages I sang on with him and the people I met along the way. I am very much looking forward to new solo music and ventures on the horizon. I love you guys and I'll see you out there on the road before you know it!"
Church has featured Cotten prominently in both his recorded music and his live shows in the decade she has been with him.
The Tennessee native had previously released music on her own, including hte single, "The Prize." She attended Juilliard in New York City to hone her craft, and had plans of visiting her alma mater while on the Gather Again Tour, plans that were derailed due to COVID-19.
"When I was 16 years old, I received notice that I was accepted to the Juilliard School in New York City with a scholarship," Cotten shared in May. "That's a pretty big deal, especially for a Memphis born/Arkansas raised little girl. The big apple, HERE I COME. When the Gather Again tour schedule came out, I saw Madison Square Garden as the last stop and I thought wow, full circle. I'll go visit Juilliard and perhaps get to say hello to my voice teacher there, Marlena Malas, who just got inducted into the Opera Music Hall of Fame. And mama was going to get to be there to see it all. Well friends, it's heartbreaking for me to tell you that I have COVID for the second time and have got to sit this one out.
"As you can imagine, I'm devastated," she continued. "But I will be there in spirit. Waving, prancing from side to side on that stage, watching my brothers in awe while they play their hearts out and supporting the main man, Chief, like I have so many times in the last 8 years. So from my heart to yours…here's my final Gather Again tour bow. You the fans, are the ones that have kept me going. With all my heart, I love y'all."
Cotten was featured in the video for Church's "Over When It's Over," released in 2013. Church has yet to publicly comment on Cotten's departure. Updates on Cotten's career, including future shows, can be found by visiting her website.