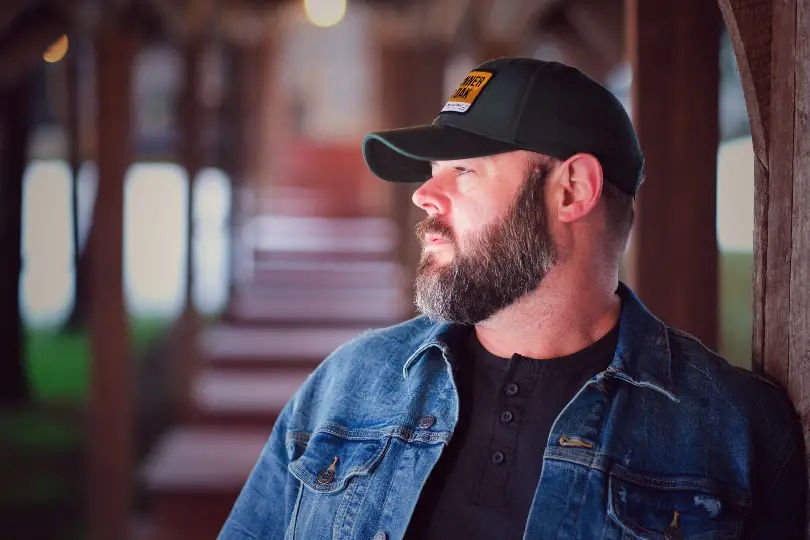 Todd Tilghman is heading to the Grand Ole Opry! The Season 18 winner of The Voice announced, via a live video on Facebook, that he is performing at the Grand Ole Opry for two shows on September 10, at 7:00 PM and 9:30 PM, alongside his good friend, and The Voice coach, Blake Shelton.
"I talked to my friend, Blake Shelton, not too terribly long ago," Tilghman shares. "We were texting, and I don't want to come across like a name-dropper. Me and Blake don't text every day or anything, but every so often, we still chat. I know how it is, when you're on The Voice. There are a lot of people who watch The Voice, and they don't understand the dynamic of the coach and the artist after the show. And really, the best I know how to tell you about that is, it's different with everybody. So I was talking to my good friend, Blake Shelton, and –ya'll this is so cool, so cool — yours truly, Todd Tilghman, just regular, ol' nobody, will be making my Grand Ole Opry debut on the tenth of September, and Blake Shelton will be there too."
The former pastor has already had so many career highlights since his time on The Voice, but he admits that making his debut on the Opry stage might top all of them.
"I cannot tell you how excited I am," Tilghman says. "I've sang on that stage at Sunday Morning Country, and it was wonderful; it was fantastic. I have nothing negative to say about that, and that was wonderful. This is a whole different thing. This is the Grand Ole Opry. I just am blown away. I am blown away. God sometimes lays things in your lap that you never dreamed. I never dreamed in a million years that I would be on the Grand Ole Opry on the same night as Blake Shelton."
Tilghman will have a new song to perform when he makes his Grand Ole Opry debut. The father of eight will release "Home Wasn't Built In a Day," a song he recently performed live, which his wife, Brooke, shared on social media, earning rave reviews from his loyal fans.
"'Home Wasn't Built In a Day' is a song that I wrote wtih a couple of really fantastic, just super, brilliant songwriters, and becoming really good friends, actually. Lance Carpenter is one of them, Kelli Johnson is the other one," Tilghamn reveals. "And 'Home Wasn't Built In a Day' is kind of in a nutshell, to say the least, it's kind of the story of our family, my wife and me and our family."
"Everyone seemed like they loved that song so much … I've had so much really great response that on September 9th, 'Home Wasn't Built In a Day' will be out there," he adds. "It will be released for everybody to download and stream and all those things. We're actually in the process of hopefully having a music video, hopefully ready to roll that day too."
Tilghman and Shelton will be joined at the Grand Ole Opry by Natalie Grant, Callista Clark and Kobly Cooper. Tickets for Tilghman's Grand Ole Opry performances are available here. Keep track of all of Tilghman's music and upcoming shows by visiting his website.