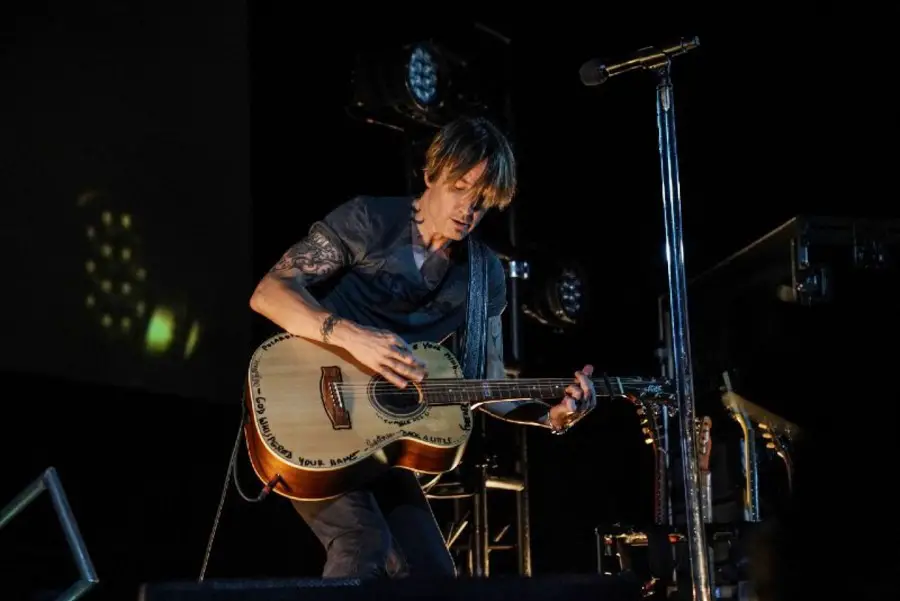 Keith Urban is returning to Las Vegas! The singer, who was forced to cancel his Keith Urban Live — Las Vegas residency last year because of the pandemic, just announced new dates on social media, with tickets going on sale later this week.
LIVE IN LAS VEGAS 💥 SEPTEMBER 2021
Tickets on sale June 7: https://t.co/E4PaHvw0JT

Friday, Sept. 17th
Saturday, Sept. 18th
Wednesday, Sept. 22nd
Friday, Sept. 24th
Saturday, Sept. 25th

Phoenix Club presale begins tomorrow June 2nd at 10a PT: https://t.co/BmhCOQDX2B pic.twitter.com/0EHiWFcCet

— Keith Urban (@KeithUrban) June 1, 2021
Urban previously said that there was one very big reason why he was interested in playing in Sin City, since his residency was being held at the Colosseum at Caesars Palace.
"The room was really the tipping point for me," Urban told Rolling Stone. "I think what I love about it, it's three venues in one. You've got an arena stage that truly is, I mean the production you can put on a stage is massive. You've got a lot of theater seating and a theater vibe, but then you've also got this club happening down on the floor where everybody's standing. It's rowdy, it's a raucous vibe. The three venues that I love playing the most are all in one place."
Urban works hard on all of his shows, but especially the ones in Las Vegas, where people come especially with the goal of having an unforgettable experience.
"At the end of the day, you just try and hopefully put together a good show," Urban told Rolling Stone. "You're creating an hour-and-a-half-plus party, a night out. I want to do certain things, rise and fall, do this and whatever. I always heard that, at the end of the night, if someone were to say, 'It was a bummer that he didn't play, blah, blah,' I always hope that the follow-up comment is like, 'That was a really good show. It was really good.'
"They know that you can't play everything," he added. "People know that, so you just hope that they come away feeling like they really had a great time."
Urban just celebrated another No. 1 hit, this time with "One Too Many" with Pink. He is back at radio with "Out the Cage," a collaboration with Breland and Nile Rodgers. Both songs are from his latest The Speed of Now Part 1 album. Find all of Urban's upcoming shows, including the ones in Las Vegas, at KeithUrban.com.