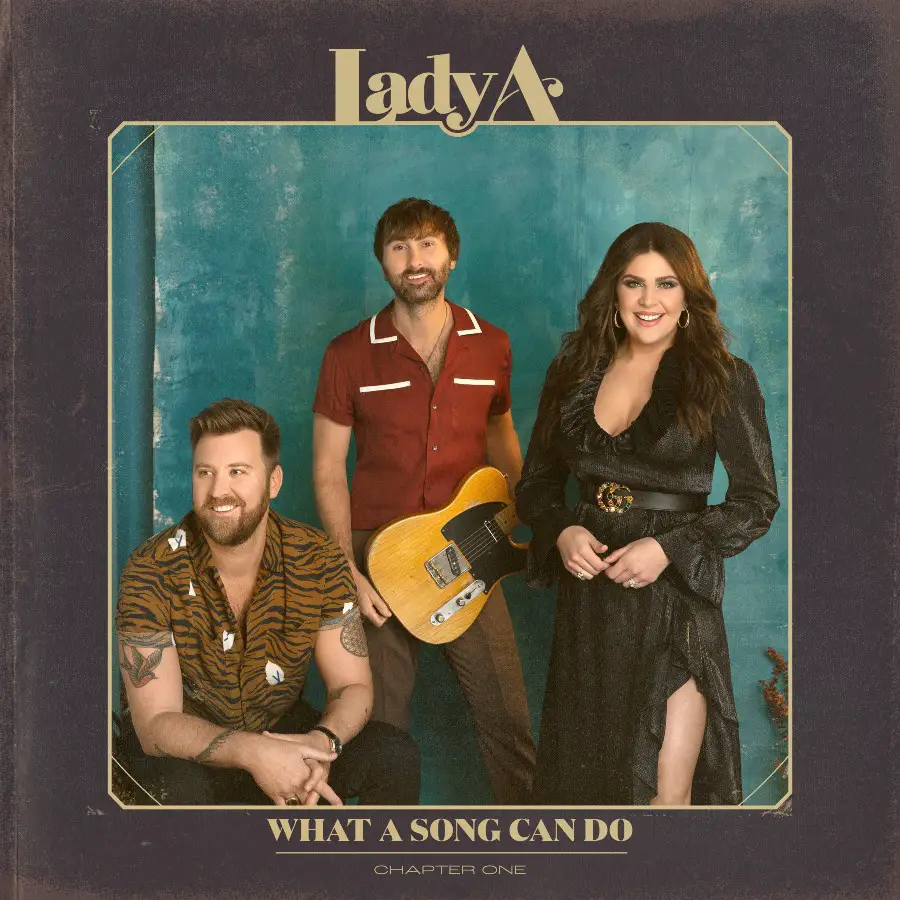 New music is almost here from Lady A! The trio, made up of Hillary Scott, Charles Kelley and Dave Haywood, just announced the release of their next album, What a Song Can Do (Chapter One) on June 25. All seven songs on the record were written by at least one of the Lady A members, which Scott hints will be a very personal look into their own lives.
"There's an interdependence that we have with each other, and music is at the center of that to me," Scott says. "We are all living in the now together…we're all a work in progress, and that is what we wanted to share with these songs on the first chapter."
Lady A also spoke about What a Song Can Do (Chapter One) on social media.
"With every track on this collection, we strived to share a little bit more of who we are and what we've taken from this last year," the trio shares. "It's where we are at this moment – all living in the now, together."
Lady A released Ocean in 2019, with plans to do a massive tour to support the project, which unfortunately had to be canceled because of the pandemic. Undeterred, the threesome began creating new music, this time writing much of it themselves.
"We wrote a lot," Kelley previously told Everything Nash and other outlets during a recent virtual media event. "This this new project, this is the most we've written in a long time. It was the one thing I think that kind of kept me sane, and made me feel like I was being productive. And so it was nice to have an outlet for a lot of those emotions. There's a lot of deep songs on this record and a lot of stuff I think that's more reminiscent of what you probably heard from us in the past. But we learned so much about ourselves. And I think one thing I learned was how much my identity was so tied to this band, and I needed to realize who am I without the band.
"I think it was an interesting journey," he continued. "It made me to realize how much I need Dave and Hillary in my life to lean on, especially with all the stuff we've gone through with the name change stuff. We feel like we're on the path together. We know what we stand for. We know what we want to be, what kind of example we want to lead for our kids … I think anybody that knows us, knows our hearts and what we really are trying to to to be a part and represent and what we've always tried to from the beginning. I think a lot of that is in this music. There's definitely a lot of I learned a lot about myself from from this year."
See a track list for What a Song Can Do (Chapter One) below. Lady A will embark on their What a Song Can Do Tour on July 29, with Carly Pearce, Niko Moon and Tenille Arts serving as their opening acts. Pre-order What a Song Can Do (Chapter One) beginning on June 11, and find tour dates by visiting LadyAMusic.com.
What a Song Can Do (Chapter One) Track List:
1. "Talk Of This Town" | Dave Haywood, Charles Kelley, Hillary Scott, Nicolle Galyon, Jordan Reynolds
2. "What A Song Can Do" | Charles Kelley, Sam Ellis, Ryan Hurd, Laura Veltz
3. "Like A Lady" | Hillary Scott, Dave Barnes, Michelle Buzz, Martin Johnson, Brandon Paddock
4. "Things He Handed Down" | Charles Kelley, Julian Bunetta, Jesse Frasure, Thomas Rhett
5. "Fire" | Dave Haywood, Charles Kelley, Hillary Scott, Justin Ebach
6. "Chance Of Rain" | Dave Haywood, Charles Kelley, Topher Brown, Justin Ebach
7. "Worship What I Hate" | Dave Haywood, Hillary Scott, Natalie Hemby, Amy Wadge